The World Demands
Justice for Haiti
Pro-Demoracy activists around the World stand in solidarity with the Haitian People on the one year anniversary of the U.S. sponsored Coup d'État and Occupation of Haiti
If your organization is calling for the return of the democratically-elected government in Haiti this year, let us know about your event. Send links to your site and PDF of your flyer
Boston - Vigil
Monday, February 28, 2005, 7:00 - 8:00 p.m.
Harvard Square T stop, (on Red Line)1400 Mass Ave- Cambridge
Public parking in Garage located on 18 Eliot Street Cambridge MA, 02138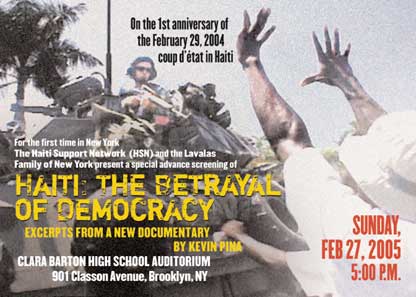 Brooklyn - Rally
Sunday, February 27 at 5 PM
Clara Barton High School
901 Classon Avenue, in Brooklyn
On the 1st anniversary of Haiti's latest coup d'état and for the first time in New York, the Haiti Support Network (HSN) and the Lavalas Family party present a special advance screening of excerpts from Haiti: The Betrayal of Democracy, a soon-to-be-released documentary by journalist/filmmaker Kevin Pina.
Tom Griffin
Marguerite Laurent
Ben Dupuy
Mario Dupuy
Eddy Francois & Voix et Tambours d'Haïti
Clara Barton High School is a traditional venue for the Haitian community's democracy rallies since the days of the Duvalier dictatorship. It can be reached by the 2 or 3 train to Brooklyn Museum. Tickets are $10 and can be purchased at the door or in advance in Brooklyn, Queens, Manhattan and New Jersey. More information is available from the Haiti Support Network at 718-434-8100.
Dublin - Protest
Saturday March 5th: 12 noon
Brazilian Embassy,
41-54 Harcourt St.
Protest the occupation of Haiti
Latin America Solidarity Centre has decided to demonstrate outside the Brazilian Embassy and hand in letters of protest to the ambassadors of Brazil, Chile and Argentina.
If you wish to help in organising this event, let us know.
Phone 6760435 or eMail: haiti at lasc.ie
http://www.lasc.ie/activities/protest-haiti.html
Los Angeles - Press Conference and Demonstration
Miami - Protest Rally
Saturday, February 26 - 2 PM
THE TORCH OF FRIENDSHIP
Biscayne Blvd. & NE 3rd St., Miami
Protest the Hidden U.S. War Against Haiti
Demand Freedom for Haitian Political Prisoners
Say No to the Overthrow of Haitian Democracy
Restore Constitutional Government to Haiti
For more information please call 786-290-1750 or 305-582-4846
Sponsored by the Haiti Solidarity Committee
Minneapolis - Demonstration
Monday February 28: 4:30pm
Federal Plaza
300 S. 4th Street

Join us for a demonstration at the Federal Plaza in downtown Mpls on the one year anniversary of the coup. Speakers include Brian Concannon and Ruben Joanem, member of the Twin Cities Haitian Community. We plan on then marching to the Star Tribune building to highlight both the U.S. role in the repression in Haiti and the "white out" by the major media of events in Haiti.

Sponsors: Haiti Justice Committee, National Lawyers Guild - Minnesota, Minnesota Cuba Committee, Anti-War Committee, Women Against Military Madness, Twin Cities Peace Campaign/ Focus on Iraq, Friends for a Non-Violent World.
Montreal - Manifestation - Demonstration & March
SATURDAY, FEBRUARY 26, NOON
Samedi 26 Février
For more information - eMail: democracy4haiti at mail.com - 514 802 5424
http://www.vwazanset.org/format_events_by_date.php?event_date=20050226

Gathering Point: Complexe Guy Favreau
200 Rene Levesque West (metro Place des Arts/Place d'Armes)
This is a child-friendly demonstration
New York City - RALLY at U.N. Plaza

Monday February 28th
4:30 p.m. RALLY at U.N. Plaza
The U.S.-led coup in Haiti culminated last February 29, 2004 when a contingent of U.S. Marines kidnapped President Jean-Bertrand Aristide from his residence, put him on a plane and expelled him from the country. Hundreds of thousands have been driven into internal exile, thousands have been killed in political violence and hundreds of political prisoners have been incarcerated during the ensuing occupation. On this important anniversary of the coup, we call on you to march in solidarity with the Haitian people.
END the OCCUPATION
FREE the POLITICAL PRISONERS
RESTORE CONSTITUTIONAL GOVERNMENT to HAITI
BRING Democratically-Elected President ARISTIDE BACK

Sponsored by: A.N.S.W.E.R. Coalition (Act Now to Stop War & End Racism)
New York City Office: (212) 533-0417 - nyc@internationalanswer.org

Ottawa - Drumming on Parliament Hill
Saturday, February 26th
Solidarity Bus to Montreal! Take the bus to join noon demonstrations to mark the anniversary of the coup and appeal for release of political prisoners in Haiti. See Details.

Monday, February 28th, 1pm
-- Demonstration on Parliament Hill
-- The Talking Drum is Sounding the Alarm - Stop the Repression in Haiti!
-- International Guest Tom Griffin to Speak to Ottawa Demonstration

In African tradition, villages would communicate over distance with one another through the beat of a drum...
Bring your drum, or your drumming circle friends -- help us formally deliver Tom Griffin's report to Prime Minister Paul Martin's Parliament Hill Office.
For more information: http://www.nowar-paix.ca/
contact Kevin at (613) 864-1590 (cell) or kskerrett@cupe.ca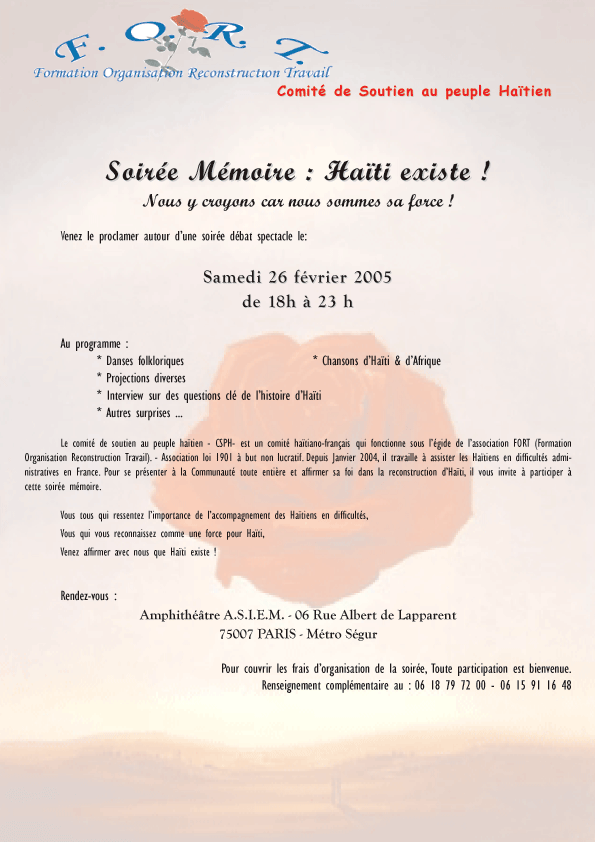 Paris - Soirée Mémoire : Haïti existe!
Samedi 26 Février - de 18h
Amphithéâtre A.S.I.E.M. - 06 Rue Albert de Lapparent
75007 PARIS - Métro Ségur
Portland Maine - March
Friday, February. 25, 12 noon
Rep. Tom Allen's office
234 Oxford St.
WALK FOR DEMOCRACY IN HAITI: Start at Rep. Tom Allen's office at 234 Oxford St, proceed to Sen. Collins and Sen. Snowe's offices, to end at the Portland Press Herald. Kite Ayiti viv lib! (Justice for Haiti!)
Contact eMail: william.slavick at maine.edu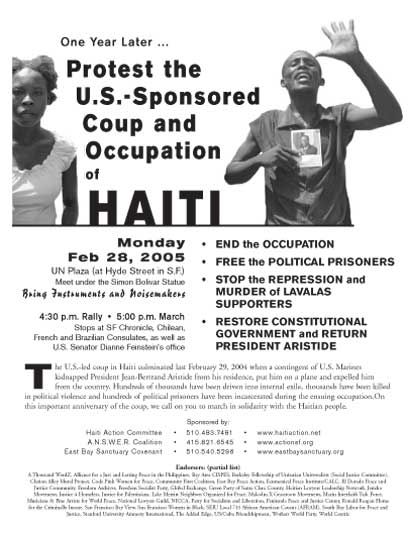 San Francisco - Demonstration and March
download flyer PDF - click this link
Monday, Feb. 28
4:30 p.m. Rally in UN Plaza, San Francisco (under the Simon Bolivar statue at Hyde Street)
5 p.m. March stops at sites representing attempts to destroy democracy in Haiti, including SF Chronicle, the Chilean, Brazilian and French consulates, and U.S. Sen. Dianne Feinstein's office.
For more information: 510-483-7481 or 415-821-6545
Tuscon - Rally
Thursday, February 24th, 4:30pm-6pm
Tucson Federal Building, 300 West Congress
FEATURING:
*Drumming and music jam led by Black Man Clay and One Heart Beat
*Words of solidarity by Dr. Julian Kunnie, Director of AfricanaStudies at the University of Arizona
BRING SIGNS! BRING DRUMS! BRING HORNS! BRING POTS AND PANS! BRING ANGER AT INJUSTICE! BRING HOPE FOR A FREE HAITI AND A BETTER WORLD! FOR MORE INFORMATION: Call 620-0480
Vancouver - Demonstration Picket
Saturday, February 26, 1 P.M.
United States Consulate
1075 West Pender Street
Marching to Government of Canada Building (Burrard & Pender)
2 P.M. Rally Art Gallery (Georgia & Howe)
Everyone welcome
Washington DC - Protest
Monday, February 28: 11:30 AM
Corner of 16th & H Street, NW
Protest US Orchestrated Coup & Occupation of Haiti: Demonstration/Civil Disobedience
Bishop Gumbleton, a champion of the Haitian people's cause and strong supporter of democracy will join hands with Haitians and friends of Haiti to protest Haiti's 33rd coup d'état. We are calling for the return of democracy in Haiti, including the physical return of President Aristide; an end to all political violence and persecution against women and children, and demand the release of all political prisoners immediately. Join Us on February 28 in support of Democracy and the respect of Human Rights in Haiti. Bring your posters and your signs.
This demo is beingn organized by Dorothy Day Catholic Workers, Fondasyon Mapou and September 30th Foundation.
For information about the civil disobedience, contact Kathy Boylan at 202-882-9649
For information about the demonstration contact Eugenia 301-871-6082,
eMail: Eugenia at fondasyonmapou.org or visit www.fondasyonmapou.org.