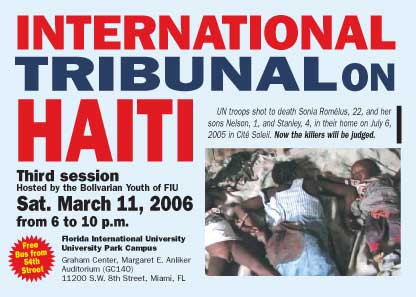 click on image above to download 600K PDF flyer
International Tribunal on Haiti - Miami - March 11
Third Session of International Tribunal to be held on March 11 at Florida International University in Miami, Florida
US, French, Canadian, Haitian and UN officials and officers indicted
Report of Commission of Inquiry, headed by Ramsey Clark, to be presented
Verdicts to be forwarded to the International Criminal Court
The third session of the International Tribunal on Haiti will be held on March 11, 2006 from 6 p.m. to 10 p.m. at Florida International University in Miami.
Witnesses at the Tribunal will include recently released political prisoner Father Gérard Jean-Juste, who will testify about his ordeal in Haiti's jails; Duclos Benissoit, former head of the taxi drivers union; Agnes Mentor, a former Presidential security officer who witnessed hooded Haitian policemen massacre over a dozen people on Oct. 26, 2004; and Dr. Evan Lyon, a colleague of Dr. Paul Farmer in Partners in Health.
Members of a blue-ribbon Commission of Inquiry will also testify. Led by former U.S. Attorney General Ramsey Clark, the Commission traveled to Haiti last October and gathered evidence of and testimony about new massacres and other crimes against humanity. Commission members Tom Griffin, John Parker and Dave Welsh will present videotaped testimony from victims and witnesses of massacres in Haiti.
The Tribunal's third session will take place at the Margaret E. Anliker Auditorium (GC140) at the Graham Center at FIU's University Park Campus. Free bus transportation to the Tribunal will leave from Veye Yo, 28 NE 54th Street in Miami at 4:30 p.m. on March 11.
The Tribunal's two previous sessions were held on September 23, 2005 in Washington D.C., and on November 19, 2005 in Boston. During those sessions, prosecutors presented a detailed background of the February 29, 2004 coup against exiled President Jean-Bertrand Aristide and preliminary indictments. The actions of the U.S. and Canadian governments to destabilize the Aristide government prior to February 29, 2004 were examined. Witnesses provided eye-witness testimony about the on-going massacres of innocent civilians in Haiti being carried out by masked policemen with the acquiescence, and increasingly participation, of the U.N. occupation force. Five of the 23 people indicted were convicted by 15-member juries. Tribunal prosecutors will be announcing new indictments at the third session.
The Tribunal will forward evidence supporting the convictions for those found guilty of ordering, executing or tolerating massacres and crimes against humanity to the new International Criminal Court in The Hague.
This session of the Tribunal is being organized by a coalition of Haiti solidarity organizations, supported by the Miami community groups Veye Yo and Haiti Solidarity, as well as the Latin America Solidarity Coalition, the New England Human Rights Organization for Haiti, the International Action Center and the A.N.S.W.E.R. Coalition. It is being hosted by the Bolivarian Youth at FIU.
Please support the International Tribunal on Haiti
Dear Friend of Haiti,
The Third Session of the International Tribunal on Haiti is all set for Saturday, March 11, at Florida International University in Miami, from 6 p.m. to 10 p.m.. Let me tell you why I believe the Tribunal is of such critical importance now.
The people of Haiti have just won a tremendous victory, in preventing the theft of the presidential election from landslide winner, René Préval. But the murderous coup regime is still in power at this moment, and the outside powers that stand behind it &Mac246; the US, France, Canada, and under the UN flag, Brazil, Argentina and Chile &Mac246; have not stopped their criminal intervention in Haiti.
Moreover, the perpetrators of the many massacres, extrajudicial executions, and other atrocities since the February 29, 2004 coup d'etat, are for the most part still at large, their stockpiles of weapons untouched, under the protection of powerful patrons -- a constant threat to the restoration of Haitian democracy and self-determination.
That is why it is so important to support the International Tribunal on Haiti, in its continuing effort to collect evidence and bring to justice, before the International Criminal Court in the Hague, the individuals responsible for these crimes against humanity.
The Tribunal's opening session drew some 400 people at George Washington University in Washington, DC on September 23, 2005. Seven witnesses testified, two videotapes were entered into evidence, and three of the 21 people indicted were found guilty: former Haitian National Police Chief Léon Charles, former MINUSTAH military commander Brazilian Lt. General Augusto Heleno Ribiero Pereira, and the current Chilean MINUSTAH chief Juan Valdes.
The Tribunal's Investigating Judge convened a Commission of Inquiry, headed by former U.S. Attorney General Ramsey Clark, which visited Haiti in October. The seven-member Commission interviewed over 50 victims and witnesses, compiling evidence that will surely generate more indictments and convictions of those carrying out crimes against humanity.
The second session of the Tribunal was held November 19, 2005 at Suffolk University Law School in Boston, to a good-sized crowd drawn largely from the New England Haitian community. Six witnesses testified, and three tapes were entered into evidence, containing videotaped witness testimony obtained by the Commission of Inquiry in Haiti. Two more of those indicted were found guilty by the jury: US Marine General Ronald Coleman, who was in charge of US and allied military operations in Haiti from the time of the coup in February to June 2004; and Haitian National Police Inspector Jean-Michel (Yves) Gaspard, who directed police/paramilitary operations responsible for the "soccer field massacre" in Martissant in August 2005.
The third session of the Tribunal on March 11 will feature witness testimony to other atrocities, as well as videotaped testimony of victims and eyewitnesses from Bel Air recorded by the Commission of Inquiry. The Commission will also present its final report on the October delegation. We are expecting a large turnout from the Miami Haitian community and hope you can attend the Miami session as well.
We Need Your Help Immediately
We need your support to continue this ground-breaking work. With your support, we covered expenses for the first and second sessions, and for the Commission of Inquiry delegation to Haiti in October. But now we must raise $6,000 to cover the costs of the third session, and the costs of a second investigative trip to Haiti by the Commission of Inquiry to gather new witness testimony.
Please give generously. Make your tax-deductible check out as soon as you read this letter. Your contribution can concretely help to save the lives of mothers, fathers and children who are daily being killed.
Make your tax-deductible check out to:
International Tribunal on Haiti/CISPES Education Fund
and send it to P.O. Box 8560, NY, NY 10116.
The best and fastest way to send funds is when you give a tax-deductible contribution over the Internet with either a Mastercard or Visa. Go to the secure server of the Nicaragua Network at www.nicanet.org/donate_afgj.htm. Just indicate that your gift is for the "International Tribunal on Haiti" and then the amount you'd like to give. Follow the prompts to finalize your tax-deductible donation.
For more information on how you can support or attend the Tribunal, please call us at (718) 434-8100
In solidarity,
Kim Ives
for the International Tribunal on Haiti