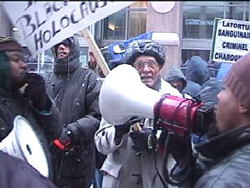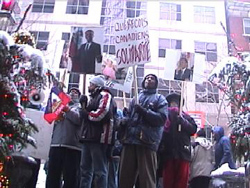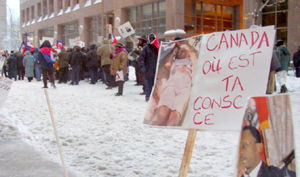 Canadians Rally December 2004
Good chance that there won't be any snow June 18

Take the Métro to the March
click logo for Métro info
Confront the Coup
Canadians Rally with the Haitian Community in Montreal
Solidarity with the people of Haiti
Struggle against Canadian-backed tyranny
June 16-17, 2005
Queen Elizabeth Hotel
900 Rene Levesque Blvd Ouest
^click this link for map
DEMO and MARCH:
12pm noon Thursday, June 16
Leaving from Place d'Armes metro (St.Urbain & Viger) with delegates from the Canadian Labour Congress Annual Convention MAP LINK
Music/Drumming
Free Food
Speakers
RALLY With the Haitian Community:
5-7pm Thursday, June 16
12-4pm Friday, June 17
From June 16-17 2005, Canada will play host to the "Montreal International Conference on Haiti," a critical forum for the governments - including Canada -- that have toppled Haiti's democracy and are propping up an installed and illegal regime. In response, Haiti Action Montreal will be staging a two-day gathering to show our support for the Haitian people's struggle against foreign-backed tyranny.
Since the February 29, 2004 overthrow of democratically-elected President Jean Bertrand Aristide, Haiti has been living under the kind of brutality that characterized its many years of Western-backed dictatorships and military juntas. Poor neighborhoods and mass protests are shot up by paramilitaries and Canada-trained police; free meal and literacy programs have been disbanded; prices for basic stapes such as rice and oil have shot up; hundreds if not thousands of political prisoners languish in prisons, almost all held without formal charges, including the country's overthrown Prime Minister and its leading folk-singer, 70-year So Anne Auguste.
All of this has been directly supported by the United States, France, Canada, the World Bank and the IMF, who have consistently opposed Aristide and his overwhelmingly popular Lavalas party. As their representatives gather in Montreal to plan for the next stage, demonstrators, speakers and musicians will be there to Confront the Coup that they are trying to consolidate.
The Montreal International Conference on Haiti comes at a critical time for the installed regime and its foreign backers. The illegality and brutality of the Haitian regime is becoming harder and harder for Western governments to keep under wraps. By showing our support for Haiti, we can help stop the international community from manipulating its fate, and help restore justice and democracy to the poorest nation in the hemisphere.
Background:
* On February 29 2004, Jean Bertrand-Aristide, Haiti's first democratically elected President, was overthrown in a coup backed by the US, France, and Canada. The country - the poorest in the hemisphere -- has returned to the levels of violence and despair that pervaded in its many years under US-backed dictatorships and military juntas - the remnants of which have increasingly resumed their old roles.
* The University of Miami's Center for Human Rights reports that police and paramilitaries "routinely enter [poor neighborhoods] to conduct operations which are often murderous attacks, often with firepower support from the UN Civil Police and Peacekeeping forces," leaving victims that "prefer to die at home untreated rather than risk arrest at the hospital."
* The Haitian Supreme Court recently ordered the release of a former death-squad leader convicted for the 1994 massacre of slum residents in Raboteau, a trial that had been hailed by human rights groups as a victory for justice in Haiti.
* With its democratically-elected leaders in exile or in hiding, the World Bank, the IMF and the installed "interim" regime (whose Prime Minister, former UN bureacrat Gerard Latortue, has spent the bulk of the last 40 years living in Boca Raton, Florida) are trying to ram through a neo-liberal agenda that keeps Haitian wages low and the country's assets privatized - a long term goal that Aristide has consistenly opposed. A World Bank funding proposal recently noted how "the transition period and the Transitional Government provide a window of opportunity for implementing economic governance reforms... that may be hard for a future government to undo."
* Canada, which supported the crippling international aid freeze on Haiti after Aristide refused to follow through on privatizing state-enterprises, has pledged over $180 million to the installed Latortue government. On a visit the country in November 2004 - the first ever by a Canadian Prime Minister -- Paul Martin solemly declared that "there are no political prisoners in Haiti", despite the fact that his direct counterpart, elected Haitian Prime Minister Yvon Neptune was sitting in jail across town.
* Since July 2004, Canada has provided training for the Haitian police and logistical planning for the UN force that has been backing them. On December 2nd, the Brazilian UN commander complained of being "under extreme pressure from the international community to use violence" to quell Haiti's unrest, naming Canada in particular. Foreign Minister Pierre Pettigrew has left no ambiguity over who we have in mind, telling Parliament in October that the "extreme violence" has been "carried out by armed groups, primarily the chimères," the derogatory French term applied to armed supporters of Lavalas. Despite overwhelming evidence, Pettigrew has said nothing about the murderous tactics of the Haitian police, and no more of the paramilitaries and former soldiers closely aligned with the wealthy Haitian opposition.