HIDDEN From the Headlines
Aristide, the People's Movement, and the US War on Democracy in Haiti
Speakers: Alina Sixto - Pierre Labossiere - Walter Turner
Friday, Feb 21st 7 PM
(please note time change)
University of Creation Spirituality
2141 Broadway in Oakland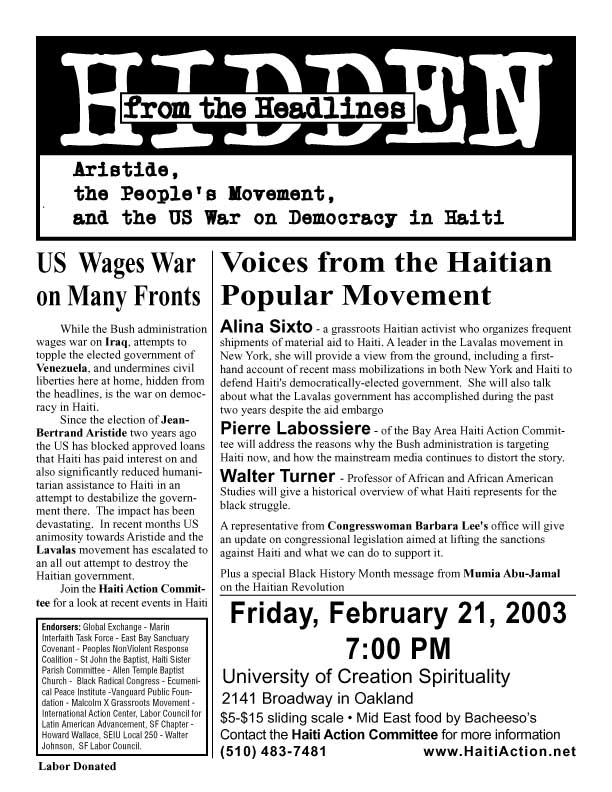 Notice of event this month by Haiti Action Committee - Friday, Feb 21st 6PM
at University of Creation Spirituality
2141 Broadway in Oakland


US Wages War on Many Fronts
While the Bush administration wages war on Iraq, attempts to topple the elected government of Venezuela, and undermines civil liberties here at home, hidden from the headlines, is the war on democracy in Haiti.
Since the election of Jean-Bertrand Aristide two years ago the US has blocked approved loans that Haiti has paid interest on and also significantly reduced humanitarian assistance to Haiti in an attempt to destabilize the government there. The impact has been devastating. In recent months US animosity towards Aristide and the Lavalas movement has escalated to an all out attempt to destroy the Haitian government.
Join the Haiti Action Committee for a look at recent events in Haiti
Voices from the Haitian Popular Movement
Alina Sixto - a grassroots Haitian activist and leader in the Lavalas movement in New York will provide a view from the ground, including a first-hand account of recent mass mobilizations in both New York and Haiti to defend Haiti's democratically-elected government. She will also talk about what the Lavalas government has accomplished during the past two years despite the aid embargo
Pierre Labossiere - of the Bay Area Haiti Action Committee will address the reasons why the Bush administration is targeting Haiti now, and how the mainstream media continues to distort the story.
Walter Turner - Professor of African and African American Studies will give a historical overview of what Haiti represents for the black struggle.
A representative from Congresswoman Barbara Lee's office will give an update on congressional legislation aimed at lifting the sanctions against Haiti and what we can do to support it.
Plus a special Black History Month message from Mumia Abu-Jamal on the Haitian Revolution
Friday, February 21, 2003 7:00 PM
University of Creation Spirituality
2141 Broadway in Oakland
$5-$15 sliding scale • Mid East food by Bacheeso's
Contact the Haiti Action Committee for more information
(510) 483-7481 or visit www.HaitiAction.net (soon)
Endorsers: Global Exchange - Marin Interfaith Task Force - East Bay Sanctuary Covenant - Peoples NonViolent Response Coalition - St John the Baptist, Haiti Sister Parish Committee - Allen Temple Baptist Church - Black Radical Congress - Ecumenical Peace Institute -Vanguard Public Foun-dation - Malcolm X Grassroots Movement - International Action Center, Labor Council for Latin American Advancement, SF Chapter - Howard Wallace, SEIU Local 250 - Walter Johnson, SF Labor Council.