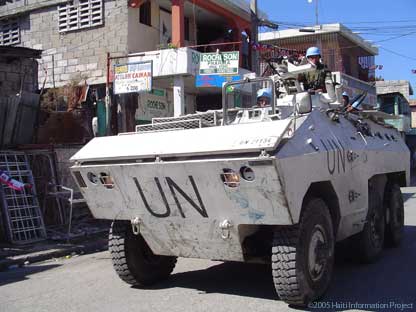 HAITI: UN peacekeepers reject all responsibility for the safety of their prisoners
MINUSTAH affirms that it rejects all responsibility in cases of individuals taken into custody and then turned over to the Haitian police, who are later found dead Port-au-Prince, January 26, 2005 (AHP)- The United Nations Stabilization Mission in Haiti (MINUSTAH) declared once again that it rejects any responsibility in the killing of people who have been taken into custody by Un soldiers and handed over to the national police.
MINUSTAH spokesperson Damian Onsès Cardona confirmed that all individuals who are arrested by soldiers of the UN mission during operations in the populist districts have been entrusted safe and sound to the police.
The only legal force authorized to follow-up on arrests is indeed the national police, he explained, adding that MINUSTAH has no responsibility in cases of individuals turned over to the police who are later found dead.
Among the best known cases is that of the young Jimmy Charles, who was turned over by MINUSTAH to the police before his bullet-ridden body was discovered at the morgue of the Hospital of the State University of Haiti.
Mr. Cardona said he was not aware that a complaint had been filed against MINUSTAH over its alleged involvement in the tragic deaths of Lavalas activist Jimmy Charles, a student named Ederson Joseph and the journalist Abdias Jean.
However he announced that the human rights section will see to it that the investigations underway into these murder cases are completed.
The lawyer for the families of these youths, Mr. Mario Joseph, filed a complaint Tuesday before the Court of First Instance of Port-au-Prince against the President of the Superior Council of the National Police, (Gérard Latortue), Justice Minister Bernard Gousse and MINUSTAH.
AHP January 26, 2005 11:15 AM
photo: ©2005 Haiti Information Project - A UN armored personnel vehicle rolls through Delmas 2 in Bel Air. Five people were killed on January 5 when the UN entered the pro-Lavalas neighborhood under the pretext of cleaning the streets of garbage. Although the UN force took advantage of several photo opportunities to show their public works projects yesterday, their only duty on January 5 was to enter the roiling slum on heavily armed patrols.