Pursued by France for Haiti Hoax, group holds press conference in Montreal
Responding to a possible lawsuit by the French government over a fake press conference announcement pledging that France would pay Haiti 21 billion USD, the group behind the hoax will hold its first real press conference, in Montreal.
WHERE: Rm. 204, Centre St. Pierre (1212 Rue Panet, between Rene Levesque and Rue St. Catherine St. East, nearest metro Beaudry), Montreal, QC, Canada
(The press conference will also be streamed live at www.diplomatiegov.info)
Two part video from press conference
WHEN: Thursday, July 22, 2010, 10 am
WHO: The Committee for the Reimbursement of the Indemnity Money Extorted from Haiti (CRIME)
CRIME's press conference on Thursday comes one week after the French government stated it was considering legal recourse against those behind the spoof announcement that France would repay the 90 million gold francs it had demanded in financial compensation from Haiti after the former French colony's independence.
CRIME took responsibility for the fake announcement last Friday, with the group's spokesperson Laurence Fabre commenting that "It is most unfortunate that the Quay d'Orsay has been so ungrateful, and frankly, uncooperative, with our bold initiative to improve the French government's reputation in Haiti."
In a public statement explaining their action, CRIME stated, "Is a spoof website such a grave crime, when compared to what the French have done in Haiti? We leave it to the court of world public opinion to decide: Who are the real criminals."
CRIME is extending a special invitation to Thursday's press conference to members of Montreal's Haitian diaspora community.
For video of the fake announcement: www.diplomatiegov.info
CONTACT: Laurence Fabre
Tell : (+33) 970 44 6727
Email: laurencefrancinefabre@gmail.com

Share this story with your networks
BOOKMARK the Haiti Action.net Tropical Cyclone Page for latest updates during this hurricane season. HaitiAction.net will host this page with many Tropical Cyclone resources so you can find the latest information when you are searching for current updates.
Contact us: info@haitiaction.org
see also
Thousands in Haiti march on Aristide's birthday Jul 16
"We want our voices to be heard":
Democracy in Haiti's Earthquake Zone May 3
Haiti: Mobile schools in the Earthquake Zone Apr 3
Protesters clash with police following rain in Haiti Feb 11
If Obama can do it then why can't Haiti's Preval? Feb 9
Haiti: hell and hope Jan 28
On the ground in Port au Prince Jan 28
Haiti News Watch
AP misrepresents reality of Lavalas exclusion in Haiti elections Nov 29
Two-faced Democracy in Haiti
Nov 26
Perverted Priorities: Corpses, sham elections, and sweatshops in Haiti Apr 10
"Thank you Bill Clinton" — one more assassination by UN troops in Haiti Jun 20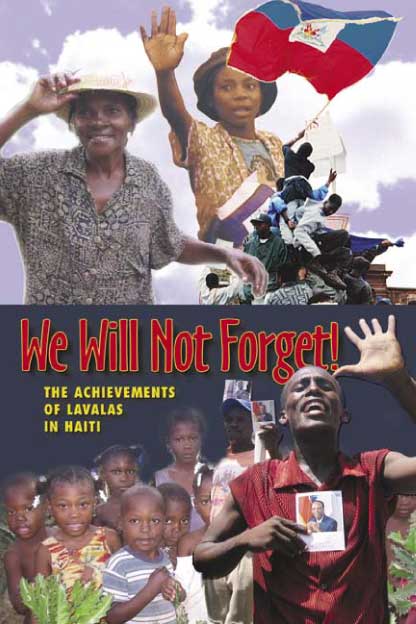 Contact us: info@haitiaction.org