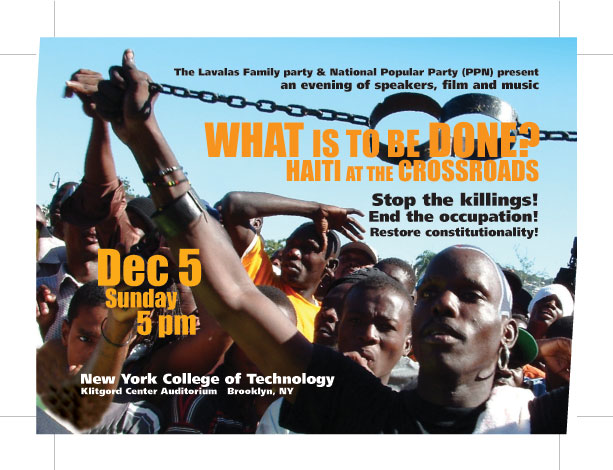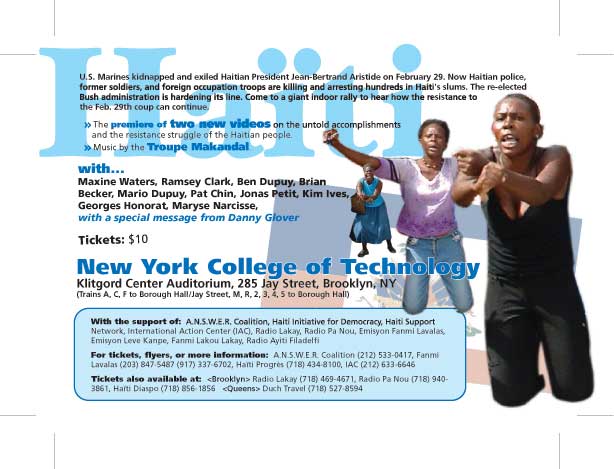 Contact:
Berthony Dupont, 718-434-8100

December 5 Brooklyn Rally to Demand End to Killings and
U.N. Occupation in Haiti

The New York Haitian community and its U.S. supporters will rally at 5 p.m. on December 5 at the Klitgord Center Auditorium of the New York College of Technology at 285 Jay Street in Brooklyn to condemn the continuing wave of government repression in Haiti and to call for a return to constitutional government and an end to the United Nations military occupation of the country.

The event &Mac246; entitled "Haiti at the Crossroads: What is to be Done?" &Mac246; is being jointly organized by the Lavalas Family party and the National Popular Party (PPN), Haiti&Mac226;s two largest parties, whose members in Haiti have been targeted for arrest and assassination by agents of the de facto Haitian government.

Among the speakers scheduled are Rep. Maxine Waters (D-CA), former U.S. attorney general Ramsey Clark, PPN secretary general Ben Dupuy, and Haiti&Mac226;s constitutional secretary of state for Communications, Mario Dupuy. There will also be a special message to the rally from actor Danny Glover.

The acclaimed musical dance company, Troupe Makandal, will also perform.

There will be the premiere of two new videos at the event. One illustrates the accomplishments of the President Jean-Bertrand Aristide&Mac226;s government before he was flown into exile by U.S. Marines on February 29, 2004. The other shows the fierce resistance of massive street demonstrations which warned the government to take action against the coup during the months in 2003 when it began unfolding.

"We are witnessing today in Haiti a repression as ruthless and arbitrary as that of the Duvalier dictatorships," said Serge Lilavois of the Haiti Support Network (HSN), one of the groups helping to organized the rally. "George W. Bush supported President Aristide&Mac226;s ouster. Now that he has won the U.S. presidential election, the Haitian community wants to know what path parties like the Lavalas Family and the PPN propose to end the crisis in Haiti."

Both the Lavalas Family and the PPN will have representatives coming direct from Haiti for the December 5 event to give reports about the situation on the ground there.

The event is being organized with the support of Haitian radio stations as well as U.S.-based organizations like the A.N.S.W.E.R. Coalition and the International Action Center (IAC). Admission to the event is $10.

Tickets, flyers and more information can be obtained from the A.N.S.W.E.R. Coaliton at (212) 533-0417, the Fanmi Lavalas at (203) 847-5487 or (917) 337-6702, Haïti Progrès newspaper (718) 434-8100, or IAC at (212) 633-6646.