Photo: Margaret Trost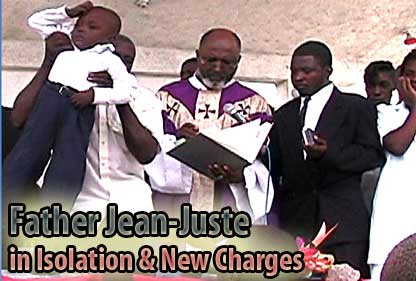 Messages from Father Jean-Juste in Haiti prison
Reverend Father Gerard Jean-Juste is being held in isolation in the Haitian National Penitentiary, Njera Njeri Penitentiary in downtown Port au Prince. Here's some of the messages that he has passed along recently.
August 10, 2005
Dear brothers and sisters:
In the name of the Father, Son and Spirit, I say for all I'm in national penitentiary. I would like to remember you, Jesus live in my life, God is my way, I follow the way when Jesus tracks to me. Stay in prayer, don't give up the fight, you must continue to ask the Lord freedom for me and HAITI too. There are more prisoners than allowed at the penitentiary, we must pray to God for them. We are two living at small room, we are good friends, pray for him too. I go, stay with Jesus,
Njera Njeri Penitentiary, Haiti
August 2, 2005
Dear Friends:
Thank everybody across the world for all your support. I am still in prison. Please keep pushing for democracy and human rights in Haiti - they are feeling it. I went to court today before Judge Peres-Paul. There are reports on the radio that several political prisoners are going to be released soon. If they do that it will be because of international pressure. Please remember all the people in prison - there are so many young people here who have never seen a judge. Please keep up the pressure - democracy will return to Haiti!
God bless,
GJJ
July 30, 2005
Dear Friends, Militants for Justice & Peace, Family Members, Veye-Yo in Miami, Religious Brothers and Sisters & All of You Distinguished People,
With God's blessing & grace, with your support on all levels, I am fighting to stay alive & well. The service to the needy brothers and sisters are continuing at St. Clare's Tiplas Kazo, the 425 member summer camp is running.
I am suffering physically but spiritually I am in good shape.
Victory is coming. I am innocent of all invented charges. Praise be God & to all of you who serve humanity!
Brotherly Love, N Jeri
This message was given to Dave Robinson of Pax Christi USA during a visit with Fr. Gerry in the Haitian National Penitentiary. Fr. Jean-Juste is in a very hot place and is still in significant pain from injuries suffered in the attack on him in St. Pierre's Catholic Church. Haiti
See Also:
Father Jean-Juste in Isolation & New Charges Update from Father Jean Juste's co-counsel Bill Quigley Fr. Gerard Jean-Juste is being held in isolation in the Haitian National Penitentiary and the Coup Government is fishing to find something to charge him with. July 24
HaitiAction.net UPDATE:
Rev. Father Gerard Jean-Juste