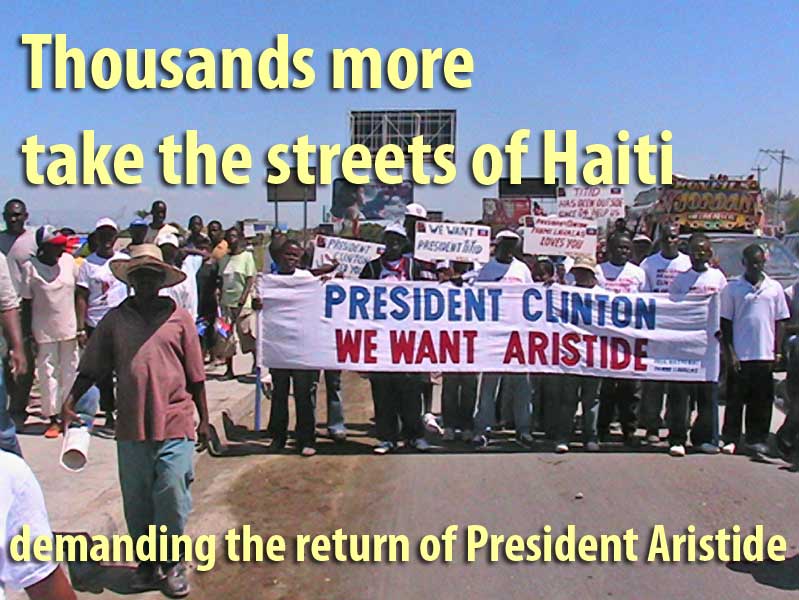 Supporters of President Aristide demand his return
Photos: ©2009 HaitiAction.net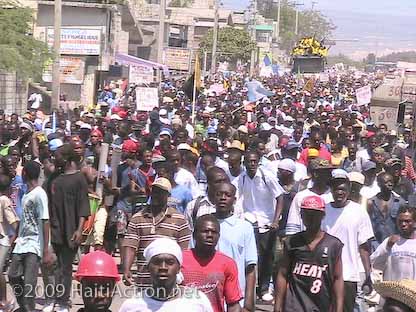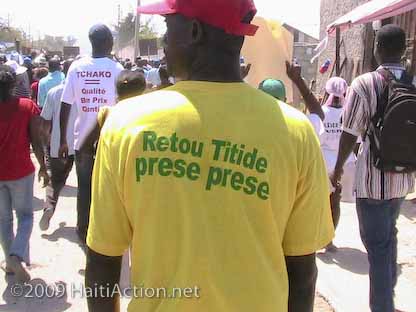 Many thousands of Lavalas activists went to the airport to welcome the Clinton Delegation and demand the return of President Aristide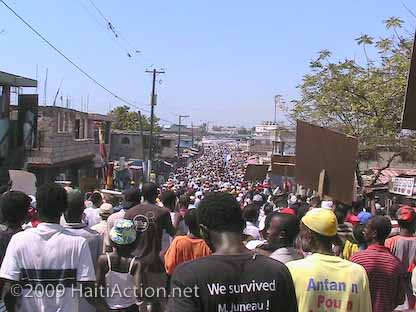 Thousands more take the streets of Haiti, demanding the return of President Aristide
Haiti Action.net - Port au Prince, Haiti— Less than two weeks after the large demonstration of February 28, 2009, over 10,000 pro-democracy activists took to the streets of Haiti's capital, once again, to demand the return of President Aristide who was kidnapped by U.S. officials five years ago. While the U.S. State Department assisted its escorts — an assortment of NGO personalities — in avoiding any contact with the largest political party in Haiti, Fanmi Lavalas simply converged on the National Palace from the surrounding neighborhoods. One Lavalas demonstrator claimed, "…they say they want to help us with charity, the only charity we want is for them to return our President, Aristide!"
Two weeks ago Fanmi Lavalas mobilized a large march and rally to commemorate the fifth year of the 2004 Coup d'État and protest the CEP (Conseil Electoral Provisoire decision to illegally exclude Fanmi Lavalas candidates from the upcoming senate elections in April. Monday's demonstration may have been three times as large as February 28. Demonstrators from the neighborhood of Solino near the downtown area of Port au Prince claimed that many more answered the mobilization call by Lavalas this time as they were surprised by the turnout two weeks ago and did not want to miss this "manifest."
Demonstrators continued to surround the National Palace into the evening with over 5,000 staying to remind the personalities that Haiti belongs to its people, not the foreign NGOs that divert international good-will into the NGO manager's pockets.
Listen to the Flashpoints Radio reporting
of Monday, March 9, 2009
for more information.
Thousands march in Haiti demanding return of Aristide Feb 29
Propagandhi: progressive thrash, Haiti and activism on tour Feb 26
Haiti bill calling for investigation of U.S. role in 2004 Coup d'État Feb 5
The rebirth of Konbit in Haiti Dec 17
Contact us: info@haitiaction.org
Contact us: info@haitiaction.org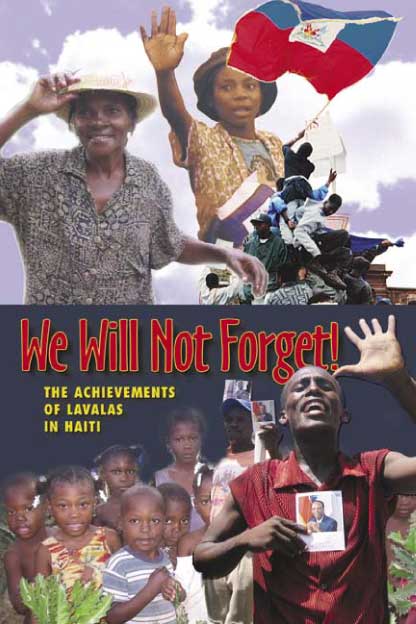 Contact us: info@haitiaction.org