URGENT ACTION ALERT URGENT ACTION ALERT URGENT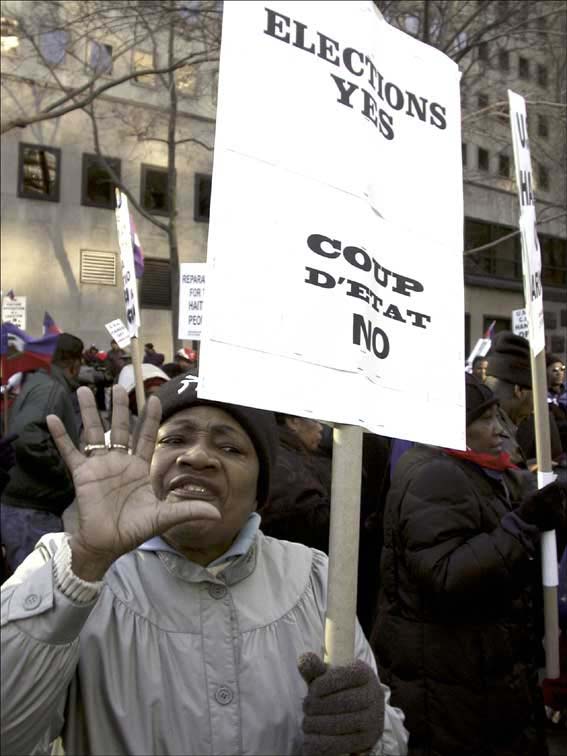 EMERGENCY RESPONSE DEMONSTRATION
FOR HAITI SOLIDARITY
Monday, March 1, 2004
Powell & Market, SF, 5 p.m.
(adjacent to Powell Street BART)
photo: Dominique Esser

Dear Friends,
This is horrible day for Haiti and a shameful day in the history of the United States. The forced ouster of President Jean-Bertrand Aristide culminates a U.S.-led destabilization campaign to undermine and sabotage Haiti's democratically elected government. As the violence spreads in Haiti, our government has blood on its hands.
While the corporate media talks about President Aristide's resignation, it is clear that the United States gave the ultimatum and pulled the trigger.
According to sources within Haiti, United States Special Forces went to President Aristide's house, took him to the Palace and presented him with a resignation to sign. There are some reports that Aristide was led away in hancuffs that we are still trying to confirm. They made it quite clear that, without his resignation, there would be no international assistance to defend Haiti against the heavily armed commandos who have terrorized Haiti for weeks.
We have heard from at least two sources that he refused to sign. President Aristide was later taken to the airport and put on a plane out of the country. He made no public statement and has not been in contact with anyone since. There are reports-from Palace Security and a ABC cameraman-that Aristide was led away in hancuffs. His whereabouts are currently unknown.
Haiti Action Committee
February 29, 2004 - 3:31 PM PST
4:00 AM EST - Foley arrived at the National Palace
4 -5:00 - ABC camera crew arrived for an interview, was not able to get in. A person that identified himself as a member of that crew said that Aristide was taken away IN HANDCUFFS by 10 marines
A man who said he was a caretaker for the now exiled president told
France's RTL radio station the troops forced Aristide out of his house. - 2AM
Call the White House, the State Department and your local
representatives to denounce this U.S.-engineered coup.
The NYT elected representative guide for
your local representative contact info
Congressional Switchboard 800.839.5276 or 202.224.3121
Nancy Pelosi's SF Office 415.556.4862
White House Comment Line 202.456.1111
U.S. State Department 202.647.5291 or 202.647.7098 (phone)
202.647.2283 or 202.647.5169 (fax)
for more information, contact the Haiti Action Committee:
www.haitiaction.net - haitiaction@yahoo.com - 510.483.7481

Please help distribute this urgent action call widely.
Thank you for your assistance in this urgent matter.
You may forward a copy of your messages to: