A strong westward moving tropical wave that has entered the eastern Caribbean Sea this morning is headed for Haiti and could join the extremely dangerous Hurricane Wilma by early next week. What this could mean for the Caribbean/Gulf region will likely change the expectations predicted by the computer models. In short, "it ain't over til the fat lady gets fatter ..."
Officially named 99L Invest this tropical wave is quickly becoming a more organized system as it moves over a region of the ocean that has some of the warmest surface temperature in the entire world this week. Closely watched by the National Hurricane Center in Miami (which, incidentally, issued a warning yesterday to its own staff in Florida about Wilma) they are paying more attention to this system after the surprising and record setting formation of Wilma that looked similar to this last week.
While the extent of the impact of Wilma will not be known until after it leaves the Yucatan Peninsula, Haiti had seen the deadliest repercussions of that storm so far as a result of landslides and flooding. If this system develops more before it hits the island the results are sure to be devastating. For the moment, the interests in Haiti seem to be more focused on forcing US demands for sham elections on the population than they are on hurricane preparedness.
If the storm forms quickly enough to become a tropical depression before it merges with Wilma, it could become the next named storm - "Alpha" - soon. This system would likely hit Haiti, the Dominican Republic, Jamaica and Cuba with heavy rains and floods on an already saturated and battered region.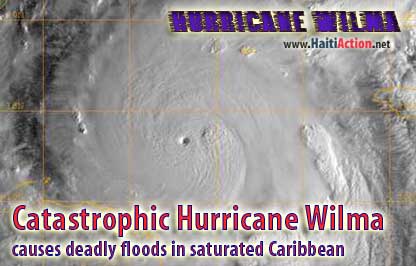 < Check the Hurricane Wilma Page for the latest Satellite Images - Forecasts - News - Links