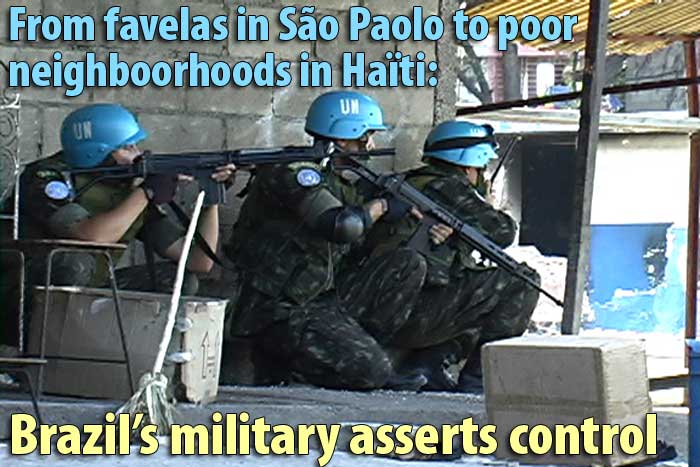 Photo: ©2005 Haiti Information Project On November 27, Cite Soleil came under heavy fire again from Brazilian forces in a military operation against suspected bandits (a code word, according to residents, borrowed from Haiti's wealthy elite to describe Lavalas supporters in poor neighborhoods of the capital).
From favelas in São Paolo to poor neighborhoods in Haiti: Brazil's military asserts control
© 2005 Haiti Information Project (HIP)
View all 17 images in photo gallery
HIP - Haiti — Last Friday, nearly a dozen reporters embedded with Brazilian troops of the United Nations mission in the poor neighborhood of Pele, witnessed troops handing out gift buckets emblazoned with the phrase "Vote to bring life to your country." Wearing blue baseball caps bearing the UN emblem, several of the reporters were barred from leaving the official area of the aid distribution center and instead were provided with the opportunity to photograph Brazilian soldiers playing soccer with young boys and posing with local residents from the neighborhood. One journalist who asked to not be identified stated, "Just as I was trying to leave the area a Brazilian soldier physically pulled me back and said I could not leave. We had just heard loud gunfire coming from Route Nationale 1 in the general vicinity of Cite Soleil. I was anxious to see what was really going on behind the scene."
Heavily armed soldiers of the Brazilian military, which leads the UN military mission to Haiti known as MINUSTAH, had earlier taken over a building in Pele belonging to an accused drug dealer with alleged ties to presidential candidate Guy Philippe. The troops were seen reinforcing the facility with sand bags and equipment as a military unit on the ground led a group of black-hooded residents through the neighborhood on a mission to identify and target suspected "bandits" for arrest. Twelve residents, ten men and two women, were reportedly arrested based on the accusations of the hooded informants and were taken away to an undisclosed UN facility. Several residents reacted with shock and anger at the site of the black-hooded informants, a new tactic apparently being used by the UN forces to pacify poor neighborhoods in the capital. "This is really scary because we don't know who these hooded accusers are. We don't even know if they are really from our area. I just saw them arrest a man I have known for years and who is not involved with anything violent. Where are they taking him?" asked one angry woman who refused to give her name.
The neighborhood of Pele borders the teeming seaside slum of Cite Soleil that has been a launching site for massive demonstrations demanding the return of ousted president Jean-Bertrand Aristide. Demonstrations have also demanded an end to political persecution against Aristide's Lavalas party and the release of their leaders held behind bars and deemed to be political prisoners. On July 6, about 350 UN troops led by a Jordanian contingent under the command of the Brazilians, entered Cite Soleil on a mission to kill a suspected gang leader and Aristide supporter Emmanuel "Dread" Wilme along with four of his lieutenants. When the smoke cleared not only did the five men lie dead from a hail of bullets but also so did at least 12 unarmed residents including women and children. Exclusive video footage of the incident seen by independent journalists is said to provide enough evidence to conclude that UN forces deliberately targeted unarmed civilians in the deadly raid. Although the UN promised an investigation into the July 6 incident, nothing has been said since except the well-known denials of UN Special Envoy Juan Gabriel Valdes who continues to dismiss any criticism of the UN mission as "propaganda and lies."
On November 27, Cite Soleil came under heavy fire again from Brazilian forces in a military operation against suspected bandits (a code word, according to residents, borrowed from Haiti's wealthy elite to describe Lavalas supporters in poor neighborhoods of the capital). At least seven people were wounded by automatic gunfire in an incident described by Canadian journalist Isabel MacDonald, "Suddenly, we saw four UN APCs-also manned by Brazilians--drive slowly up along the largest road in the vicinity. MINUSTAH bullets were suddenly whizzing by our heads. In the street alley we were in, people frantically flew in all directions, ducking into doorways, hiding behind ledges of the long concrete walls lining the alleyway. I took cover with a half dozen residents hiding behind a ledge of the wall that jutted out about six inches. The MINUSTAH APCs continued to fire rounds in our direction for about ten minutes."
As the embedded reporters were treated to photo opportunities of happy smiling residents receiving aid buckets in Pele last Friday, heavy gunfire broke out from Brazilian forces on Route Nationale 1, a main highway that separates Pele from Cite Soleil. "No one fired at them. They just started shooting for no reason and several people were injured," stated a bystander who witnessed the incident. 27 year-old Fritzner Montinard was later interviewed in St. Catherine's hospital in Cite Soleil were he lay immobilized by automatic gunfire that strafed both of his legs. "I was walking down the street. It was quiet and I saw the blue helmets but everything seemed calm. Suddenly they opened fire and I was shot in both legs. I didn't hear any gunfire before that and still don't know what caused them to shot at us like that" stated Mr. Montinard from his hospital bed.
Amnesty International (AI) recently accused Brazilian security forces of human rights violations for tactics they use in the poor neighborhoods of Rio de Janiero and Saõ Paolo known as favelas. According to the AI report issued December 2, 2005 and entitled, Brazil: 'They come in Shooting': Policing socially excluded communities, "The violence was highlighted by an incident in March, in which 29 people were shot dead by a "death squad" -- believed to consist of members of Rio de Janeiro's military police force -- in the Baixada Fluminense District of the city; it was the worst massacre in the city's history, but not a new or isolated phenomenon." It appears that the phenomenon has spread beyond the borders of Brazil as it's military command assumes primary leadership for the UN mission to stabilize Haiti ahead of the on-again off-again elections primarily backed and funded by the U.S. and Canada.
See Also
click image for story