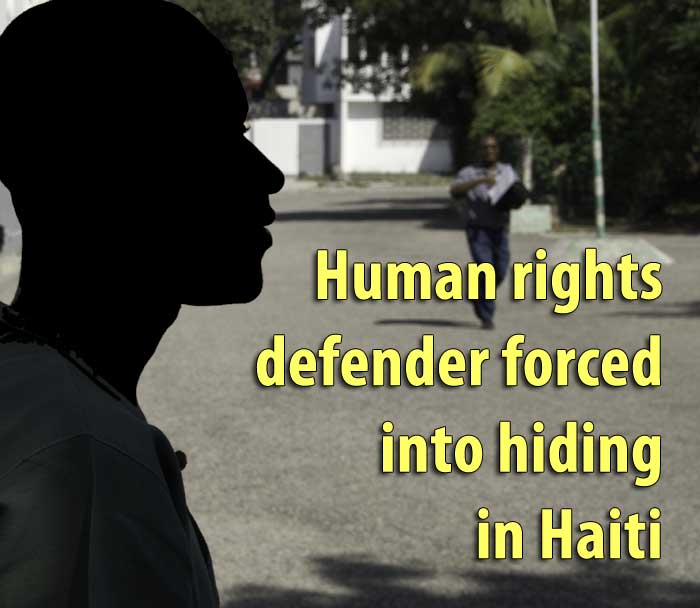 Wilson Mesilien interview with Haiti Information Project at St. Jean Bosco - December 17, 2007 - photo: ©2007 Randall White
Human rights defender forced into hiding in Haiti
HIP - Port au Prince, Haiti - A human rights worker whose colleague was abducted last August has been forced into hiding after receiving new threats. Wilson Mesilien has been serving as the interim head of the September 30th Foundation, a human rights organization based in Port-au-Prince. He assumed the role of interim director of the organization after the abduction and disappearance of the it's founder Lovinsky Pierre-Antoine over four months ago.
Pressure has mounted in recent weeks for the safe return of Mr. Pierre-Antoine as friends and supporters have stated they believe he is still alive and being held against his will in Haiti. In a recent interview from London, heard on a Berkeley, CA radio program Flashpoints, Selma James of the Global Women's Strike described a mounting international campaign on behalf of Mr. Pierre-Antoine. Mrs, James, widow of the renowned author CLR James who wrote the book The Black Jacobins stated, "We have an obligation to do something. We can't just stand by...for example we have to ask the Commissioner for Human Rights and Forced Disappearances of the United Nations to take some action. We have to leave no stone unturned." Mrs. James continued, "What is the United States doing? The United States has enormous powers to find people, or i think to lose them sometimes...so let us ask them what are they doing with the great resources that they have always had at their disposal. We must demand that he return...we are not satisfied."
Amnesty International issued a press release this past December 20 calling upon Haitian authorities to step up their efforts to find Mr. Pierre-Antoine and to provide protection to Mr. Mesilien. In their press release Renata Rendon of Amnesty International USA stated, "The Haitian authorities have a responsibility under international law to protect the legitimate rights of human rights defenders to organize and take action without restrictions or fear of reprisals."
According to Mr. Mesilien a new round of threats against him began on Christmas eve beginning with rumors spread throughout the capital that he had been abducted. "This is how it usually begins....with rumors that something has already happened to you. This was followed by more direct threats against me and the September 30 Foundation. I am obliged to take precautions for my personal safety and that of my family." stated Mr. Mesilien during a phone interview yesterday from an undisclosed location in Haiti's capital.
The Haiti Information Project (HIP) is a non-profit alternative news service providing coverage and analysis of breaking developments in Haiti. Winner of the CENSORED 2008 REAL NEWS AWARD for Outstanding Investigative Journalism
Share this story with your networks

SEE ALSO