"Haiti: We must kill the BANDITS,"
Knoxville premiere January 22.
Haiti filmmaker and journalist Kevin Pina will screen the world premier his new documentary, "Haiti: We must kill the BANDITS", in Knoxville Tennessee on January 22.
"Haiti: We must kill the BANDITS" vividly chronicles the events surrounding the ouster of Haitian president Jean-Bertrand Aristide on Feb. 29, 2004. In a never before seen interview, former prime minister of Haiti, Yvon Neptune, confirms that Aristide was forced out of the country against his will. " No one will ever convince me he left of his own volition," states Neptune in a exclusive interview from his office the day after Aristide was forced out of the country.
Three years in the making, "Haiti: We must kill the BANDITS" takes its title from a quote by Brazilian General Heleno Ribera who was the top military commander of UN forces in Haiti for two years. Ribera is seen in the film arguing with demonstrators marching for Aristide's return and the release of Lavalas political prisoners. Ribera demands they respect the Haitian police as voices shout back that they have slaughtered demonstrators as the UN stood by and watched. General Ribera loses his cool and screams back they are thieves who are taxing UN security forces with frivolous demonstrations. The scene ends in a melee with UN forces using tear gas and firing into the air to break up the otherwise peaceful demonstration.
Ribera is the UN military commander who also ordered a raid on the seaside shanty of Cite Soleil on July 6, 2004 and the documentary shows in detail how the UN stands accused of a massacre of unarmed civilians as a result.
"Haiti: We must kill the BANDITS" is clearly the only detailed chronicle, that exists, of the gross human rights violations that were committed against Aristide's followers and members of his Lavalas movement following his ouster.
This premiere event is produced by Melange, a collaboration between Real Media News, an independent news outlet, and Sweet Southern Pixels, a women's media artists collective. Both groups are based out of Knoxville, Tennessee and aim to provide venues and voices for those who deserve to be saw & heard.
The filmmaker, Kevin Pina, will be present to introduce the documentary on January 22.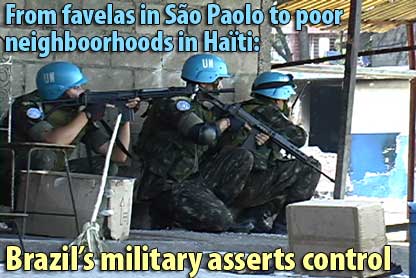 Photo: ©2005 Haiti Information Project On November 27, Cite Soleil came under heavy fire again from Brazilian forces in a military operation against suspected bandits (a code word, according to residents, borrowed from Haiti's wealthy elite to describe Lavalas supporters in poor neighborhoods of the capital).