UN troops accused of attacking hospital in Haiti
HIP - Haiti — It was about 11 p.m. at St. Catherine's Hospital in Cite Soleil on Wednesday night as exhausted doctors and nurses were treating numerous victims of gunshots wounds and filling out paperwork for the four corpses of the unfortunate ones whose lives they could not save.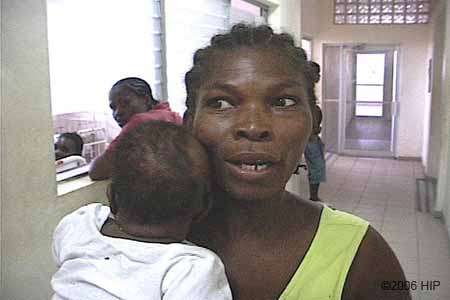 Jeanette Lager
Valancia Benjamin, the 8 year-old daughter of Benis Benjamin, lies in a hospital bed at St. Catherine's hospital in Cite Soleil.
"There had been a rush of gunshot victims and those who would talk told us it was the result of the U.N. opening fire on them. All of a sudden we heard loud booms and glass breaking and then we realized the hospital was being fired upon. At first we couldn't tell where it was coming from but then we saw the tracers coming from the direction of the old Boulos market that is now an armed encampment for the Jordanians in Cite Soleil. There was panic as a bullet struck a window in the Children's Ward and everyone went diving for cover," explained a hospital worker who asked to remain anonymous.
A foreign doctor who also asked their name not be used stated, "We are not sure where the bullets came from but if what everyone is saying is true [that the gunfire came from U.N. troops] there can be no excuse or justification for firing at this hospital."
Jeanette Lager, a 38 year-old mother clutching her ailing 2 month-old son, described the attack, "My friends who were on the street said they saw the U.N. firing at the hospital. I was inside with my sick baby when all of sudden glass started breaking and we could hear the gunfire from across the road where the U.N. controls the street. Look at the size of the bullet holes, look at the damage they caused. These were not small weapons. The U.N. is killing us in the streets and now they are attacking the only hospital we have in Cite Soleil. It's criminal and it must be stopped."
Benis Benjamin, whose 8 year-old daughter Valancia was shot in their home by U.N. forces the same night, described his fear as gunfire struck the hospital. "My little girl was shot in our home by MINUSTHA last night and I had to rush her here to save her life. The only reason she is alive is because of this hospital. Then I had to worry she might be a killed a second time when they began firing on the hospital. Thank God the hospital is still here," Mr. Benjamin stated.
As the on again, off again elections approach a renewed deadline of Feb. 7, the United Nations Stabilization Mission in Haiti (MINUSTAH) is being pressured to crack down hard on poor neighborhoods that are accused of remaining loyal to ousted President Jean-Bertrand Aristide. Many of these same communities have also been staging grounds for large campaign rallies in support of presidential candidate Rene Garcia Preval.
The attack on St. Catherine's comes on the heels of the killing of two Jordanian soldiers last Tuesday night. Those killings were preceded by a demonstration in the capital the day before by Haitians that supported the forced ouster of Aristide on February 29, 2004. Led by members of Haiti's wealthy elite, most notably Andre Apaid, Dr. Reginald Boulos, and Charles Henry Baker; the demonstrators criticized the U.N. for being too soft on criminals and not doing enough to restore security.
Andy Apaid is a wealthy sweatshop owner and the leader of an organization that dropped the zero from Haiti's year of independence, 1804, to create a so-called civil society organization named Group 184. The organization was heavily funded by the United States, France and Canada and helped to build opposition to Aristide's government. Apaid was among the first to refer to para-military forces that invaded Haiti from the Dominican Republic as freedom fighters even as they killed police officers and Lavalas officials in their bid to oust Aristide.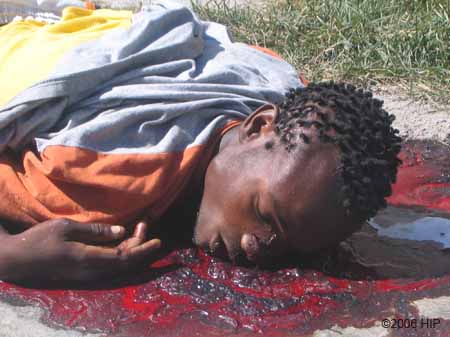 John Erickson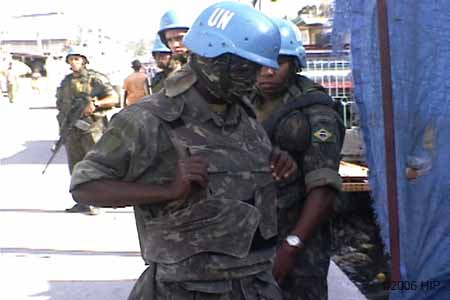 The Haitian infomant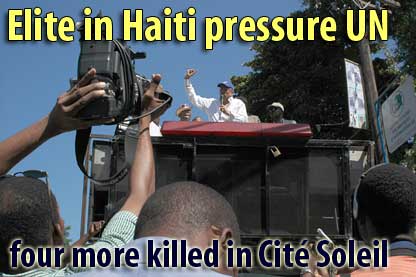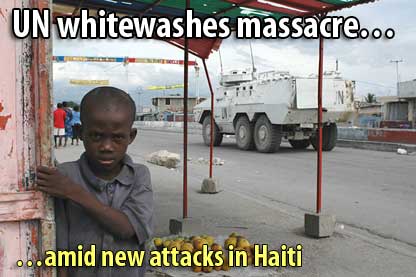 Dr. Reginald Boulos is the president of the Haitian Chamber of Commerce who is implicated in the deaths of at least 60 children after his company, Pharval Pharmaceuticals, produced a poisonous cough syrup distributed throughout poor neighborhoods of the capital. Boulos had also pushed the U.N. to make armed incursions into pro-Aristide neighborhoods last May. Survivors and members of the community charge this led to a massacre committed by U.N. forces in Cite Soleil on July 6, 2005. Charles Henry Baker, another sweatshop owner, helped to create the Group 184 and is currently a presidential candidate seen as the preferred choice of Haiti's wealthy elite and business community.
Jordanian forces in Cite Soleil attempted to block the access of journalists into another area of the community where more reported killings of unarmed civilians occurred yesterday. After finding another route around the Jordanians, journalists saw evidence of at least two more persons residents said were gunned down by MINUSTAH forces Thursday morning. John Erickson's body lay less than 30 feet from a wide street named Bwa Neuf that is patrolled by Jordanian soldiers in Armored Personnel Vehicles 24-hours a day. Residents claimed he was shot
along with several others at about 9 a.m. when gunfire erupted from U.N. forces.
Another man, known by his neighbors only as "Ti Blan", lies in a pool of blood and was the apparent victim of a single shot that ripped into his chest. All of those interviewed at the scene repeated several times that the victims were unarmed at the time U.N. forces opened fire.
Journalists leaving Cite Soleil and traveling through the neighboring community of Pele witnessed first-hand new tactics being employed by Brazilian forces to pacify the area.
A man described by residents as being a member of a group called the GNB, hid his identity behind a mask made of camouflaged cloth as he led Brazilian soldiers through the area in search of what he described as "bandits." He stopped and questioned a woman using a cellular telephone on the street and then took the phone away from her and began searching through the directory for numbers. He called a number with no apparent luck, returned the phone and told her that if he saw her again he would have her arrested.
When questioned by a reporter the masked man stated he was a private citizen who had "volunteered to help the Brazilians rid Haiti of bandits" and said he was not being paid for the service. When asked if he was otherwise gainfully employed he retorted, "This is my job. I am going to find the bandits for these guys and they have given me my authority. I don't need money to eat."
After the masked man led the Brazilians down a side street and out of earshot, residents began to complain that he was one of at least eight individuals being used by U.N. forces in the area as paid informants. One woman who spoke out afterwards said, "Those masked guys have been responsible for arresting a lot of innocent people over the past three weeks. They are using this as a form of political and personal revenge and the U.N. doesn't seem to care if innocent people are killed as a result or if they end up in jail. This situation is like living in a nightmare."
To see all 12 images for this story
click this link for web photo gallery