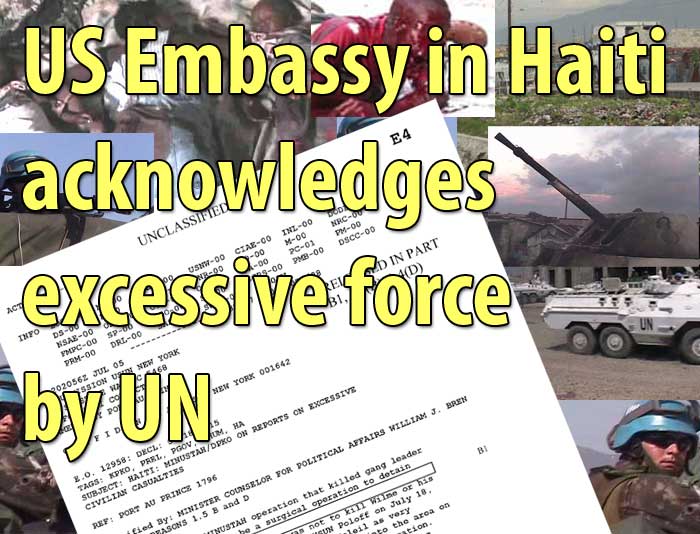 US Embassy in Haiti acknowledges excessive force by UN

Photos: ©2006 Haiti Information Project
HIP - Port au Prince, Haiti — In the early morning hours of July 6, 2005 more than 350 UN troops stormed the seaside shantytown of Cite Soleil in a military operation with the stated purpose of halting violence in Haiti. When the shooting stopped seven hours later, more than 26 people, the majority of them unarmed civilians lie dead with scores more wounded. Officially, the UN responded that they only opened fire after being fired upon and discounted non-combatant casualties. Further, the UN claimed that only six people, who they described as "bandits," had been killed during the military operation.
According to documents provided to HIP by a researcher who obtained them under the Freedom of Information Act (FOIA), the U.S. Embassy and various intelligence agencies attached to the Pentagon's Southern Command, were aware of the excessive use of force by UN forces in Haiti on July 6, 2005. Despite being heavily censored by U.S. officials under Executive Order 12598 in the "interest of national defense or foreign relations," what emerges is clear evidence of the disproportionate use of force by UN troops in Cite Soleil.
An "After Action Report" submitted to the US Embassy by the UN states that the UN attack on the crumbling civilian neighborhood was intense, prolonged, and carried out with heavy artillery and weaponry that UN officials knew could cause extensive collateral damage and the death of innocent victims.
These disturbing revelations are made all the more important in light of accusations that the UN committed a second massacre in Cite Soleil on December 22, 2006. In that raid, video and photographic documentation as well as eyewitness testimony obtained by HIP, paints a picture all too similar to the events of July 6, 2005.
According to the After action report,"...the firefight lasted over seven hours during which time [UN] forces expended over 22,000 rounds of ammunition... [An official] with MINUSTAH acknowledged that, given the flimsy construction of homes in Cite Soleil and the large quantity of ammunition expended, it is likely that rounds penetrated many buildings, striking unintended targets."
According to the FOIA documents , UN and US officials knew of, and ignored victim's claims of the MINUSTAH massacre. A U.S. Embassy cable to the Secretary of State and US Southern Command on July 19, 2005 and titled "Human Rights Groups Dispute Civilian Causalities", states, "Human rights organizations continue to dispute the number of civilian causalities from the MINUSTAH operation in Cite Soleil on July 6. Some local human rights groups estimate the number of deaths attributed to MINUSTAH soldiers [to be] between... 50 to 70 people..."
"Pro-Aristide affiliated human rights organizations are calling it a massacre by the UN. MINUSTAH have allowed charges of a massacre to fester, but they released a statement on July 25 stating that their forces did not intentionally target civilians."
While the cable may reflect the official version put forward by the UN of unintended targets, testimony from the survivors and photographic evidence from July 6, 2005, of what are clearly head shots targeting civilians, contradicts this. Although many were likely killed behind thin walls, the video evidence of the disproportionate number of victims felled by single shots to the head from high-powered rifles lends credence to the testimony of survivors following the deadly raid.
General Heleno Ribera, the top UN military commander in Haiti at the time, sought to explain away the casualties as acts of retaliation by alleged gang members in Cite Soleil following the raid. In a cable from the US Permanent Mission to the United Nations to State Department Headquarters on July 20, 2005, the Department of Peacekeeping Operations (DPKO) quoted a censored source who cited "rumors around Port au Prince" as proof of retaliation by gangs as the main cause of civilian casualties on July 6. The censored source cited by the DPKO report took it one step further, "The gang members are trying to frame MINUSTAH for causing civilian casualties." This assertion is directly contradicted by numerous interviews with survivors and eyewitnesses recorded by human rights groups and the Haiti Information Project following the UN raid on July 6.
In a cable from US Embassy Port au Prince to State Department Headquarters on July 26, 2005, a personal commentary apparently added by former US Ambassador James B. Foley states, "It remains unclear how aggressive MINUSTAH was, though 22,000 rounds is a large amount of ammunition to have killed only six people."