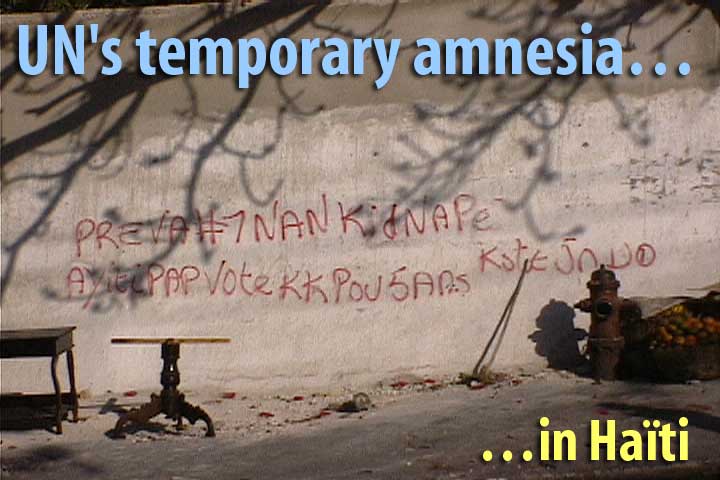 Photos: ©2006Haiti Information Project Graffitti insulting presidential candidate Rene Preval has begun to show up in the suburb of Petion-Ville. The area is seen as a bastion for Haiti's well-heeled elite who are backing the candidacy of sweatshop magnate Charles Henry Baker. The graffitti translates: "Preval is the #1 kidnapper. Haiti will not vote in this shit for 5 years. Where is Jan Do [Jean Dominique]?"
UN's temporary amnesia in Haiti
A commentary by Kevin Pina
founding editor of the Haiti Information Project (HIP)
HIP - Haiti — There has been much hand wringing and posturing by the international community since the fourth delay of elections by their Haitian surrogates who took power after the forced ouster of democratically elected President Aristide in Feb. 2004. Clinging to the illusion of Haitian sovereignty, they now claim to be waking up to the fact that the U.S.-installed interim government and the opposition that helped to oust Aristide have always represented the interests of Haiti's traditional reactionary elite.
Throughout Haiti, many find it difficult to believe that U.N. Envoy Juan Gabriel Valdes didn't know from the beginning of his mission exactly which sector of Haitian society he was propping up to the tune of a reported $584 million dollars per year. This is especially difficult for the majority of Haitians to swallow given that Valdes has served as the chief apologist for the U.S.-installed regime of Gerard Latortue. A regime that continues to enjoy the support of the international community after committing gross human rights violations including summary executions, killing of unarmed demonstrators and the false incarceration of countless victims in Haiti for their political beliefs and affiliations.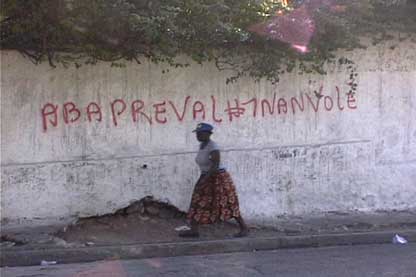 A Haitian woman walks past graffitti in Petion-Ville that reads: "Down with Preval the #1 thief"
This purported awakening to reality by Valdes and other U.N. officials was transmitted on Jan. 24 in a recent article written by Ginger Thompson in the New York Times, "Fear and Death Ensnare U.N.'s Soldiers in Haiti." In the article Thompson writes, "But he [Valdes] and several other United Nations officials, as well as two high-ranking Western diplomats, rejected assertions that the mission had failed. They charge that Haiti's tiny elite, along with interim Prime Minister Gerard Latortue, have orchestrated a campaign to undermine the mission and delay the elections, because the Haitian leadership is nervous about what opinion polls indicate are likely to be the results." The international community's current revelations can only be seen as disingenuous given that they are the ones propping up the very sector they now charge with obstruction of the elections.
Thompson's N.Y. Times article adds a backhanded recognition by the U.N. that the movement to oust Aristide, and the formation of the subsequent client government, was always a project to return Haiti's elite to power, "They thought they could get rid of one government and have the country to themselves and their friends," a United Nations officials said, asking not to be identified out of fear that his comments could hurt his position in Haiti. "But Preval has come and ruined the party."
Rene Garcia Preval was the former prime minister under Aristide's first administration in 1991 before the brutal military coup and was the former president of Haiti from 1996-2001. Preval is sailing in the polls to win a second term as president in the upcoming elections. Preval's closest rival, Charles Henry Baker, is a wealthy sweatshop owner and a co-founder of the Group 184, a so-called civil society organization that helped to overthrow Aristide and was heavily funded by the United States, France and Canada through an intriguing web of foreign non-governmental organizations (NGO's).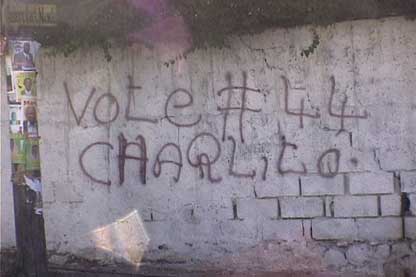 Graffitti in Petion-Ville supporting Charles Henry Baker, also referred to Charlito.
In recent polls Preval is set to capture at least 34% of the vote while Baker falls a distant second with a mere 10%. If neither of them wins with a clear majority, a run-off is scheduled in early March that holds the potential for creating more violence as Haiti's elite plays its last losing hand in a final bid to control the presidential palace as a trophy for having ousted Aristide.
Preval's position in the polls comes as no surprise to Haitians with a television set who see images each night of hundreds of thousands of people thronging to spirited Preval campaign rallies throughout the country on Tele-Ginen, a local television station in the capital. The state-run television station Television Nationale d' Haiti (TNH) rarely reports on Preval's campaign and then only in passing. The few truly independent radio stations such as Radio Solidarite, Radio Melody FM and Radio Ginen also capture the excitement of Preval campaign rallies in their broadcasts while the elite-run radio stations that helped to oust Aristide give little coverage.
Stations such as Radio Metropole, Radio Vision 2000 and Radio Kiskeya mostly play interviews with nervous officials of the government or lengthy interviews of Baker or his wife. Madame Baker is usually cast as an expectant first lady parroting the positions of her husband in attacking the evils of Aristide and his violent partisans. In most of the interviews on the elite-run stations the cause of violence is almost always linked back to Aristide and his mythical gun-toting minions called Chimeres with the subtext that it will not end and only get worse with the election of Preval.
As the first round of elections scheduled for Feb. 7 approach, the U.S.-installed interim government and Haiti's elite are poised to create more problems in realizing the process to fruition. The rising fear among Preval supporters is that they may ultimately resort to fraud or provoke more violence during campaign rallies in an effort to forestall his victory.
Fear of an escalation in violence as the elections approach is not unfounded. A campaign bandstand and vehicle were recently set ablaze in the northern town of St. Marc by a nefarious group named RAMICOSM that is associated with armed gangs that helped to oust Aristide. RAMISCOSM is also implicated in the slaughter of Aristide government officials and supporters of his Lavalas political party in St. Marc. That carnage ultimately led to a siege by government forces in Feb. 2004 in an effort to restore order.
Haitians still remember when the military, backed up by the Haitian elite, slaughtered voters at the polls in 1987. Memories of the assassination attempt against Aristide on December 5, 1990, during a campaign rally in the wealthy-elite bastion of Petion-Ville, are also not forgotten. Four people were killed and scores maimed after a bomb went off under the bandstand. There is also the collective memory of masked gunmen on motorcycles indiscriminately strafing the population with automatic gunfire and planting pipe bombs that killed school children in the weeks leading up to Aristide's second election victory in Nov. 2000.
The few remaining leaders of Aristide's Lavalas movement, those who were not killed or jailed, have publicly condemned the elections as an exercise to legitimize the coup of Feb. 2004. Many wonder out loud exactly what Preval and his supporters expect since it is the same base of voters supporting him now that elected him president in 1995 and re-elected Aristide in 2000? They reason those two elections were never really about Preval or Aristide. It was always about the electoral base of the majority of poor Haitians and their struggle to wrest control from the country's tiny elite who have traditionally seen political power as their entitlement and privilege. This is why there has always been a corresponding level of violence to thwart real democratic change in Haiti. A fact the self-deluding apologists of the international community, the U.N. mission and the mainstream press in Haiti are about to be reminded of once again.