Women, Children Subjected
to Hood Treatment
by the Haiti Information Project
May 12, 2004
Port-au-Prince, Haiti
At 12:30 a.m. on the morning of May 10, a Special Forces squad of approximately 20 U.S. Marines executed a military assault on the home of 69-year-old Annette Auguste, a.k.a. So Anne. Auguste's residence is part of a compound that includes four other apartments that were also invaded by the U.S. military forces. The troops forcefully covered the heads of eleven Haitians with black hoods and then forced them to the lay face down on the ground while binding their wrists with plastic manacles behind their backs. The victims of this terrifying U.S. military invasion included five-year-old Chamyr Samedi, 10-year-old Kerlande Philippe, 12-year-old Loubahida Auguste, 14-year-old Luckmar Auguste and seven adults.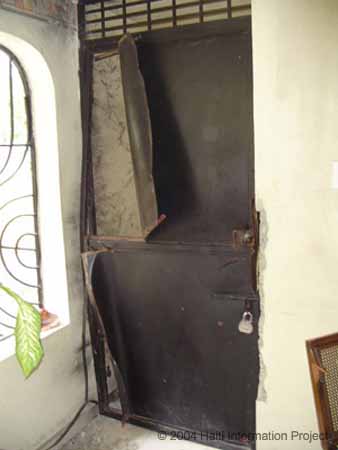 Evidence gathered at the site included paraphernalia left behind, such as blasting caps, igniters for explosive devices that terrorized the occupants when the troops invaded the residence. [click here to see slide show of the damage - 256k - nine images]
There was not a single member of the Haitian National Police (PNH) force or the de facto Haitian government present, according to the arrestees, when the U.S. forces unilaterally attacked the residence. According to Haitian law, as is the norm in any democratic country, no arrest can be made without a proper warrant issued by judicial authorities. The Haitian Constitution requires that warrants only be executed between the hours of 6:00 a.m. and 6:00 p.m. The lack of any legality within the context of Haitian law and the fact this was executed unilaterally by U.S. military forces in Haiti raises serious questions of national sovereignty and the role of U.S. military forces in Haiti today.
Lesly Voltaire, one of the highest ranking Lavalas officials remaining in Haiti, has consistently condemned the campaign of political persecution and arbitrary arrests against his political party. Voltaire stated, "This was an illegal arrest done past midnight. The law does not allow arrests after 6:00 p.m. I strongly condemn this armed assault and believe that the charges against Annette Auguste are unfounded. We are fighting for due process and this was not performed within the context of due process and Haitian law. This is clearly a part of the campaign of persecution against Lavalas. No Haitian police or authorities were present. We must ask what are the rules of engagement for U.S. military authorities in Haiti and what right do they have to do this? Is Haiti still a sovereign nation?"
Ms. Auguste is detained incommunicado at the National Penitentiary in Port-au-Prince despite the claim of National Coalition for Haitian Rights (NCHR) that they visited her at the prison. This claim by NCHR is disputed by her husband, Wilfrid Lavaud, who says he has no knowledge that NCHR visited Ms. Auguste. He stated that if NCHR did visit her, they did so without the knowledge of the family. Her husband also stated that he does not consider NCHR to be a credible human rights organization because they have worked so closely with the Haitian opposition to the constitutional government of President Jean-Bertrand Aristide in the past. NCHR has played a significant role in the media disinformation campaign regarding the events surrounding the coup and Lavalas in general:
see article Propaganda War Intensifies Against Haiti as Opposition Grabs for Power
by Kevin Pina
also NLG - Haiti Delegation Report
It should be also be noted that other international journalists attempted to visit Auguste at the National Penitentiary but were spurned by the current Latorture government, citing that they were "too busy" to respond to requests to see her.
Why was Annette Auguste targeted for this military-type assault by U.S. Marines in Haiti? One week ago, Lavalas officials, who had been calling for the end of political persecution and repression against their party had publicly announced they would begin demonstrations calling for the return of President Jean-Bertrand Aristide beginning on May 18. Given the important role that Annette Auguste has played in supporting the constitutional government of Jean-Bertrand Aristide, and helping to build the base of support among the majority of the poor in Haiti for that cause, many in Lavalas see this attack against Annette Auguste as a preemptive strike by the Bush administration to continue the destabilization campaign begun by Otto Reich and Roger Noriega that eventually led to the forced departure of President Aristide.
The real question is what right does a special military assault team of U.S. forces in Haiti have to perform such an action. In typical fashion, the Haitian media controlled by the same forces that had allied themselves with the Bush administration to forcibly remove President Aristide have reported several uncorroborated accusations justifying this action. Among them is the tried-and-true claim that Annette Auguste controlled violent factions associated with the constitutional government of President Jean-Bertrand Aristide. A second accusation fielded by Radio Metropole is that Ms.Auguste was organizing a clandestine operation aimed at performing armed assaults against U.S. military personnel in Haiti. As per usual with the Haitian media, controlled by the wealthy elite, no corroboration or factual evidence was ever given to back up these claims made by their paid surrogates. Guyler C. Delva of the Association of Haitian Journalists has actually accused many Haitian journalists of working as paid informants for U.S. military operations and the Haitian police in Haiti. These are the same media in Haiti that actively worked hand-in-hand with the campaign to destabilize the constitutional government of Jean-Bertrand Aristide that led to his forcible removal on February 29, 2004.