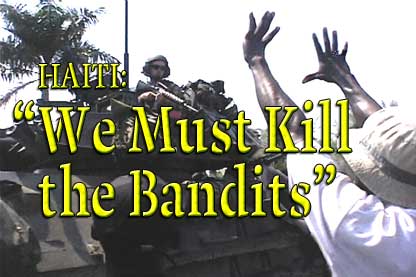 click image above to view 2-minute trailer
Haiti documentary captures Cité Soleil reality and post-coup atrocities
The acclaimed documentary by journalist Kevin Pina - Haiti: We Must Kill the Bandits - continues its tour this weekend in Detroit before heading to London, Ontario. Featuring a hip-hop title track, the lyrics and beats of rapper Ali Aumeer and songstress Sara Marlowe capture the repeating history of U.S. intervention - to demonize the target population that would feed resistance to foreign occupation by labeling them "bandits" or "gangsters" and install a brutal coup government.
The documentary exposes the disinformation campaign that covered up one of the greatest human rights travesties in the history of Latin America and the Caribbbean. Thousands of Haitians were killed, jailed and forced into exile after the February 29, 2004 ouster of President Jean-Bertrand Aristide.
BANDITS calls into question the credibility of so-called Haitian human rights organizations as it becomes clear they were far from impartial and actually participated in creating a witchhunt climate of persecution against Aristide supporters. One such group, the National Coalition for Haitian Rights or NCHR, is mentioned time and time again in BANDITS by family members working with political prisoner organizations in Haiti. They claim that NCHR whipped up a climate of hatred with disinformation that allowed for the political persecution of thousands of Aristide supporters and their imprisonment without trial.
Amazingly, the UN Secretary General's current spokeswoman and the widow of one of Haiti's most famous journalists, Michelle Montas, was a member of the Board of Director's of NCHR along with filmmaker Jonathan Demme. The latter would produce a documentary about Montas's murdered husband, Jean Dominique, where he implies that Aristide may have had culpability in his assasination for poliical reasons. NCHR was also the primary source for human rights information on the ground in Haiti for organizations like Amnesty International and Human Rights Watch after Feb. 29, 2004. Both groups have received severe critisizm for their apparent indifference to the human rights nightmare Haiti had become following Arsitide's ouster.
US Marines take control of Haiti's capital even before the bloodletting begins. They are later replaced by a UN occupation force under the command of the three Latin America militaries with the most heinious human rights records in the history of the western hemisphere - namely Brazil, Argentina and Chile.
UN forces have been accused of committing numerous massacres in neighborhoods like Cite Soleil and massive campaigns of arbitrary arrests in places like Bel Air, where massive demonstrations demanding Aristide's return have been launched. The documentary provides video evidence of UN atocities that were designed to destroy opposition to a brutal regime installed at the behest of U.S. policymakers. Images of the carnage and interviews with survivors, following a UN raid in Cite Soleil on July 6, 2005, should be more than enough to convince any objective viewer that the international force is playing more than a mere "peacekeeping" role in Haiti.
Haiti: We Must Kill the Bandits tour begins in Detroit with a community event sponsored by MECAWI, the Michigan Emergency Committee Against War and Injustice. College and community events are then planned in Ontario, Canada where Pina will be joined by former Haitian legislator Jean Candio. Candio was arrested and held for three weeks by Canadian authorities last December who initially claimed he was a member of a terrorist organization and a threat to public security. "I am pleased that Jean Candio will finally get a chance to speak directly to the Canadian public about his false incarceration." stated Pina. Events featuring Mr. Candio will be held at King's University College in London,ON and at the University of Windsor,ON. The presentation at Windsor follows the first day of registration for a three-day Media and Propaganda Conference, featuring the work of Noam Chomsky and Edward Herman, also held on the University of Windsor campus. Pina is scheduled to provide a Haiti workshop segment for the conference aptly entitled, "Guerilla Tactics for Challenging the Corporate Media."
The second leg of the BANDITS tour takes Pina to the Pacific Northwest with several dates scheduled in Seattle, Portland and Olympia. The final leg of the tour travels to NY and Washington DC in early June. The next leg will begin in July.
The itinerary to see Kevin Pina and his documentary:
Detroit MI - Saturday May 12 - 6:00 pm
5922 Second Avenue, Near WSU Campus For More Info: (313) 680-5508; e-mail: info@mecawi.org URL: http://www.mecawi.org
London ON - Sunday May 13 - 7:00 pm
King's University College 266 Epworth Ave. London in Room 100, Labatt Hall
Windsor ON - Tuesday May 15 - 9:00 pm
University of Windsor 401 Sunset Avenue in the Moot Court (Law building at the corner of University Ave. and Sunset Ave.) Special guest: former Lavalas Legislator Jean Candio
Seattle WA - Sunday May 20 - 12:00 PM (noon)
Bethany UCC Church 6230 Beacon Avenue South
Olympia WA - Sunday May 20 - 7:30 pm
Capital Theater 206 E. 5th Ave.
Olympia WA - Monday May 21 - 2:00 pm
South Sound Community College 2011 Mottman Rd SW
Portland OR - Wednesday May 22 - 7:00 pm
Liberty Hall 311 N Ivy Street
Olympia WA - Thursday May 24 - 11:30 am
Evergreen State College 2700 Evergreen Parkway NW
Portland OR - Thursday May 24
Clinton Theater 2522 SE Clinton Street
New York/Manhattan - Friday June 1
Millennium Theater 66th E. 4th Street
For more info: www.fanmilavalasny.com
908-472-5362/6464-236-6861 co-sponsored by: GREFPOM Fanmi Lavalas Haiti
Brooklyn, NY - Saturday June 2
Erasmus High School 911 Flatbush Ave. F
or more info: www.fanmilavalasny.com
908-472-5362/6464-236-6861 co-sponsored by: GREFPOM Fanmi Lavalas Haiti
Wash. DC - Tuesday June 5
Festival Center 1640 Columbia Road NW (close to Green Line, Columbia Heights metro stop. Also, 5-2 or 5-4 metrobuses along 16th Street to Columbia Road)
For more info, call 202-277-8252