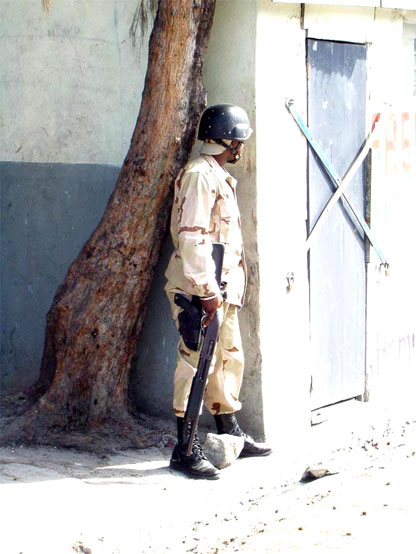 © Tom Griffin PNH in Bel Air
Haiti's police ratchet up violence, dismiss human rights concerns
Port au Prince, Haiti (HIP) - Haitian police continued attacks against a pro-Aristide neighborhood for a third straight day. The area, known as Bel Air, has been a launching site for recent large demonstrations demanding the return of ousted President Jean-Bertrand Aristide. It is also said to be a home to what Haitian police have alleged is a growing "urban guerilla" movement to destabilize the government before upcoming elections.
According to several residents, the police raids began on Friday evening and have been followed by several waves of armed assaults on the community. Residents also reported being unable to flee indiscriminate shooting by the police without running into roadblocks and checkpoints set up by U.N. forces surrounding the area. Many complained of arbitrary arrests of relatives by U.N. forces collaborating with the Haitian police as they tried to escape the gunfire.
Journalists entering the neighborhood were shown huge pools of blood where victims were reportedly shot without warning and early reports indicate that more than 30 people have been killed during the police raids. Gunfire could still be heard throughout Bel Air Sunday night as police launched another deadly assault.
"They are killing us. They are trying to slaughter us all," shouted an unidentified woman whose home was burned to the ground after police set fire to the area. More than 12 homes were reportedly burned to the ground in what many human rights observers have described as a "scorched earth" policy being used by the Haitian police.
The police raids come one day after a spokesman for Aristide's Lavalas movement in Haiti's capital, Mr. Sanba Boukman, condemned a recent attack and firebombing against a popular market in Port au Prince. At least 10 people are reported to have died in last week's blaze that was started after unidentified gunman began shooting in the area. This prompted U.S. Ambassador James B. Foley to join Haiti's business elite in calling for tougher measures to be used against what they have characterized as "armed gangs loyal to Aristide."
Haiti's latest wave of violence and insecurity began after the Haitian police fired on thousands of peaceful demonstrators in the capital demanding the return of President Jean-Bertrand Aristide on Feb. 28 and April 27. At least 11 unarmed demonstrators were killed in the two attacks forcing U.N. Secretary General Kofi Annan to echo demands of human rights organizations for an official investigation. The U.S.-installed government of Gerard Latortue has dismissed the allegations despite statements made by Brazilian General Heleno Ribera and video footage taken by a local television station confirming the unprovoked attacks. The video footage also shows members of Haiti's police force planting guns on corpses to justify the slayings on April 27.
Recent violence in Haiti's capital has also decreased the chances of holding elections scheduled to begin in October of this year. The body overseeing the election process, the Provisional Election Council, announced on May 30 that only 60,000 people have registered out of an eligible 4.5 million potential voters since the process began more then a month ago.
The current crisis in Haiti also prompted an editorial in a California newspaper on Saturday, the Contra Costa Times, to conclude, "Rushing to hold elections in the midst of anarchy is a formula for disaster. The United States must use its leverage to force the Latortue government to negotiate with Aristide and Lavalas. Aristide remains the country's most influential political figure and there will be no solution to the current crisis without his participation." Such positions are said to infuriate U.S. policy makers who are accused along with France and Canada of fomenting a coup against Aristide Feb. 29, 2004.
Your support
for the Haiti Information Project is needed
to keep this alternative to the corporate
media reporting from Haiti


Get more information about donating today
TheHaiti Information Project(HIP) is a non-profit alternative news service providing coverage and analysis of breaking developments in Haiti.
For more information visit: http://haitiinformationproject.blogspot.com/
Contact: HIP@teledyol.net