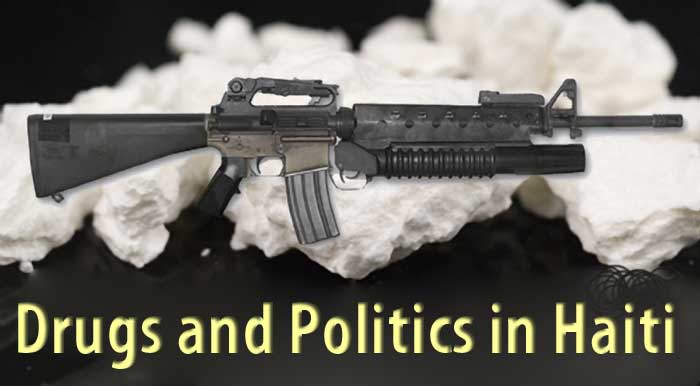 Drugs and Politics in Haiti
HIP - The US Drug Enforcement Agency's recent attempt to hunt down former policeman, paramilitary commander and presidential candidate Guy Philippe on drug charges can be traced back to a recent arrest in the town of Gonaives, Haiti.
Haitian police and Argentinean units of the UN arrested Wilfort Ferdinand, alias Ti Wil; on May 26 after he gave a lengthy interview on local radio station Radio Gonaives FM. Although news of Ferdinand's arrest received scant attention in the international press it was one of the top stories throughout Haiti the following day. Much of the reporting in the Haitian press focused on the shared history of Wilfort Ferdinand and Guy Philippe in leading paramilitary forces that helped to oust the government of Jean-Bertrand Aristide.
In early February 2004, Wilfort Ferdinand along with Butteur Metayer, Winter Etienne and Dieujuste Jeanty, led armed gangs to attack police stations in the Artibonite region in a bid to oust Aristide's government. They left a bloody trail in their wake including the summary execution of Aristide supporters in the streets of several cities. Their group, called the Artibonite Resistance Front, later joined with the small but well-armed paramilitary groups that invaded Haiti from the Dominican Republic under the leadership of Guy Philippe and former death squad commander Jodel Chamblain. Ferdinand and the others quickly claimed allegiance to Philippe and publicly referred to him as their "commander-in-chief" in press interviews.
Ferdinand appointed himself Chief of Police of Gonaives and Winter Etienne became the Chief of the Gonaives Port Authority, ruling Haiti's fourth largest city as a personal fiefdom following the ouster of Aristide on Feb. 29, 2004. Philippe shared the podium with Ferdinand in late March 2004 when US-installed prime minister Gerard Latortue was flown into Gonaives by US military helicopters accompanied by Davi d Lee, Canadian ambassador to the Organization of American States. During a mock celebration of Aristide's ouster, Latortue publicly praised the men as misunderstood "freedom fighters" while ambassador Lee nodded his head in approval.
During Ferdinand's interview on Radio Gonaives FM and just before his arrest on May 26, he repeated assertions he had made days earlier on another radio station in the capital. He claimed that he was being pressured by "certain members of the business community" to take up arms against the current government of President Rene Preval. He explained that these were some of the same business leaders that had financed their paramilitary operations against Aristide and ended with "I would rather commit suicide than raise arms against this government."
The day following Ferdinand's arrest, May 27, Guy Philippe was interviewed on Haitian radio station Signal FM where he took the accusations a step further. Without answering the question of pressure to take up arms against Preval, Philippe began to name names of business and political leaders who backed the paramilitary insurgency against Aristide's government by providing arms, ammunition and logistical support.
Philippe's list included members of what was then touted as the "peaceful opposition" in Haiti that led demonstrations in the capital and other cities demanding Aristide's resignation. High on the list was Andy Apaid the leader of the civil society organization called the Group 184.
Apaid had been extensively quoted in the international media at the time saying their movement was non-violent and had no connections to the paramilitary bands. Claire Marshall wrote for the BBC on Feb. 13, 2004, "One of the most prominent opposition platform spokesmen, Andy Apaid, wanted to make it clear that he did not approve of violent methods." Marshall continued, "Andy Apaid invoked the names of Martin Luther K ing and Mahatma Gandhi, saying that he wanted to try and lead the opposition in a form of peaceful protest." Philippe's disclosures exposed Apaid's duplicity and served to discredit the "peaceful opposition" movement against Aristide. It also highlighted the uncritical and favorable reporting given to it by the BBC and other major news organizations.
Philippe's list also included the leadership of several political parties that were part of a United States Agency for International Development funded program in the 90's and who recently ran candidates in UN-sponsored elections in Haiti. Among others fingered by Guy Philippe were Evans Paul of KID/Alyans, former senator Dany Toussaint of the MODEREH, Serges Gilles of PANPRA (note: FUSION currently) and Himmler Rébu of the GREH.
On June 1, Haitian police spokesman Frantz Lerebours, announced that they had discovered a kilo of "a white substance resembling cocaine" after searching the residence of Wilfort Ferdinand. On July 16, DEA agents executed a dramatic raid against Philippe's residence in the southern coastal town of Les Cayes and he has been on the run ever since.
"It's a good question of whether Philippe will actually be arrested," responded a source close to UN intelligence operations in Haiti who asked not to be identified. "The other option is that he may end up in a third country in a quiet exile like Michel Francois," he said in reference to a former police chief who led a military coup against Aristide in 1991. Francois was indicted by a Miami Grand Jury in 1997 for drug trafficking and currently resides in Honduras after that country's Supreme Court refused to extradite him. The official continued, "It would take a complete change in current policy for him to be allowed to remain in Haiti without being arrested. But stranger things have happened."
See Also
The Dominion — Haiti: The Politics of Drugs June 26, 2007
Insurgency and Betrayal: An Interview with Guy Philippe March 24 , 2007