Lavalas in Cap Haitien Today
Activists risk everything to come out of hiding, tell their story and demand justice
By Judith Scherr
Look at more photos from this day
CAP-HAITIEN, Haiti - Their president exiled, homes vandalized, school buses incinerated, local elected officials booted from office, more than 2,500 people took to the narrow streets of this northern city on Sunday. They donned tee-shirts with images of President Jean-Bertrand Aristide whom they continue to adore and told all who would listen that they demand international respect for their sovereignty and the return of their president and other officials they elected.
Aristide says on Feb. 29, he was whisked from office by a coup orchestrated by the U.S., France and Canada. The U.S. State Department claims it helped a willing Aristide leave a country under attack by rebels ready to take over the country by force.
Protesters, some of whom had come out of hiding to participate in the demonstration, carried the displaced president's pictures or sported umbrellas, bags and shirts imprinted with his image. Others crowded onto balconies and lined sidewalks to watch or wave and spread out five fingers signifying their demand that Aristide finish the full five years of his office. A similar demonstration reportedly of some 10,000 people took place in Port-au-Prince.
"The power of the people is the best," the crowd chanted, "That's the power we give to Aristide."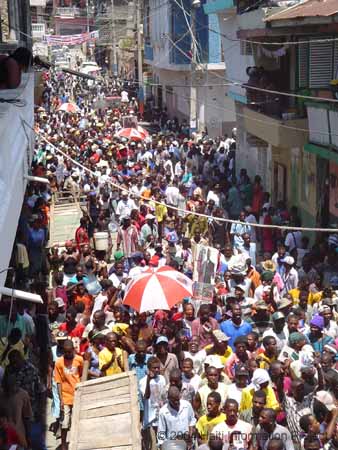 As they marched, the protesters also sang out their condemnation of the rebels and of George Bush whom they hold responsible for the loss of their leader and called for "justice for the people that the rebels killed. Disarm the rebels."
Demonstrators said the march was significant because, given the violence of the events of this year, people in the north have been very afraid to support their deposed leader in public.
The climate of increased aggression spiked in and around Cap-Haitien on Feb. 22 when an armed gang of rebels came to the area in a frenzy of burning, killing and looting, according to more than two dozen persons interviewed in the days before the march by a group of foreign journalists and human rights workers. Many of the armed attackers were members of the military that led the 1991 coup against Aristide, some of whom have been accused of or convicted of serious human rights violations.
Supporters of Lavalas - the political party Aristide help found to support the poor, peasants and working class - were targets of the violence, according to witnesses and victims.
On one block alone, Francois Chily's house was shot up, a carpenter suffered bullet wounds, as did his 88-year-old neighbor and at least one house was torched.