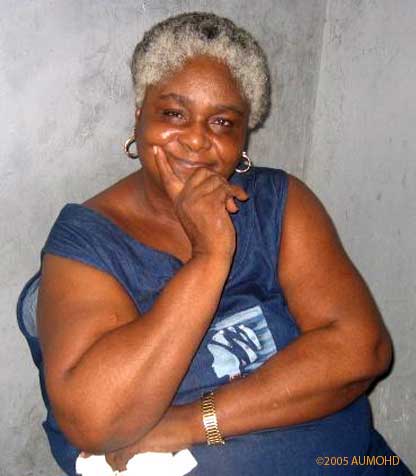 ©2006 AUMOHD Annette Auguste (Sò Anne), June 23, 2005 grandmother, pro-democracy activist and political prisoner. This picture was taken at Petionville Penitentiary where she has been held without charges since her violent arrest by US Marines on May 10, 2004
Half-Hour for Haiti: Insist on a Fair Trial for Annette Auguste and Her Co-Defendants
Institute for Justice & Democracy in Haiti Update: Some good news in the case of Annette Auguste and the five other defendants charged in connection with the December 2003 events at the State University: their case has been set for trial. In our July 18 alert we urged President Préval to ensure that the their case is heard during the current criminal court sessions, and we just found out that the trial is scheduled for Monday, August 14. Thank you to everyone who wrote about this case to President Préval last month, and to Minister of Justice Magloire for our June 20 alert.
Haiti Debt Relief Bill in the U.S.: we do not know how many more co-sponsors are on board, because Congress is out of session. But please take advantage of your Representative's presence in your district throughout August to urge her or him to co-sponsor theHaiti Debt Relief Bill, H.Res. 888. At the request of grassroots groups planning to attend community meetings with their Representatives, we have put together an information packet for the Congressperson and a one-page summary for other attendees. Let us know if you would like a copy.
Upcoming Events: The Solidarity Encounter with the Haitian People organized by the September 30 Foundation will take place in Haiti from August 20-26. This is an excellent opportunity for people who care about Haiti to connect with Haitian grassroots groups struggling for justice.
This week's action: Please write to Haitian Minister of Justice René Magloire. Thank him for helping the December 5 case go to trial, and urge him to ensure that the trial is a fair one. There will be a lot of pressure on the Haitian government to keep the defendants in jail at any cost, so it is vital that the Minister hears that there is international support for respecting the rights of Annette Auguste and her co-defendants. A sample letter is below, feel free to customize it. Letters must arrive by the end of the day on Thursday, August 10, so please send them to us by fax: (206) 350-7986 (a U.S. number) or email: avokahaiti@aol.com, and we will ensure that they are delivered promptly.
Dear Mr. Minister: I am writing to express my appreciation that the case of the political prisoners held in connection with the December 5, 2003 incidents at the State University has been set for trial on August 14, and to urge you to make every effort to ensure that the trial is a fair one for all concerned, especially the defendants.
As you know, Annette Auguste (SÚ Ann), Georges Honoré and Yvon Antoine (Zap Zap) have been in jail for over two years in this case, and Paul Raymond has been jailed for over a year. Not a single witness has testified in court against any of the defendants, and two years of pre-trial investigation did not produce a single shred of direct evidence against them.
The August 14 trial is an opportunity to show that Haiti's justice system can make a clean break from the last two years, where the system was used as an instrument of repression, not justice. Accordingly, I urge you to take every possible measure to ensure an exemplary trial. These steps should include instructing the Commissaire du Gouvernement to ensure fair treatment of the accused, providing adequate security and logistical support for the trial, and if necessary, taking appropriate action against any prosecutor or judge who abuses his position to violate the Constitutional and human rights of any of the defendants.
Thank you for your attention to this matter.
For more information about the Half-Hour for Haiti Program, the Institute for Justice & Democracy in Haiti, or human rights in Haiti, see www.ijdh.org. To receive Half-Hour for Haiti Action Alerts once per week, send an email to HalfHour4Haiti@ijdh.org.