Doctors Without Borders hosts
Info Session in Miami on February 3rd
Every day, Doctors Without Borders aid workers from around the world provide assistance to people whose survival is threatened by violence, neglect, or catastrophe — treating those most in need regardless of political, religious, or economic interest. Whether an emergency involves armed conflicts or epidemics, malnutrition or natural disasters, Doctors Without Borders is committed to bringing quality medical care to people caught in crisis.
On Thursday, February 3, medical and non-medical professionals are invited to join us for an evening presentation to learn more about how you can join Doctors Without Borders' pool of dedicated aid workers.
You'll meet experienced Doctors Without Borders aid workers from the Miami area and hear their firsthand stories of "life in the field." Aid worker and Human Resources Officer, Rogier van Helmond, will discuss requirements and the application process.
The presentation will last 1 1/2 hours, including Q&A.
Doctors Without Borders recruits:

Medical Personnel:
physicians
nurses
obstetricians and gynecologists
midwives
HIV/AIDS and TB specialists

Operating Room Personnel:
surgeons
operating room nurses
anesthesiologists
nurse anesthetists

Para-Medical Personnel:
epidemiologists
licensed mental health specialists
pharmacists
laboratory scientists/technicians

Non-Medical Personnel:
logisticians
water & sanitation logisticians
specialists in construction, mechanics, and/or supply management
administrators - human resources, finance
MSF is also in urgent need of French-speaking aid workers to provide assistance in countries such as Niger, the Democratic Republic of Congo, Chad and Haiti.
Put your ideals into practice visit the Event Brite page
to sign up for this Info Session
http://msfmiamiinfosession020311.eventbrite.com/volunteer/
Share this story with your networks
Contact us: info@haitiaction.org
see also on HaitiAction.net
Maxine Waters calls for Haiti's botched elections to be voided and new elections to be held Jan 12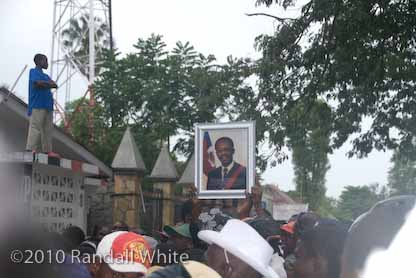 Many came to the rallys after they hearing of Céant's commitment to Aristide. The overwhelming part of the crowd joins in on pro-Aristide shouts and songs.
Part 3
Céant tackles Haiti's current issues with a surprising alliance between bitter rivals Nov 20
Part 2
Céant campaign hits the road, calling for the return of Aristide Nov 16
Part 1
Thousands demonstrate for Aristide and Jean-Henry Céant in Haiti's popular neighborhoods Nov 14
BAI protests Haiti Recovery Commission's contempt for Earthquake victims Oct 13
Haiti: US Congress members warn Clinton to include Lavalas in elections Sep 30
Haiti's Earthquake Victims: "We Have Been Forgotten" Sep 24
Rev. Jeremiah Wright: "Let's tell the truth about Haiti" Sep 21
Hurricane IGOR will not threaten Haiti, but natural gas futures rise… Sep 13
Pursued by France for Haiti Hoax, group holds press conference in Montreal Jul 21
Thousands in Haiti march on Aristide's birthday Jul 16
"We want our voices to be heard":
Democracy in Haiti's Earthquake Zone May 3
Haiti: Mobile schools in the Earthquake Zone Apr 3
Haiti: hell and hope Jan 28
On the ground in Port au Prince Jan 28
"Thank you Bill Clinton" — one more assassination by UN troops in Haiti Jun 20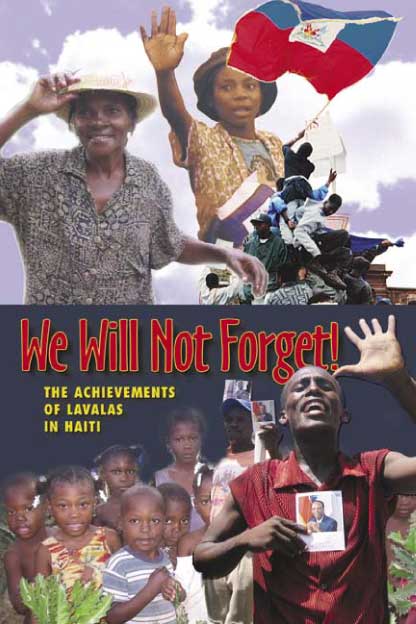 Contact us: info@haitiaction.org