October 13, 2004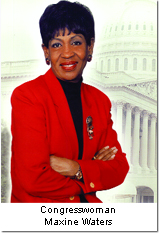 The Honorable Colin Powell
Secretary of State
Department of State
2201 C Street, NW, Room 7261
Washington, DC 20520
Dear Secretary Powell:
I write to urge you to take immediate action to protect the life of Father Gerard Jean-Juste, the pastor of Saint Claire Church in the Delmas area of Port-au-Prince, Haiti, as well as the lives of several other Haitian priests and parishioners, who are reportedly in imminent danger.
Earlier this afternoon, I received reports that Saint Claire Church was surrounded by heavily-armed, hooded men, while Father Jean-Juste was inside. My Legislative Assistant, Ms. Kathleen Sengstock, contacted the U.S. Embassy in Haiti and spoke with Mr. Doug Griffith, the Deputy Chief of Mission, to express my grave concerns for Father Jean-Juste's safety. During a follow-up phone call, Mr. Griffith told Ms. Sengstock that he had informed both the Haitian National Police and the United Nations Peacekeeping Mission in Haiti (MINUSTAH) of the reports and that the Haitian National Police were sending a patrol to look into the situation.
Subsequent to the conversations with Mr. Griffith, I have been told that Father Jean-Juste was taken away by the hooded men, and I fear for his life. Moreover, I have been told that at least one other church in the Delmas area of Port-au-Prince, Saint Yves Church, was surrounded by heavily-armed, hooded men in a similar manner. Two priests, Father Francois and Father Sauvageur, as well as several children, were inside this church, and I fear for their lives as well.
I implore you to urge MINUSTAH and the Interim Haitian Government to intervene immediately to save the lives of Father Gerard Jean-Juste and the priests and parishioners of Saint Claire and Saint Yves Churches. I would appreciate it if you would contact me as soon as possible to discuss these ominous developments, and I look forward to your prompt response.
Sincerely,
Maxine Waters
Member of Congress
See also:
IJDH Human Rights Alert:
Illegal Arrest of Catholic Priest,
Rev. Gérard Jean-Juste

Catholic Priest arrested in Haiti
Haiti Information Project
(HIP)
Port au Prince
, Haiti
(HIP)
Heavily armed units of the Haitian National Police (PNH) arrested Catholic priest Gerard Jean-Juste today at his parish of St. Claire in the poor neighborhood of Petite Place Cazeau. The U.S.-backed government of Gerard Latortue accused Father Jean-Juste of importing arms and harboring gunmen in his parish. Jean-Juste spoke by telephone minutes prior to his arrest and denied any involvement in the violence that has rocked Haiti since September 30th when police opened fire on a peaceful demonstration.