As we have seen recently, the corporate media has continually provided distortions, misrepresentations and complete fabrications as "news" about current events in Haiti. Often, the same writers will cover demonstrations and intentionally distort the number of participants.
Even the smallest opposition demonstration is reported. The reported number of participants at opposition demonstrations will be overinflated-usually more than three times. Most pro-government demonstrations that show in large numbers don't get reported at all, or are reduced to one-fifth their size in number.
It is rare that even the most prestigious news organizations make any attempt to correct these errors. Most recently this letter from attorney, Ira J. Kurzban, Esq. was able to get a published retraction that was buried deep in The New York Times. As you can see in the following excerpt the NYT states that there was a "small" crowd. These two photos show the event that they were referring to.
By LYDIA POLGREEN - January 2, 2004
photo:
Ruth Fremson/The New York Times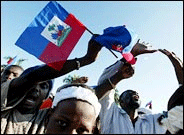 caption:
Supporters of Jean-Bertrand Aristide, the Haitian leader, cheered outside the presidential palace in Port-au-Prince Thursday, celebrating the 200th anniversary of a victory over France that led to Haiti's independence.PORT-AU-PRINCE, Haiti, Jan. 1 - Two hundred years ago, an army of African slaves defeated French forces on this tropical island, ending Napoleon's ambition to dominate the Americas and paving the way for the first black republic.
On Thursday, President Jean-Bertrand Aristide led a tense and chaotic observance of that bicentennial, though many found little to celebrate in Mr. Aristide's governance over what, after 200 years of independence, remains an impoverished and troubled nation.
Speaking to a small but enthusiastic crowd, Mr. Aristide called Haiti "the mother of liberty," and appealed to opposition groups, which have mounted ever larger demonstrations against his government, to agree to new elections this year.