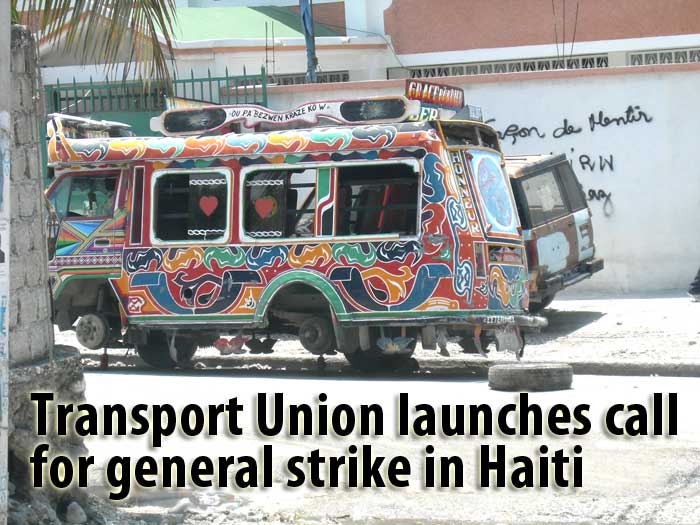 ©2007 Randall White
Transport Union launches call for general strike in Haiti
by Roger Annis
PORT AU PRINCE, HAITI — At a press conference here on August 17, one of Haiti's transport unions, the Association des Propriétaires et Chaffeurs d'Haiti (APCH - Association of Owners and Drivers of Haiti), launched an appeal for unions and popular organizations to hold a two-day, country-wide general strike to protest the disastrous economic situation facing working people in this country.
In an interview following the press conference, the communications director of the union, Fortuné Patrice, explained that the initial appeal is supported by many trade unions, student organizations and other popular movements. The union will hold discussions with more unions and popular organizations in the coming week to broaden support for the strike, set for August 27 and 28.
"The government of René Préval is aligning itself more and more with the interests of the foreign powers in Haiti, to the detriment of the Haitian people. Conditions of life for ordinary people are deteriorating all around us and we cannot sit back and let this happen," he said.
Fortuné says the strike will encompass the demands of transport workers, but also of the general population. Demands include:
A reduction in the price of fuel.
A compromise in the government's demand that transport workers and owner/operators pay up for vehicle license fees that went unpaid during the three and a half years of chaos that followed the February 29, 2004 coup d'etat in Haiti. [The union says the de facto government provided no services during that time, so drivers or anyone else being asked to pay up should not have to pay. The APCH has offered a compromise payment from its members of half the fees owed.]
Revision of the May 26, 2006 law that hiked various licensing and traffic fines by as much as 50 times.
An end to layoffs and privatisation plans for state-owned companies such as Teleco (telecommunications) and EDH (electricity).
Programs to improve the conditions of life for the poorest people in Haiti, such as reductions in the price of basic foods and more funding for health care and education.
The working age population in Haiti numbers 4.5 million. Of those, only 200,000 have salaried jobs, including 35,000 in government services and state-owned enterprises. There is deep and growing dissatisfaction here with the failure of the foreign occupation powers and the Préval government elected in early 2006 to make any dent in the crushing burden of unemployment and absence of public services.
The APCH organizes workers and owner/operators that run inter-city buses and transport trucks. It numbers 2,000 members. It is working hard to expand its membership, including among the 70,000 public transport ("tap tap") drivers in Port au Prince.
The union also supports programs that provide health care and other services to its members or the general population. One such program is a mobile health service, recently launched by the 35-member Syndicat Haitien des Professionels de Santé (Haitian Union of Health Professionals). (Please see this writer's article on the exemplary work of this group of health care workers).
Like everyone in Haiti, members of the APCH suffer from the dysfunction of government services in Haiti and violations of basic rights at the hands of police. Fortuné Patrice told this writer of a recent case of a truck driver who spent more than two months in jail after he came upon an apparent road accident in which the driver of a single vehicle had died. Police held the driver in jail as a preventive measure, they said, because had no one else who might have been responsible for the death. It took more than two months before the driver could appear before a judge and win a release.
In describing the social calamity facing the Haitian people, Fortuné commented on the absence of foreign aid programs needed to deliver much needed services to the Haitian people. "Haiti is the second-largest recipient of foreign aid by the government of Canada. But the population here does not see this money nor receive any services that it might provide.
"Is there any way," he pleaded, "that aid money from Canada could be directed to the organizations that are delivering services on the ground and not get wasted by a bureaucracy that never seems to reach the people?"
President René Préval is himself voicing discontent with the foreign presence in Haiti. On August 1, during a 24-hour visit to Haiti by the UN's new secretary general, Ban Ki-Moon, Préval told reporters, "I invite the UN to reinvent MINUSTAH (the French acronym for the UN occupation force in Haiti) and make it an instrument of help to the justice system and improvement of our basic infrastructure."
But the President also declared in June, following a two-day strike by APCH and other transport unions, that he will not yield to protests for improvements in social programs nor to other criticisms of his government.
At the press conference that called for a general strike, APCH also expressed its concern about the recent kidnapping of political rights figure Lovinsky Pierre-Antoine. The union called for the kidnappers to release Lovinsky unharmed, and for the authorities to put all necessary resources into ensuring his safe release.
Another rally by Lovinsky's supporters will take place today (August 20) in Port au Prince in front of the presidential palace, calling for a maximum effort by government and police authorities to win his safe release. This rally is in place of one yesterday that had to be cancelled due to rains precipitated by Hurricane Dean. Port au Prince escaped heavy winds and rains from the hurricane.
Roger Annis is a member of the Canada Haiti Action Network and visited Haiti from August 5 to 20. To read all his reports from Haiti, go to www.thac.ca/blog/9. He can re reached by e-mail at rogerannis@hotmail.com.
Hurricane Dean Page on HaitiAction.net