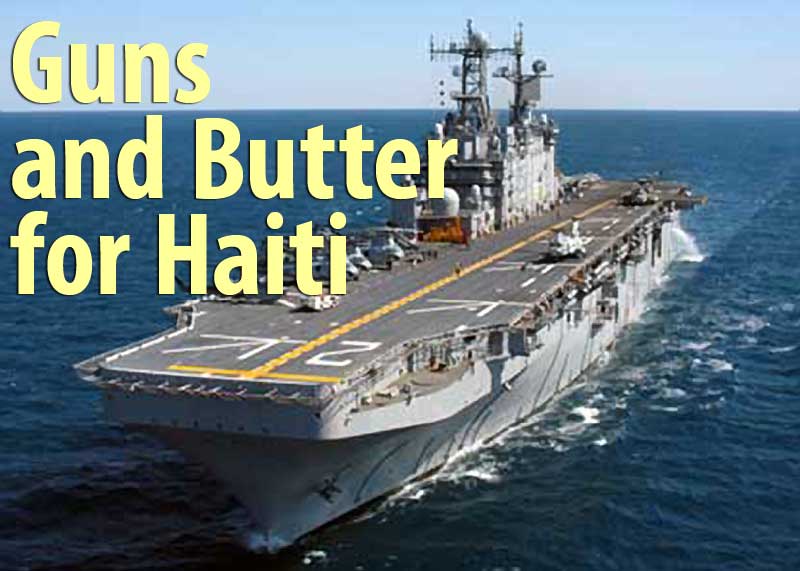 USS Saipan was cruising the waters just north of Haiti during an "intervention" by foreign — to Haiti — special forces that turned the tide in Cap Haïtien, in January 2004. Leaders of the popular defense reported the next day that those soldiers debarked from specialized landing craft amazingly similar to the ones loaded into the belly of the USS Saipan.

photo courtesy of US Navy
Guns and Butter for Haiti
USA returns Haiti thug to active duty while rumors of new weapon shipments appear,
soon before departure of "Humanitarian" Assault Ship
by Randall White
"Deception is the next best thing to Truth."
There's just sooo many things happening in Haiti this week, that I'll just have to put them all together in this one column.
The TCC might want you to think that they're all unrelated, but if you're able to find your way to this website all by yourself, then you might want to spend some time thinking - for yourself - about the word for today:
Discernment
(I was surprised that I spelled that one correctly - first time through. Course, some of you want to believe that I'm misspelling that "thug in Gonaïves" name, but my authority on that, is one of my favorites; AHP - L'Agence Haïtienne de Presse the best source for daily news in Haiti. If that spelling is good enough for Venel, it's good enough for me... spin.)
Yesterday's news by AHP:
The leader of the Gonaïves Resistance Front has been turned over to his partisans after they threatened the interim government
Port-au-Prince, January 24, 2005 (AHP)- The U.S. authorities repatriated Butter Métayer, president of the Front of Resistance of Gonaïves back to Haiti last Friday after imprisoning him for 47 days in Florida.
Butter Métayer was held in the United States on accusations of arms trafficking and human rights violations.
Métayer was not turned over to the judicial authorities, in keeping with the wishes of his supporters in Gonaïves who were acting in a very threatening manner toward the interim government. They accused the government of complicity in the arrest of their leader.
Immediately upon his arrival in Gonaïves, the head of the front attributed his arrest to politics.>
AHP January 24, 2005 11:50 AM"
-------------------------------------

Of course yesterday's news by AHP is todays news for CNN, AP and Reuters:
"Haiti rebel leader says he won't disarm" - CNN
"Deported Haitian to run for office in homeland" - AP
The good Senator Barbara Boxer needs to be grilling Condoleeza Rice about this one!
How can the US State Department allow a well-known arms trafficker in their custody to return to the relative safety of his own drug-trafficking gangster buddies when the UN is in the midst of a "disarmament" campaign?
If you're unclear about that one, it is a rhetorical question....
But it does raise a lot of other issues. Did you ever wonder how Butter Mètayer - a 34-year-old "LEGAL" U.S. resident alien who lived peacefully in Florida - acquired the leadership skills to command a small Haitian army with a great deal of confidence?
Coincidently, Florida - a purple state - just happens to be the top cocaine money transshipment point in the world. Entirely "unrelated" I'm sure.
But, if I were to bring a case of drinking straws (peashooters) or toothbrushes into PAP, I'd probably be arrested on the spot, and the stringers would be reporting that a major Lavalas weapons-trafficker was arrested at the airport bringing in a...
But what about that USS Saipan? Did you already know that it is on it's way to Haiti? Didn't really hit the press.
Could be, they weren't excited about letting a lot of folks know that they're bringing 50 Seebees and "1200 tons of equipment and supplies" for a "humanitarian mission."
When our Emperor, is still stinging over his insensitivity about humanitarian relief needs of the Tsunami victims.... You think?
They're calling this effort "New Horizons." (I'm NOT going to go there...) But, did you notice that They dropped the "compassionate conservative" thing before this election?
Just a coincidence, but they're bringing most of that "humanitarian relief" to Gonaïves. Wonder how much government butter and cheese are in them-there containers.…
It was about this time last year that the USS Saipan was slinking around the waters north of Cap Haitien. Yup. Butter's Buddies were a bit overly optimistic about their success against the supporters of democracy in that region.
We were all getting reports of the thugs being turned back decisively as late as 0100 then, the communications went out suddenly....
The next day the corporate media was reporting that the "ragtag" thugs had somehow overcome a much larger force of pro-democracy militants. Later, that day, we were able to hear from some of the activists in Cap Haitien. Several different sources reported that a high-speed landing craft - that looked a lot like this and this and THIS - suddenly appeared at 0300 with about 250 dark-skinned "non-Haitians" and serious weaponry....
The New Horizons Humanitarian Mission also brings into the region the peaceloving Expeditionary Strike Group (ESG) for a little training while Enduring Freedom runs smoothly in Iraq. "The ESG includes the USS Saipan, USS Trenton, USS Oak Hill and helicopter detachments from Helicopter Combat Support Squadron 6 and Helicopter Mine Countermeasure Squadron 14." Absolutely vital for a peaceful humanitarian mission, I'm sure. They expect to be in the area for two months.
Coincidently, that just happens to be the one year passing of The Coup.
What we have been hearing is that approaching the conveniently missing date of February 29th (this year) things are heating up all over Port au Prince, especially in Cité Soleil. If you read Tom Griffin's revealing Human Rights in Haiti report you would know that the UN "peacekeepers" have helped the murderous PNH seal off Cité Soleil and folks have taken to getting in and out by boat. Coincidently ...
Import, export, deport …
Butter is saying he doesn't have any guns, but he won't disarm, that all he really wants is "peace."
Condie should have an opinion on that. But then, we really should be considerate of her plight. She's a relative newbie on Haiti issues and can't be expected to be in command of all of the facts. Maybe we shouldn't torture her, much, about these troubling details...
To download the 2.2M PDF of Tom Griffin's CSHR report click this link