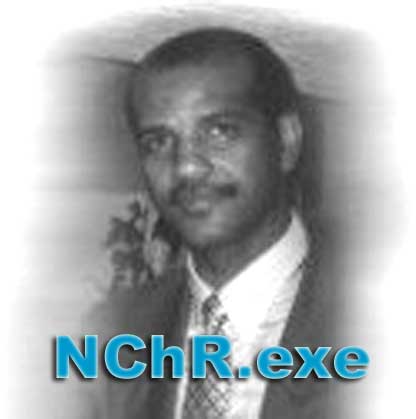 Claiming that Pierre Esperance has gone astray — by hounding the UN for keeping Prime Minister Yvon Neptune alive — Top Dog Jocelyn McCalla suggestion provided the inspiration for the first HaitiAction.net contest
HaitiAction.net Contest: Help NCHR find a new name for its spawn
by
RAW
Johnny McCalla the Haitian front man for the US State Department trojan horse outfit — NChR.exe — is trying salvage his "Liberal" credentials by disowning their body-snatching progeny in Port-au-Prince. Trying to put on a good spin for his appearance tomorrow with coup-engineers in the Rayburn Building — organized by his equally abject buddy Ron Daniels — Johnny suggested, last Friday, that his Haiti office take on a new name so that NChR.exe can hold on to some sort of plausible deniability.
To assist Jocelyn McCalla in his time of need, HaitiAction.net is hosting a contest to rename the newly abandoned "NCHR-Haiti." The Grand Prize will be a real treasure chest of books, resources and memorabilia for the emerging Haiti activist. Offered donations for the "Best reName" are still coming in. So far we have several books, a DVD and a Sò Anne CD. If the excitement keeps up, we'll have to add bonus prize categories.
[There's even a secondary contest to give the reNaming contest a name … ]
The National Coalition of Haitian Rights hasn't been squeamish about fabricating fantastic allegations over the past few years, carefully engineered to discredit the democratically-elected government of President Jean Betrand Aristide and discourage liberal activists away from supporting Lavalas. But the ruse has been getting a bit hangDOG of late and McCalla feels it's time to learn some new tricks. The cosmetic changes proposed by NChR.exe are coming too late for the latest gambit being perpetrated by Captain Ron Daniels which cruises into Washington DC, March 17 and 18, as many of the "invited" guests jump ship. Again ...
The coup-government keeps pointing to unsubstantiated charges made by Pierre Esperance as justification for keeping Prime Minister Yvon Neptune as a political prisoner. Last year theHaiti Information Projectreported on the contrived allegations:
"The NCHR reminds us that on February 11, 2004, policemen, members of special units of the Haiti National Police, including the Anti-Terrorist Corps (the CAT team), the Intervention Corps to Maintain Order (CIMO) and heavily armed civilians, members of the Bale Wouze organization, invaded the Syria neighborhood of St. Marc, which is the base of the Assembly of Militants of the Commune of St. Marc (RAMICOSM), an organization close to the opposition. The final tally is still incomplete, but there are more than 50 people killed or disappeared and several dozen houses destroyed by fire." (Massacre in Syria (St. Marc): Three Presumed Murderers Behind Bars, press release, NCHR, March 2, 2004)
"No other human rights organization, either local or international has documented this massacre. The journalists (including Reuters) who arrived at the scene after the events, report having found four or five unidentified bodies. In addition NCHR is not (any longer) very sure of their sources. Where are the bodies? According to the director, Pierre Esperance, they could have been devoured by wild dogs. (Haiti en Marche Vol. XVIII No. 23, Wedesnday July 7, 2004).
The US State Department has a goal of imposing USA-grown elections on the People of Haiti, to do so it needs to pull some bi-partisan support to float the game. Their investment into NCHR has been dogged by pro-democracy activists who could use a little contest to sharpen their teeth for the next phase of the struggle.
Send your NChR-Haiti reName entries to info@haitiaction.org soon. It's a rather anarchistic affair, we'll make this up as we go along. As yet, there's no deadline, no rules and no judges. We already have some real prizes but we're collecting more! No use bitchin about it, just send in your entries and suggestions. If you wish to donate more to the coveted prize chest, send us an eMail.
[NOTE: contest suspended]
Prize Chest (so far):
Books
"The Uses of Haiti" by Paul Farmer
"The Best Nightmare on Earth" - that RAW bought for a dollar - by Herb Gold, "the hipster-writer and perennial perverse bar mitzvah boy" who is most famous for reportedly trying to put words into Allen Ginsberg's mouth for J. Edgar Hoover. This self-absorbed missive was a template for pseudo-journalists who could expect to get a bone whenever they were able to beguile the well-meaning liberals who might be inclined to support a popular democracy in Haiti.
Pamphlets
"We Will Not Forget" the latest offering by the Haiti Action Committee
"Hidden From the Headlines" a mint copy, now out of print. Released in the Summer of 2003 this prophetic work has become a textbook to explain the treacherous complexities of the US War on Haiti.
DVD
"Harvest of Hope" by Kevin Pina
Music CD
"Rezistans" by Sò Anne
Please don't take time away from real projects for this diversion, but when the muse hits, get your entry in before it's too late. Watch HaitiAction.net for updates and improvements on this flea-bitten contest.
Next week we begin organizing a White Elephant Sale of "Cruising into History" memorabilia in honor of Captain Ron Daniels (director - Chavannes Support Project)
See Also:
The Double Standard of NCHR
by theHaiti Information Project(HIP) Sept 11 2004

NCHR - New York disavows comments made by NCHR - Haiti and asks the Haiti office to adopt a name that would better correspond to its current activities
------------------------------------------------------------------------

Port-au-Prince, March 14, 2005 (AHP)- The National Coalition for Haitian Rights (NCHR) in New York issued a statement Friday in which it distanced itself from it's Haiti office, directed by Pierre Espérance.

The Director of NCHR-Haiti, Pierre Espérance, released a statement on March 11 in which he criticized the decision by the UN and the interim Haitian authorities to allow former Prime Minister Yvon Neptune, whose health had seriously deteriorated due to a hunger strike, to receive medical treatment outside the penitentiary.
NCHR Executive Director Jocelyn Mc Calla declared in the news release published by the New York headquarters of the organization that neither Pierre Espérance nor any other member of NCHR-Haiti speaks for the organization.
Established in Haiti in 1992 as a field office for NCHR, NCHR-Haiti has operated independently for several years, said Mr. McCalla, raising its own funds and setting its own agenda and governance structure.
According to Mr. Mc Calla, NCHR was set up at the height of military rule to enhance its ability to monitor and advocate human rights in Haiti during this difficult period.

In 1995 it provided support to human rights victims by launching a human rights training program to broaden the constituency for human rights, and NCHR decided early on to make it possible for NCHR-Haiti to become independent eventually, said the news release.
However, stressed Mr. Mc Calla, positions taken by NCHR-Haiti do not represent those held by NCHR, and vice-versa.
"We hope that in the near future NCHR-Haiti will adopt a new name that more accurately reflects its standing and mission in Haitian society", declared NCHR.
Many sectors have often accused the organization, presumed to be close to the former opposition, of conducting itself more like a political party and thus of having stopped advocating for all victims of human rights violations.
Jocelyn Mc Calla, who acknowledged that the Haitian judicial system delivers little other than injustice, said he noted with regret that NCHR-Haiti has draped itself in nationalist flags to protest the decision by UN and Haitian authorities to place Mr. Neptune in a UN-operated medical clinic under UN and Haitian police guard.

Through its protest, NCHR-Haiti has placed itself, stated Mr. McCalla, in the "dangerous position of defending a dysfunctional Haitian judicial system".
Mc Calla asserted that the Haitian judicial system has failed Mr. Neptune in several ways, including the failure of the investigating judge to do much investigating or formally charge him.

NCHR learned a few weeks ago, according to its news release, that the interim government has not provided the judge the means or the security detail necessary to conduct such a high-profile investigation and that the judge has spent at least half of her time living away from her assigned jurisdiction of Saint-Marc.
Mr. Mc Calla also deplored that Haiti's highest court denied an appeal by Yvon Neptune for a change of venue from Saint-Marc to Port-au-Prince based on a minor technicality.

The Court of Cassation ruled that Mr. Neptune had failed to submit the requisite fee of 200 gourdes ($1.20) for the Court to consider his plea.

The Haitian judicial system "is ill-equipped to handle highly sensitive and political cases and it is therefore unlikely that it can function free of political interference, whether from government or non-governmental parties, declared the director of NCHR from the organization' New York headquarters.
Last year, NCHR recalled, the organization appealed to the interim authorities to establish jointly with the UN a Special Tribunal to handle such cases, including the April 3, 2000 murder of broadcaster Jean Dominique.
Evidence gathered thus far, asserted McCalla, pointed to the involvement of key Lavalas government and party officials, yet the case has barely moved past the investigative stage, he said.
NCHR proposed a court established by Haitian and UN authorities of impeccable reputations and invited Haitian and UN authorities to set up the court by the fifth anniversary of Jean Dominique's assassination.
Mr. McCalla added that appropriate measures must be taken to ensure that Yvon Neptune is not subjected to cruel, inhuman or degrading punishment.
In his view, "the only way left for Haitian authorities to rise to today's challenge is to release him promptly".

AHP March 14, 2005 11:00 AM