Community Schools in Northern Haiti:
A plea to the international community
Ecole Communautaire de Coronel - This small school on the outskirts of Milot serves twenty orphaned children. The two teachers have worked on a volunteer basis since the coup fufilling their committment to these children who would otherwise not have an opportunity for eduucation.
by
Sasha Kramer
While accompanying Jean Charles Moise ousted mayor of Milot in the week leading up the December 16 demonstration, I had the privilege of visiting a handful of the schools that Moise founded during his tenure as mayor. We visited nine community schools built during the last decade to serve poor families that are unable to afford the few state run public schools that exist in the area.
All of the schools that we visited received some financial support from the national government during Aristide's administration and all have had their funding cut under the unelected Latortue regime. This fact is particularly striking given that Aristide was forced to work under an international aid embargo imposed by the US shortly after the Haiti's May 2000 parlimentary elections, while the unelected interim government has been promised a 1.8 billion aid package to "reconstruct the country", a move that many predict will only force Haiti deeper into debt. Given the disparity in resources and international support between the democratically elected government and the US installed interim government one must wonder where is the new aid money going if not to support schools? Isn't education the backbone of any solid development policy?
Each of the schools face slightly different problems, however all of the directors stated emphatically that the primary needs are money for teacher's salaries and supplies. Since the coup the schools have been forced to operate without a budget for supplies and on a volunteer basis. While these schools are lacking in resources, there is no shortage of commitment and passion among the students and teachers. The people of Milot have a thirst for education and during the week children can be heard reciting their lessons as early as 4 am in unison with the first roosters. I was amazed by the unparalleled dedication of teachers and school directors who continue to work without pay, utilizing their own scant resources to travel to and from school while struggling to feed their families.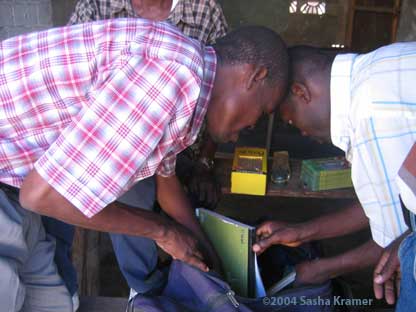 School director Delva Louis and a friend unpack school supplies donated by activists from the San Francisco Bay Area at the Institut Centre Cultural Capois, a school serving 220 students in a poor neighborhood in Cap Haitien.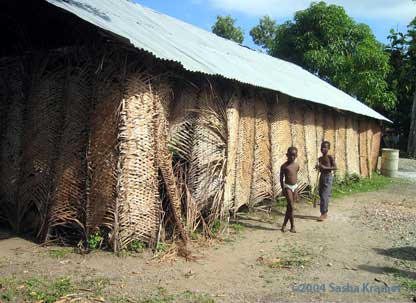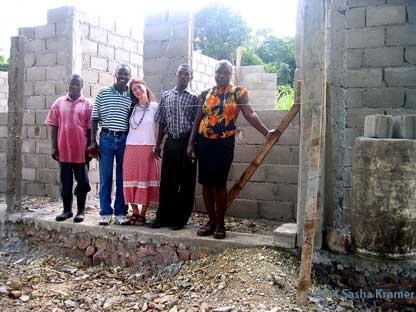 Nika Lagradel (right), director of Ecole Nationale de Bordes, stands on the frame of the partially constructed building started under Moise's administration. She expressed hope that people in the international community can partner with the community of Milot to help these children get a better education. Nika estimates that it would cost approximately $5,000 to complete the new building so the children could be taught in a comfortable environment with separate rooms for each class. This goal is quite modest by US fundraising standards and I have faith that through the kindness and generosity of our communities in the US we can help Nika and Moise to realize their vision of empowering the poorest of the poor through education.
On Tuesday Moise and I hopped on some scooters with two friends and a bag of school supplies and headed off down the long and bumpy road that Nika Lagradel, director of the Ecole Nationale de Bordes, travels every day. Her school which serves 300 children is the only non-private school for 14 km. Nika described how as mayor, Moise used the limited resources of the national Lavalas administration to build schools. She said that before there were only private schools and adult literacy programs. In September 2002 the town of Milot began construction of a permanent building for the Ecole Nationale de Bordes with separate classrooms for different age groups. Seed money for the school came in the form of a birthday present for the town. Moise took the money given by the national government for a celebration and used it to start building the school. He said "the party would have made many people happy for one night. The school will serve thousands for the rest of their lives".
Unfortunately, construction was halted after the coup and students continue to be taught in a one room building made of wood and leaves. Work on a latrine also had to be stopped due to lack of resources leaving the 300 children with no effective sanitation system, a situation that is both humiliating and a serious public health concern. Nika said that the schools most critical needs right now are: money to (1) pay the teachers, (2) complete the permanent building, (3) purchase supplies, mainly pencils and notebooks, and (4) complete the latrine.
Nika expressed her thankfulness to those in the international community who continue to work with Moise saying that "many development projects have come to a halt now that Moise is no longer in office and the support of the international community is absolutely critical for continuing his important work."
We also delivered school supplies to a small school on the outskirts of Milot, Ecole Communautaire de Coronel. In this small thatched building Jean-Baptiste Jonfuy and Eliphete Myrtol teach 20 orphaned children who would never have the opportunity to attend a state run or private school. Neither of these teachers has been paid in months but they remain committed to their students and hopeful that Moise will find the means to support their work, even from hiding.
Moise's work is not confined to Milot and we had the opportunity to visit several schools established over the past decade in poor neighborhoods in Cap Haitien. Even in the city Moise is well known and people greeted him warmly in all of the areas we visited. Antoine Presume, director of Ecole Notre Dame du Cap, a school serving 500 children in a poor neighborhood in Cap Haitien, told me that Aristide's government used to assist them with money for a school lunch program. Since the interim government came into power in March the school has received no assistance from the national government and has had to temporarily discontinue the lunch program. A cornerstone of the Lavalas party platform is the belief that food is a human right and a necessary condition for peace. One of Aristide's most well loved phrases was "lape nan tet, lape nan vant" (one cannot have peace of mind without peace in the stomach). The school lunch programs, set up national and local levels by elected Lavalas officials, were conceived based on this philosophy. Moise says his vision is to have lunch programs at all of the schools that get their food directly from the local peasant communities. That way money for the schools that goes towards the lunch program stays in the community supporting an even larger web of people.
It is this kind of thinking that allowed the Lavalas government to make scant resources go a long way, keeping money circulating within communities instead of flowing out of Haiti. If we in the US wish to offset the Bush Administration's antidemocratic policies in Haiti we can do so by supporting the efforts of grassroots organizers and duly elected officials such as Jean Charles Moise.
You can help contribute to the community schools described in this article by visiting the following website http://community.webshots.com/scripts/editPhotos.fcgi?action=viewall&albumID=191986842 and purchasing a photo from Milot for a suggested donation of $15 (though generous contributions are gladly accepted). To purchase a photo send a description of the photo you would like along with a check to:
Sasha Kramer
385 Serra Mall
Stanford University
Stanford, CA 94305
Or email sash@stanford.edu for more information
Be sure to include your return address.
A small donation can go a long way towards helping to educate children in this underserved community. Your contribution also helps to counter the Bush administration policy towards Haiti by promoting participatory democracy through education instead of external manipulation and force.