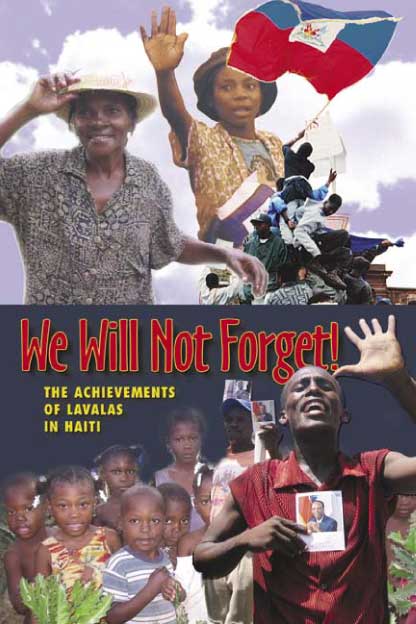 "We Will Not Forget"
cover for a PDF version — 1M PDF file
click this link
or image above
We Will Not Forget:
The Achievements of Lavalas in Haiti
On February 29, 2004, the constitutional government of Haiti was violently overthrown, bringing Haiti's ten-year experience with democracy to a brutal end. Orchestrated by the United States, France and Canada, the coup forced President Jean-Bertrand Aristide into exile and removed thousands of elected officials from office.
A year after the coup, the Haitian people continue to demand the restoration of democracy. Braving police gunfire, wholesale arrests and beatings, they are taking to the streets holding up their five fingers, signifying their determination that Aristide complete his five-year term.
Why are Haitians so insistent on Aristide's return? Why have they been so resolute in their opposition to the coup and the subsequent U.S./U.N. occupation? Answering these questions requires a close look at what actually occurred during the years of democratic rule in Haiti.
We Will Not Forget: The Achievements of Lavalas in Haiti is a new 16-page pamphlet written by Laura Flynn and Robert Roth, members of the Haiti Action Committee. It highlights the most significant Lavalas accomplishments in areas such as healthcare, education, political democracy and economic justice. These initiatives moved Haiti towards the full participation of its poor majority in the life of the nation. Since last February's coup, most of these advances have been reversed. This pamphlet provides a context for understanding the social and economic dynamics behind the coup d'etat, making clear that Aristide was attacked and overthrown not because Lavalas failed to change Haiti, but precisely because profound transformation was underway.
For a PDF version — 1M PDF file — click this link or image above