Haiti on alert for tropical storm headed to Jamaica
UPDATE: 1200 Haiti Time
Saturday, August 26
Tropical Storm Ernesto is quickly gaining strength and could reach Hurricane strength by tomorrow as it passes Jamaica. The central pressure has dropped from 1003mb to 997mb overnight and wind speed has picked up almost 10mph with gusts of 60mph. Hurricane Category 1 is 74-95 mph.
The outer bands of the storm will reach Haiti soon. Rainfall is expected to be 3-6in over the southern coast of Haiti and dangerous flash floods are likely in some regions. The center storm is likely to stay over the central Caribbean Sea today gaining strength from the warmer parts of the water (82.0 °F).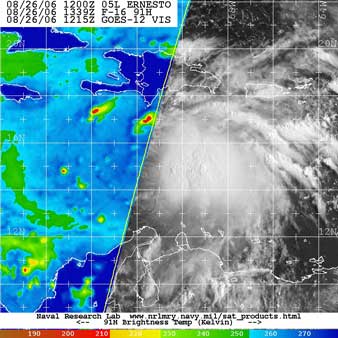 Tropical Storm Ernesto 1215 HT Saturday Aug 26
click above image for larger view
For latest official alerts, forecasts and maps use the
NOAA Storm Ernesto tracker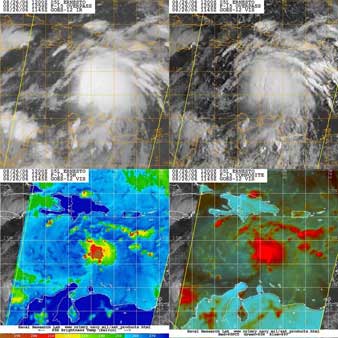 Tropical Storm Ernesto composite view
click above image for larger view
Haiti's Preval government is bringing governance back to the nation and has issued a two alerts.
Haiti issued a "Tropical Storm Warning" for TS Ernesto today which will affect the southwestern region of the country. Ernesto is slowly gaining strength and is forecast to hit Jamaica even though steering currents and a building low/mid level ridge are likely to send the tropical storm below Jamaica. However, some forecasts have Ernesto hitting Le Cayes early Sunday morning.
Tropical Storm Ernesto is expected to reach Hurricane Category 1 strength by Monday afternoon. However, if the storm tracks more westerly during the next 48 hours — over the central Caribbean Sea — it could reach hurricane speed sooner.
Civil defense and hurricane preparedness largely went ignored by USAID and the coup government of Gerard Latortue as they redirected valuable resources to the political repression of pro-democracy activists throughout Haiti. This disregard for public safety resulted in the death of several thousand Haitians - mostly women and children - since the U.S.-led coup d'État.
The misdirection of scarce public funds are the focus of the other alert issued by the Foreign Affairs Ministry.
Haitian Foreign Minister Renald Clerisme issued an alert that overseas diplomats will be recalled to Haiti for suspected incompetence and corruption. As Haiti returns to democracy, the newly elected Parliament is incensed that money allocated for governance is missing from the cash strapped country and have called for an investigation.
The uncle of gangsta rapper, Wyclef Jean, has been the Interim Ambassador to Washington D.C. after the U.S. Marines kidnapped the former president, Jean Betrand Aristide, on February 29, 2004.
For his part, Ambassador Raymond Joseph, denies that over US$2,000,000 transferred from his embassy is missing and "may have been used ... to buy weapons" according to Associated Press reports. If recalled, it's still unclear that the Ambassador would return to Haiti to cooperate with the audit and would choose, instead, to become a Haitian refugee - or rather - a "Fugee" as Wyclef prefers to call his gang.
Half a year after the elections, Raymond Joseph still hasn't updated the official website of The Embassy in Washington D.C. to show the current government. The last official press release posted was well over a year ago. The ambassador has neglected the resources of the Haiti's government for some time.
Perhaps another safe full of mouldy money will make an appearance...
NOTE: For latest official alerts, forecasts and maps
use the NOAA Storm Ernesto tracker