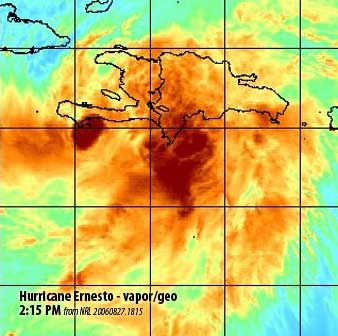 The rainfall could be up to 20 inches in some regions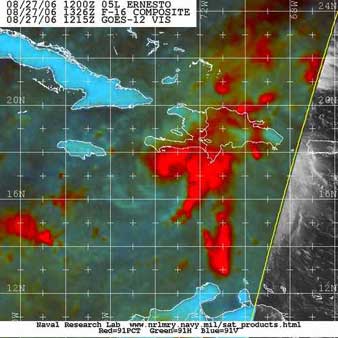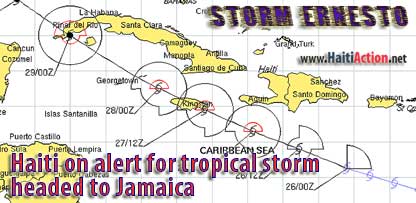 Haiti battered by deadly Hurricane Ernesto
Haiti and the Dominican Republic are now being battered by Hurricane Ernesto at Category 1 intensity as the center of the storm passes about 100 miles south of Port au Prince. Record amounts of rain are being dumped over the entire island and could be as much as 20 inches in some of the isolated higher terrain which - of course - will flow down to the more populated regions with deadly flash floods and mud slides.
The hurricane and tropical storm conditions will continue into tomorrow as the forward progress of Ernesto has slowed while it gains strength. The National Hurricane Center of Miami, Florida has been having some difficulty forecasting the direction of the storm: "... big changes in both the initial intensity and forecast track were required ..." The government of Cuba has issued a Hurricane Warning for the western portion of the island. The hurricane could reach category 3 this week as it heads for the Gulf of Mexico and Florida.
With average rainfall amounts of 6 to 12 inches over the island, Haiti will need immediate international assistance to save lives and recover from this disaster.
The next full forecast by the National Hurricane Center will be released at 5:00 PM EST with an official intermediate update expected by 2:00 PM EST today.
For latest official alerts, forecasts and maps
use the NOAA Hurricane Ernesto StormTracker
View latest Data from bouy/ship locations near Ernesto
Please give to: Vanguard Public Foundation's
Haiti Emergency Relief Fund