Hurricane Dean will threaten Haiti next week
HaitiAction.net - The first named storm to approach Haiti and the Caribbean is expected by next Wenesday. Tropical Storm Dean became the fourth named storm of this hurricane season. It is traveling westward at 18 mph and is slowing in forward progress which will help the tropical cyclone to gain strength. The National Hurricane Center believes that Dean could reach Hurricane category 3 (winds of 111-130 mph) by the time it passes Barbados and the Windward Islands.
The current forecast track has Storm Dean passing to the south of Puerto Rico but headed across southern Dominican Republic before it moves over Haiti. There were two storms - Chris and Ernesto - that had a devastating impact over the country with the floods that were dumped on the mountains.
If the Hurricane takes a more northerly track, it could pass near the home of Randall Robinson who will tour the US with his new book "An Unbroken Agony: Haiti, From Revolution to the Kidnapping of a President."
HaitiAction.net will follow the progress of the storm. Bookmark our Storm Dean Page for satellite images, many links, resources and public advisories over the next few weeks.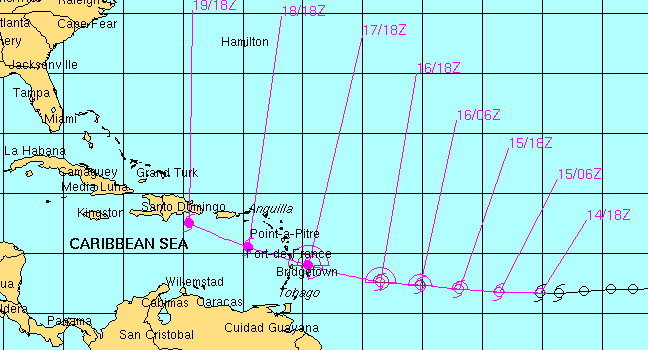 Bookmark our Storm Dean Page on HaitiAction.net