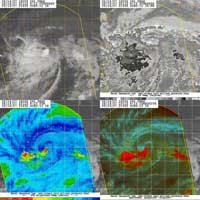 click for larger image
Hurricane Dean
on HaitiAction.net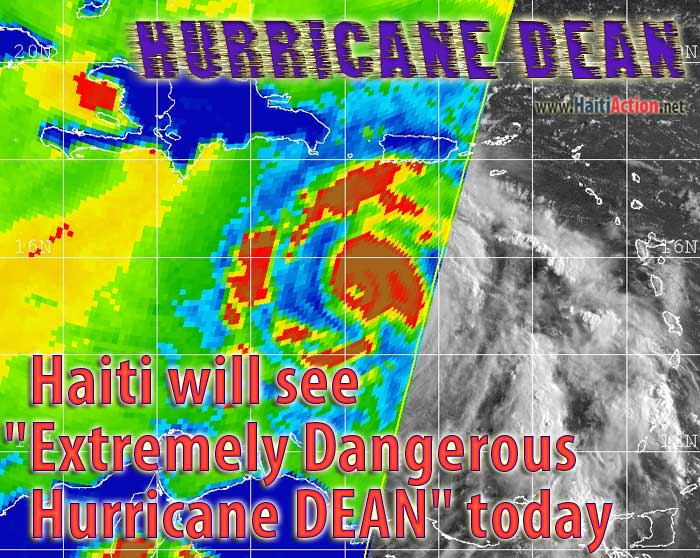 Aug 17 2007 - Hurricane Dean could miss Haiti, next few hours will tell more about the effect of the steering currents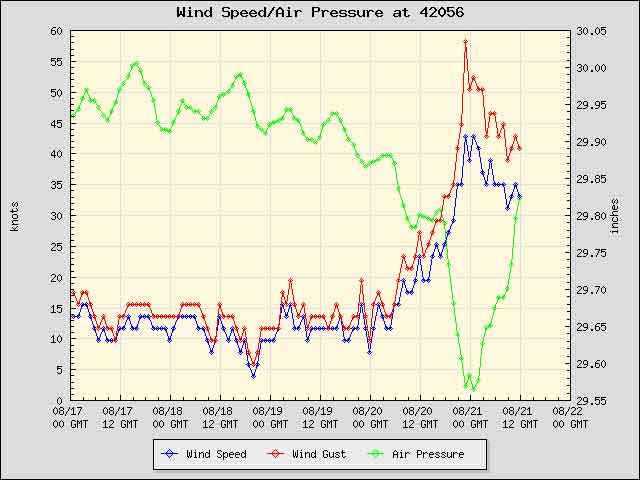 Conditions at 42056 as of 5:50 pm CDT - Extremely Dangerous Hurricane Dean approaches NDBC Buoy Station 42056 - Yucatan Basin - the air pressure drops and the wind increases - click the chart for the latest report from the buoy itself. Hurricane Dean passes the buoy at this point 220 miles directly south on its way through the Yuacatan Peninsula. See also Station 42055 - Bay of Campeche — location shown on ATCF map below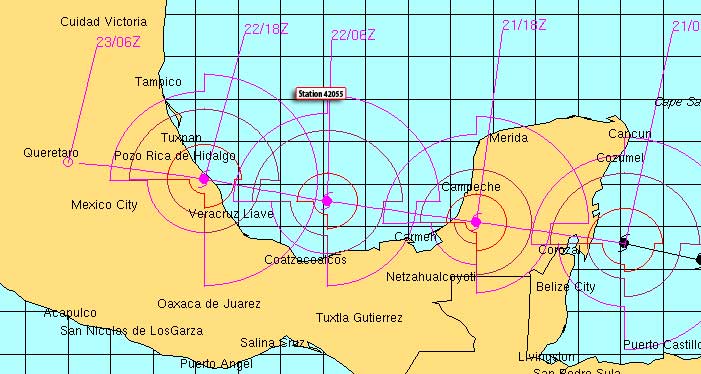 Automated Tropical Cyclone Forecasting (ATCF) map from NRL Advisory 33 - August 21
ATCF Support Page click map above for latest version and larger map
Excerpts from the recent National Hurricane Center advisories:
AHP August 22, 2007 1 :35 PM
The toll of Hurricane Dean reaches 9 deaths and one disappearance: a new tropical depression traverses the coasts of Haiti
Port-au-Prince, August 22, 2007 (AHP)- The toll left behind by Hurricane Dean has climbed to 9 dead, one disappearance and 25 people injured, according to the director of the National Office of Civil Protection, Dieufort Deslorges.
Mr. Deslorges said Wednesday that more than 4,000 families have been made victims by the disaster, with more than 1,000 homes destroyed and over 3,000 damaged in the South, Southeast, Grande-Anse, Nippes and West regions.
Some 40 schools have also been damaged in some of the Departments mentioned above, and plantings have been ravaged. More than 800 people have received emergency shelter, he said.
Dieufort Deslorges explained that he is awaiting the disbursement of funds promised by the government before intensifying assistance to the disaster victims.
The National Weather Center announced that a tropical depression is currently passing along Haiti's coasts.
The office of risk and disaster management urged the public to exercise caution and be on the alert.