Haiti braces for 2008 Hurricane Season
Tropical waves will arrive soon, is the government ready?
Haiti Action.net — Port au Prince, Haiti —Yesterday, weather agencies in Haiti were monitoring the approaching tropical waves marching across Hurricane Alley. Today, the same government officials are more concerned with the ability of their government to address the public safety of its citizens.
As a few tropical waves move westward along the Intertropical Convergence Zone (ITCZ) they announce the start 2008 Hurricane Season. Last night, a strong weather system moving into the Caribbean appeared to be forming the familiar and foreboding rotation of another tropical cyclone. For now the system has weakened a bit, but it could become more organized as it moves over the warmer water of open Caribbean Sea and merges with the weaker tropical wave ahead of it.
This weather system should bring heavier rains and likely thunderstorms to Haiti before the end of this weekend. The National Hurricane Center (NHC) in Miami is closely monitoring this system along with the stronger tropical waves that are following it.
Satellite image of weather system yesterday before it weakened. Click image above for larger view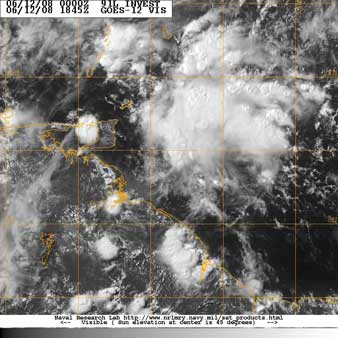 From NHC weather discussion late yesterday:
A TROPICAL WAVE IS ALONG 53W/54W S OF 15N MOVING W NEAR 15 KT. THE WAVE SHOWS UP VERY WELL ON THE UW-CIMSS TPW PRODUCT WITH A NORTH-SOUTH MOISTURE MAXIMUM. THE GFS MODEL 850 MB LOW-LEVELVORTICITY ALSO SUPPORTS THE POSITION OF THE WAVE. SCATTERED MODERATE CONVECTION IS
W OF THE WAVE AXIS FROM 9N-12N BETWEEN 54W-59W. MOISTURE FROM THIS WAVE WILL AFFECT THE WINDWARD
ISLANDS LATE THIS AFTERNOON THROUGH FRI...SPREADING OVER THE UK/US VIRGIN ISLANDS AND PUERTO RICO LATER.
As of 0205 Haiti time this morning:
A TROPICAL WAVE IS ALONG 59W S OF 18N MOVING W AT 15-20 KT. THE WAVE IS WELL DEPICTED IN THE MOISTURE PRODUCTS AND E CARIBBEAN ISLANDS SURFACE OBSERVATIONS. SCATTERED TSTMS ARE NOTED WITHIN 150 NM OF 14N59W BUT DECREASING IN INTENSITY AT THE MOMENT.
A TOPICAL WAVE IS ALONG 67W AND EXTENDS AS FAR N AS PUERTO RICO. THIS WAVE SEEMS TO BE LOSING IDENTITY WITH A LARGER AREA OF INCREASED EASTERLY WINDS. ONLY ISOLATED LIGHT SHOWERS ARE NOTED ALONG THE WAVE TONIGHT.
HaitiAction.net will host a page with many Tropical Cyclone resources so you can find the latest information when you are searching for current updates. We suggest that you bookmark that page for this busy hurricane season.
With the 2008 hurricane season fast approaching and the Haitian government in disarray, it begs the question, how many will die needlessly this year due to the lack of preparedness?
Haiti has been without a prime minister for more than two months and important parliamentary and municipal elections have been delayed for more than two years. With more than 3 billion in international assistance pouring into Haiti since Feb. 2004, hunger is rampant and the Haitian government appears less prepared to handle natural disasters than in previous years. Yet the United Nations expends a tremendous effort convincing the world the situation has improved since their mission began in June 2004.
Progress? Let's see what happens when today's hunger in Haiti is compounded by the effects of a natural disaster such as a hurricane this year. We would all do well to pray for the best but plan for the worst.
More information, resources and links can be found on the HaitiAction.net Tropical Cyclone Page
For the latest advisories from the National Hurricane Center: http://www.nhc.noaa.gov/index.shtml?
Map of Haiti: rezize browser window to enlarge map
See Also
Haiti massacre survivors receive $400,000 of death squad commander's Lottery prize May 21
Ortega murdered by US Marines in Haiti: A Reporter's Notes May15
Haitians Demand Food May 1
Haiti: Aristide and the removal of Alexis Apr 13