Tropical Storm Bertha strengthens as it approaches Haiti
Haiti Action.net — Port au Prince, Haiti — Tropical Storm Bertha is forecast to reach hurricane strength over the weekend and travel north of Haiti by Thursday, July 10. However, if the strength of the Subtropical Ridge WNW of the storm doesn't lift as expected, it could still steer Bertha on a more southerly direction, putting Haiti directly into its path.
Bertha "struggled a bit" during the last 24 hours according to the National hurricane Center (NHC) in Miami, Florida. The NHC intensity forecast is now for the tropical storm — currently at 50 to 60 mph — to reach hurricane strength (74mph+) within 72 hours as it moves over warmer waters.
Hurricane Bertha will be the first tropical cyclone of the 2008 Hurricane season to threaten Haiti. It has been predicted to be a busy hurricane season this year. There is another tropical cyclone forming about three days behind Bertha below the Cape Verde Islands that could develop into a tropical depression soon. Conditions in that region are favorable for tropical cyclone formation and would become Tropical Storm Cristobal once the winds reach a sustained speed of 39mph, or more.
The suitability of Haiti's government to deal with natural disasters has been called into question since the civil unrest which led to the country's parliament firing of Prime Minister Eduoard Alexis April 12. Currently, President René Preval has nominated his third candidate — Michele Pierre-Louis — for the office of Prime Minister.
MONDAY UPDATE:
Haiti watches approach of Hurricane Bertha
July 7 — Haiti

Action.net — Port au Prince, Haiti
— Hurricane Bertha has reached "Caregory 3" and is less than 1400 miles from the
New USA Embassy Compound in Haiti.
The National Hurricane Center (NHC) in Miami expects the fast moving hurricane to reach Category 2 by this evening. Bertha is forecast to change its westward march across the Atlantic (285°) and gently curve northward and slightly east of Bermuda. At this time NHC predicts that there is less than a 5% chance that Haiti will see winds in excess of 40mph from the storm. [
click here for full article
]
---- BOOKMARK Haiti Action.net Tropical Cyclone Page for latest updates
Satellite image of Tropical Storm Bertha today. Click image above for larger view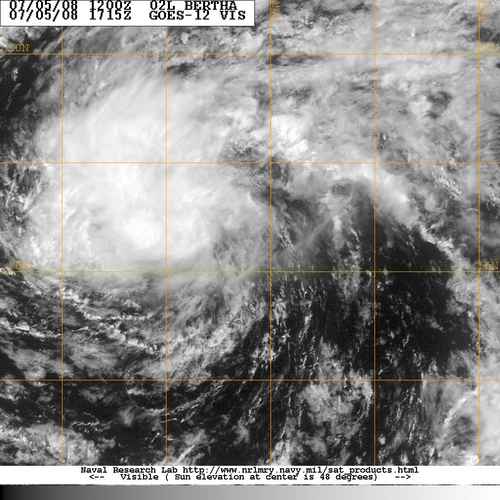 HaitiAction.net will host a page with many Tropical Cyclone resources so you can find the latest information when you are searching for current updates. We suggest that you bookmark that page for this busy 2008 Hurricane Season.

View the latest NOAA observations near Tropical Storm Bertha

More information, resources and links can be found on the HaitiAction.net Tropical Cyclone Page
For the latest advisories from the National Hurricane Center: http://www.nhc.noaa.gov/index.shtml?
Map of Haiti: rezize browser window to enlarge map
Tropical Cyclone Breakpoints - Kiskeya

See Also
Haiti massacre survivors receive $400,000 of death squad commander's Lottery prize May 21
Ortega murdered by US Marines in Haiti: A Reporter's Notes May15
Haitians Demand Food May 1
Haiti: Aristide and the removal of Alexis Apr 13