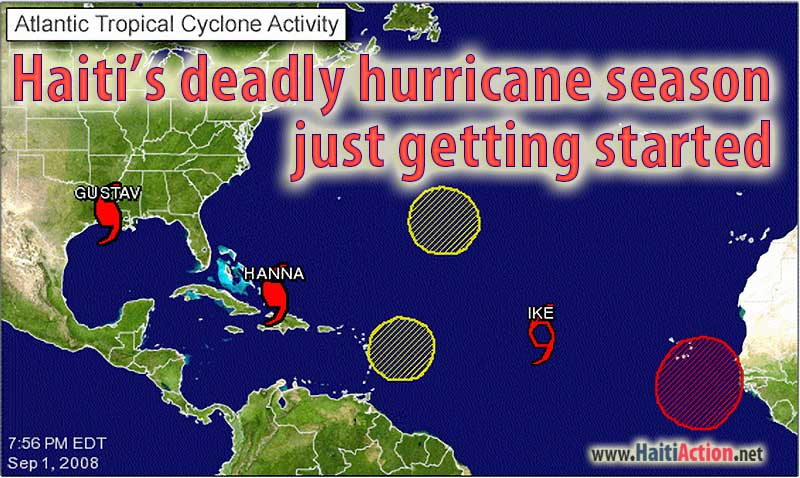 The yellow region between Hanna and Ike could quickly develop into Tropical Storm Kyle — the red region has become Tropical Storm Josephine. The development of this tropical wave could be similar to TS Fay. It is expected to reach Haiti before the weekend. Meanwhile Hurricane Hanna is stationary just north of Haiti and has dumped massive amounts of rainfall the northern region. The coastal city of Gonaïves is reporting massive flooding and many drowned. Image courtesy of NOAA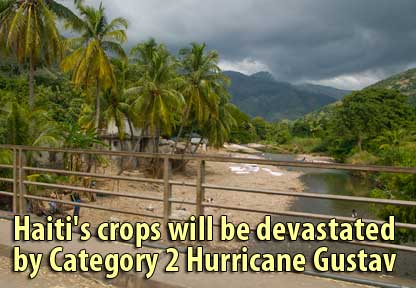 click image for article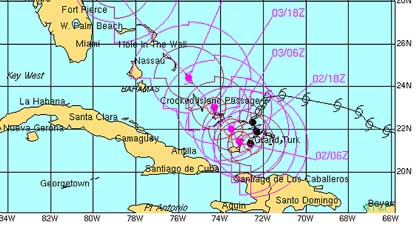 Hurricane Hanna hangs over the northern region of Haiti drenching the entire country ahead of three new storms in the Atlantic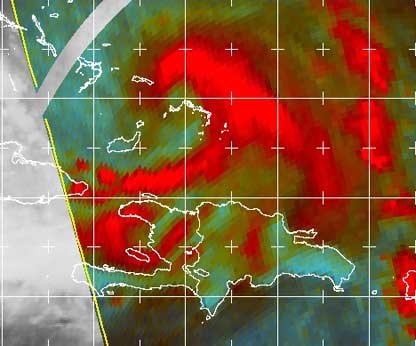 Haiti's deadly hurricane season just getting started
Haiti Action.net — Just as the north coast of Haiti is being saturated by the outer rainbands of the storm in the Bahamas three new storms line up in Hurricane Alley. By this afternoon, Tropical Depression Nine will, most likely, become Tropical Storm Ike. However, the menacing tropical wave approaching the Leeward Islands appears similar to the development of Tropical Storm Fay which was the first storm of the 2008 Hurricane Season to hit Haiti.
Following closely on the freshly saturated mountains, what could become Tropical Storm Josephine will cause life-threatening flash floods and mudslides on the storm-battered Island. So far the death toll in Haiti, of this season, is in excess of 100 lives. The damage to the desperately needed food crops in this starving nation have been severely damaged by the previous storms.
In addition a strong tropical wave has emerged off of the west coast of Africa and is is likely to develop into another tropical cyclone soon. For Haiti the next three weeks could be even more challenging than the month of August.
---- BOOKMARK Haiti Action.net Tropical Cyclone Page for latest updates
HaitiAction.net will host a page with many Tropical Cyclone resources so you can find the latest information when you are searching for current updates. We suggest that you bookmark that page for this busy 2008 Hurricane Season.
Previous Hurrican Gustav reports:
Dangerous Hurricane Gustav will hit Haiti Aug 25
Haiti's crops will be devastated by Hurricane Gustav Aug 26
View the latest NOAA observations
near Hurricane Gustav, Hanna and TS Ike

More information, resources and links can be found on the HaitiAction.net Tropical Cyclone Page
For the latest advisories from the National Hurricane Center: http://www.nhc.noaa.gov/index.shtml?
Map of Haiti: rezize browser window to enlarge map
Tropical Cyclone Breakpoints - Kiskeya

See Also
Fears of a cover-up grow in the case of missing
human rights activist in Haiti Aug 20
Furious Tropical Storm Fay drenches Haiti Aug 15
Haiti's leaders indifferent to
the kidnapping of Lovinsky Pierre-Antoine Aug 12
Children's School for the Poor threatened in Haiti Aug 8
IDT, Aristide, and the Haiti Democracy Project
A defamation suit is contemplated Jul 29
Haiti celebrates President Aristide's birthday Jul 15
"Haiti is violating former PM Yvon Neptune's human rights"
says court Jul 10
Murder charges against Haiti's priest,
Father Jean Juste, are dropped Jun 28
Haiti: Aristide and the removal of Alexis Apr 13
Mud Cookie economics in Haiti Feb10
Human rights defender forced into hiding in Haiti Dec 27
One Lavalas official freed in Haiti, second remains missing