Haiti waits in fear for Hurricane Ike
"IKE is now an extremely dangerous Category FOUR hurricane…" and will scrape the northern region of Haiti with tropical storm force winds according to the National Hurricane Center (NHC) in Miami, Florida. Massive rainfall amounts could reach up to 20 inches in the mountains and will cause further life-threatening flash floods and mudslides to the storm drenched area. It is also possible that IKE could strengthen further over the next three days.
If Hurricane IKE wanders further south than the forecast track it could spell further devastation in a Country that has already seen more casualties from tropical cyclones, than all other affected countries combined, during the 2008 Hurricane season. In contrast, the cash-strapped and economically isolated country of Cuba has seen no deaths at all even though Hurricane Gustav tore across the island at Category 4 strength (135mph).
For sure, the coastal city of Gonaïves will not know the full impact of the devastation caused by Hurricane Hanna — just three days ago — before the flood waters rise again. Currently, the center of the storm is 60 miles east of Grand Turk Island and is forecast to pass less than 100 miles North of Haiti's coastline. With hurricane force winds extending outward up to 60 miles and tropical storm force winds 150 miles, the towns and cities along the northern coast could be severely affected.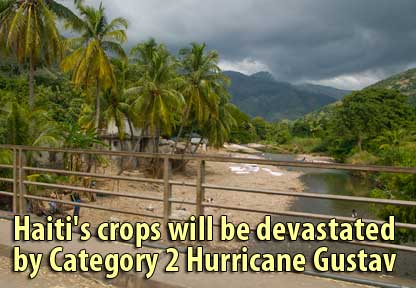 click image for article
Storm surge flooding along with dangerous battering waves could inundate the exclusive Labadee resort which would cause major economic impact on the region beyond what is being felt already. The loss and damage to food crops from storms FAY, GUSTAV, HANNA and now IKE will be impossible to recover from.
Haiti's President Rene Preval is fearful about the impact these storms will have for years to come. The government has been destabilized by a recalcitrant minority that only just allowed the new Prime Minister, Michele Pierre-Louise, to fill the ministerial departments after five months of stonewalling.
---- BOOKMARK Haiti Action.net Tropical Cyclone Page for latest updates
HaitiAction.net will host a page with many Tropical Cyclone resources so you can find the latest information when you are searching for current updates. We suggest that you bookmark that page for this busy 2008 Hurricane Season.
Previous Hurricane reports:
Haiti's deadly hurricane season just getting started Sep 1
Will Hurricane Hanna threaten Haiti? Aug 30
Dangerous Hurricane Gustav will hit Haiti Aug 25
Haiti's crops will be devastated by Hurricane Gustav Aug 26
Furious Tropical Storm Fay drenches Haiti Aug 15
View the latest NOAA observations near Hurricane IKE
More information, resources and links can be found on the HaitiAction.net Tropical Cyclone Page
For the latest advisories from the National Hurricane Center: http://www.nhc.noaa.gov/index.shtml?
Map of Haiti: rezize browser window to enlarge map
Tropical Cyclone Breakpoints - Kiskeya

See Also
Haiti's UN military base expanding:
What is Washington up to in Cite Soleil? Sep 4
Fears of a cover-up grow in the case of missing
human rights activist in Haiti Aug 20
Haiti's leaders indifferent to
the kidnapping of Lovinsky Pierre-Antoine Aug 12
Children's School for the Poor threatened in Haiti Aug 8
IDT, Aristide, and the Haiti Democracy Project
A defamation suit is contemplated Jul 29
Haiti celebrates President Aristide's birthday Jul 15