Al Jazeera video shows demonstations by camp survivors who are protesting that the massive response to the January Earthquake is bypassing the victims.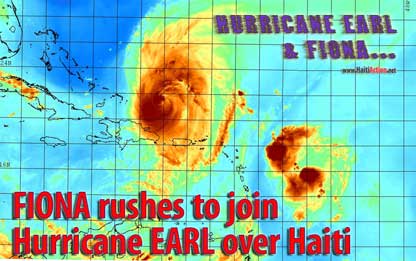 Stormy Haiti?
Haiti Action.net - Port au Prince, Haiti —A potentially deadly tropical wave had folks in Puerto Rico scurrying a bit to respond to this afternoon's flash flood warning, that only produced some areas of scattered thunderstorms and heavy rains. While all caution is certainly prescribed for Haiti — the system is still capable of producing torrential rainfall — the previous advisories from the National Hurricane Center in Miami (NHC) may have conflated the forecast.
This morning the NHC was expecting the potential of 3-6 inches of rain in the Dominican Republic and Haiti over Sunday, which certainly, could produce life-threatening flash floods and mudslides. However the afternoon forecast discussion seems to move off of the initial alerts while pointing out the potential of this weather system for quick development.
There is a trough causing some upper level divergence over the border and it's possible that the system could suddenly take a troubling turn northward if the system slows a bit overnight but steering currents and the High building over Cuba could keep this system on a westerly track down the middle of the Caribbean for the next three days.
The outlook for Port au Prince is a 30% chance of thunderstorms through the week.
Soon to be Hurricane IGOR is unlikely to be a threat to Haiti even though it is tracking below the pressure ridge to the north that is keeping it on a westerly heading. For now it appears that the westernmost edge of the ridge will allow IGOR to head north after a couple of days and simply improve surfing conditions for land-bound interests in the Leeward Islands. IGOR is expected to develop into a major Hurricane.
With the High over Cuba moving East. The next major system — expected to pop out JULIA , next — looks to be a concern for the Caribbean as it moves south of the Cape Verde Islands.
RAW
View the latest observations near Storm IGOR
Share this story with your networks
BOOKMARK the Haiti Action.net Tropical Cyclone Page for latest updates during this hurricane season. HaitiAction.net will host this page with many Tropical Cyclone resources so you can find the latest information when you are searching for current updates.
Contact us: info@haitiaction.org
see also
Pursued by France for Haiti Hoax, group holds press conference in Montreal Jul 21
Thousands in Haiti march on Aristide's birthday Jul 16
"We want our voices to be heard":
Democracy in Haiti's Earthquake Zone May 3
Haiti: Mobile schools in the Earthquake Zone Apr 3
Protesters clash with police following rain in Haiti Feb 11
If Obama can do it then why can't Haiti's Preval? Feb 9
Haiti: hell and hope Jan 28
On the ground in Port au Prince Jan 28
Haiti News Watch
AP misrepresents reality of Lavalas exclusion in Haiti elections Nov 29
Two-faced Democracy in Haiti
Nov 26
Perverted Priorities: Corpses, sham elections, and sweatshops in Haiti Apr 10
"Thank you Bill Clinton" — one more assassination by UN troops in Haiti Jun 20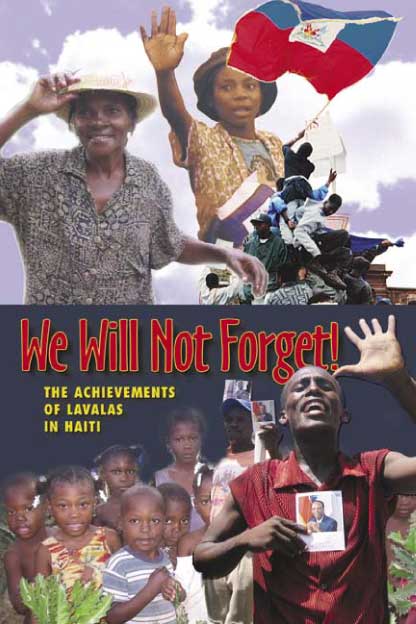 Contact us: info@haitiaction.org