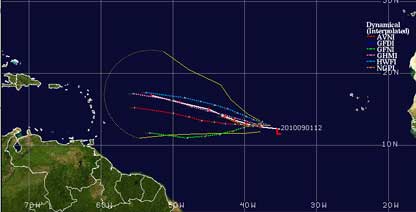 Click image for larger view. Satellite images show that GASTON has retained strong convection even though it is considered to be a "remnant low" by the NHC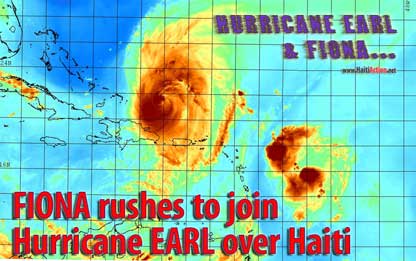 Hurricane GASTON will threaten Haiti next week, Storm Hermine could follow soon after
Haiti Action.net - Port au Prince, Haiti — Tropical Storm GASTON was only given a 10% chance, yesterday, but has surprised the over-taxed forecasters at the National Hurricane Center in Miami (NHC) by its "vigorous" development overnight. Some of the global models used by the NHC "do not even acknowledge that the cyclone exists now or in the near future…" But the visible satellite images clearly show the early closed convection that belie the computer generated models and have the forecasters sharpening their neglected pencils and relying more on past experience.
GASTON has become the seventh named storm of the 2010 Atlantic Hurricane season and the fourth named storm of the last two weeks. The season had been relatively quiet through July and August.
As GASTON is primarily being steered by a large deep-layer subtropical ridge to the north that should keep it on its current westerly heading for the next four days, the interests in Haiti should be keeping a closer watch on this tropical cyclone than on the last three. GASTON is tracking closer and slower to the ITCZ and could make it the first major Hurricane to pass the Windward Islands into the Caribbean. If the storm tracks closer to the GFNI model, it's development to a major hurricane is more likely.
Over the next few days, GASTON will be heading into significant vertical shear that could weaken the system and break up the closed convection. Further east, is yet another developing system that could become a tropical depression as soon as tomorrow, develop into Storm HERMINE and follow GASTON by about three days.
RAW
View the latest observations near Storm GASTON
View the latest observations near TS EARL
Share this story with your networks
BOOKMARK the Haiti Action.net Tropical Cyclone Page for latest updates during this hurricane season. HaitiAction.net will host this page with many Tropical Cyclone resources so you can find the latest information when you are searching for current updates.
Contact us: info@haitiaction.org
see also
Pursued by France for Haiti Hoax, group holds press conference in Montreal Jul 21
Thousands in Haiti march on Aristide's birthday Jul 16
"We want our voices to be heard":
Democracy in Haiti's Earthquake Zone May 3
Haiti: Mobile schools in the Earthquake Zone Apr 3
Protesters clash with police following rain in Haiti Feb 11
If Obama can do it then why can't Haiti's Preval? Feb 9
Haiti: hell and hope Jan 28
On the ground in Port au Prince Jan 28
Haiti News Watch
AP misrepresents reality of Lavalas exclusion in Haiti elections Nov 29
Two-faced Democracy in Haiti
Nov 26
Perverted Priorities: Corpses, sham elections, and sweatshops in Haiti Apr 10
"Thank you Bill Clinton" — one more assassination by UN troops in Haiti Jun 20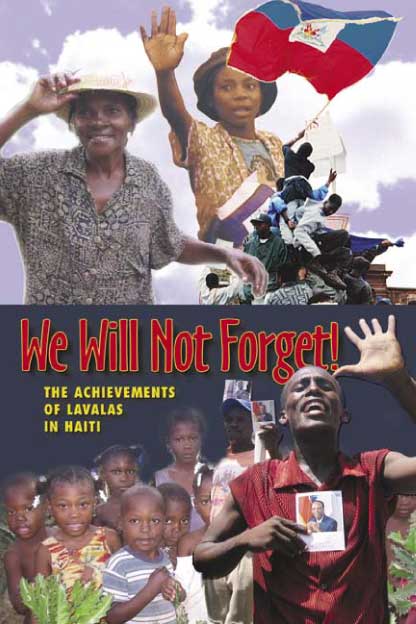 Contact us: info@haitiaction.org