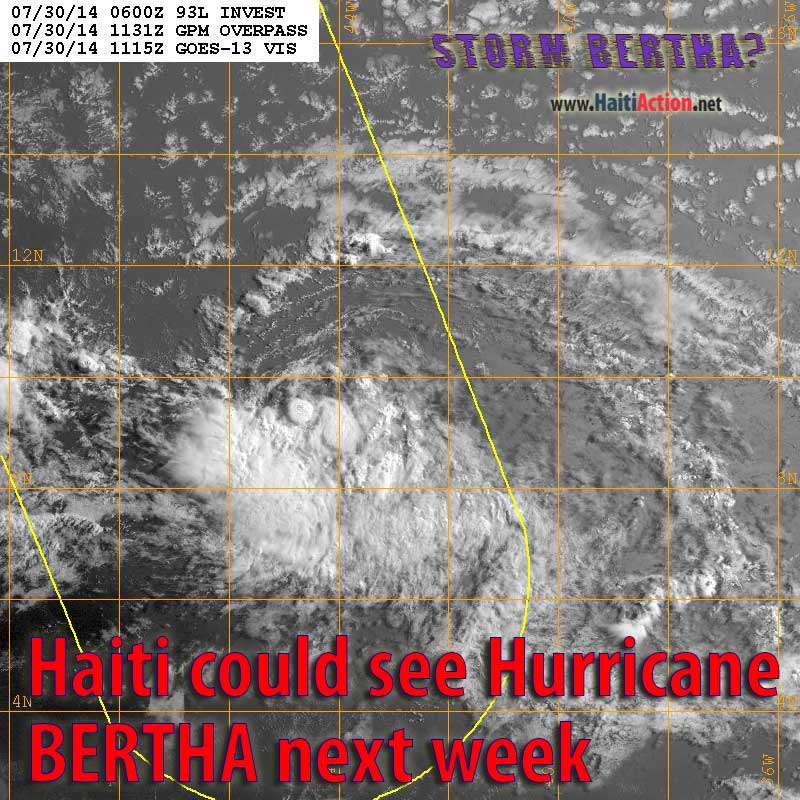 Tropical Cyclone 93L - 30 Jul 2014 1200Z - Location: 9.3 -44.7 - Winds: 30 knots - Central Pressure: 1012 hPa
Haiti could see Hurricane BERTHA next week
HaitiAction.net - Port au Prince, Haiti — In the first real test — the 2014 Hurricane Season — of Haiti's civil defense resources this year, the National Hurricane Center (NHC) in Miami is expecting the tropical system approaching the Windward Islands to develop into a tropical depression later today. The tropical weather system is moving W-NW at 15 knots and is located 1000 miles (EbS) of Barbados.
While the satellite image of the system is fairly impressive, a large part of that clarity is due to the large Saharan Air Layer covering most of the Tropical Atlantic to the North of the system, the NOAA forecasters expect that dry air to limit the formation of the cyclone. Just the same, other conditions look favorable for tropical cyclone formation which could change quickly once the weather system moves into the Caribbean.
The Haiti Hurricane Season hasn't seen this kind of slow start since the Occupation started in 2004. Normally, the beginning of August will see a flurry of hurricanes developing. In this case another storm is developing west of the Cape Verde Islands in the Monsoon Trough stretched across the Atlantic. Haiti could see the threat of Hurricanes BERTHA and CRISTOBAL in the first two weeks of August.
HaitiAction.net will be following the progress of this storm and updating the Tropical Cyclone Page soon.
----------
  RAW
----------
BOOKMARK the Haiti Action.net Tropical Cyclone Page for latest updates during this hurricane season.
View the latest observations near BERTHA when/if it forms
HaitiAction.net will be tracking the progress of this storm. For the latest official updates, go to the Centre National de Météorologie (CNM) web page Many forecast and tracking resources can be found on the Tropical Cyclone page at HaitiAction.net
Share this story with your networks

SEE ALSO
Contact: info@haitiaction.org
Lovinsky Pierre Antoine
We are not Ghosts and will not be silenced July 19 2007
Will Haiti see hurricane threat soon? Aug 18
Haiti could see Hurricane ERIN threat next week Aug 16
Tropical Storm DORIAN will threaten Haiti this Monday Jul 26
In Haiti, thousands of Lavalas sing "Aristide or Death!" Jan 9
Is the US Embassy in Haiti behind the political tensions? Jan 5
Haiti: Where is the Money? - Researcher Version Jan 4 2012
La Gavage: Obama helps Republican militarists take control in Haiti
May 13 2011
Haiti's close call: Hurricane IRENE scrapes the Mossad Coast before heading north Aug 22 2011
Hurricane MARIA could threaten Haiti next week Sep 6 2011
Haiti could kill EMILY's strength, but many in camps will still have a sleepless night Aug 3 2011
Haiti: Alarming resurgence of cholera Jun 9 2011
The return of President Aristide to his home in Haiti Mar 20 2011
Haiti: MSF Nears 100,000 Cholera Patients Treated Jan 18 2011