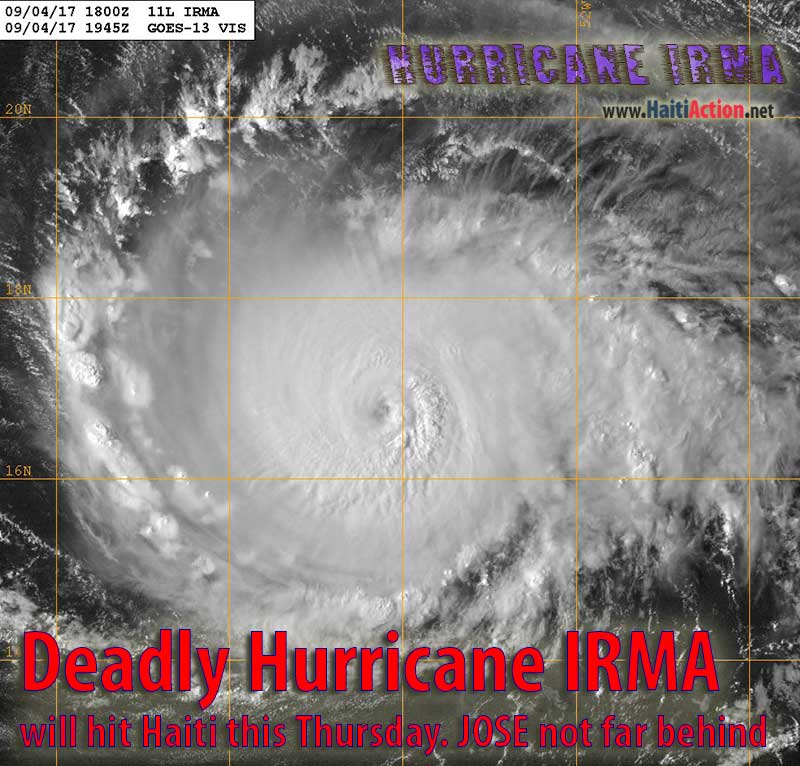 Hurricane IRMA - 4 Sep 2017 1945Z - Location: 16.7 N - 53.9 W - Winds: 115 knots - Central Pressure: 944mb

This dangerous hurricane is followed closely by another tropical cyclone that will, likely take a slightly more southern track. Currently identified as 94L Invest it could become Storm JOSE in the next 48 hours if it strengthes.

Image courtesy of US Naval Research Lab
Deadly Hurricane IRMA will hit Haiti this Thursday. JOSE not far behind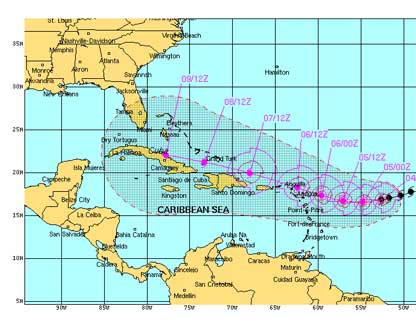 Monday,Sep 4 - The official forecast track can change significantly over the next 48 hours
HaitiAction.net - Tabarre, Haiti - Since the US financed Coup d'État of February 29, 2004 Haiti's civil defense capacity has never been in worse shape to handle the perennial natural disasters that hit the country. To put it simply, Haiti is not prepared for what may come this Thursday as the strongest Hurricane of the 2017 Atlantic Hurricane Season is forecast to travel 74mi above Cap Haitien which means that, hurricane force winds are likely to scrape across the northern coast of the country. There is another tropical cylclone forming a couple days behind IRMA that could become Storm JOSE over the next two days.
Category 4 Hurricane IRMA is 1300 miles from Port au Prince and most forecast models have the storm tracking straight to Cayo Santa Maria, Cuba. The humble residents of Cuba's north coast Islands are likely to fare better than the prosperous residents of Houston as Cuba's robust civil defense program is already underway to evacuate even the most remote residents from harms way. Hurricane IRMA is strengthening and could pass the maximum Category 5 on the Saffir-Simpson scale. Only one forecast track — CLP5 — has IRMA curving to the north and headed straight for 45's White House. However, these hurricanes have no obligation to obey the computer generated models, they go where they will. It is entirely possible that IRMA could track just South of Antigua, not curving at all and head straight into the Central Caribbean. The next 48 hours could see significant change to the current computer models.
The National Hurricane Center in Miami, Florida will have the latest updates in the English language. For French (why not Kreyol?) go to Haiti's own Centre national de météorologie. For Spanish, Cuba's own INSMET site is best
HaitiAction.net has a Tropical Cyclone page that link to all of these resources and many more. No pop-up advertising to waste your time and no clickbait links to get you distracted. If you want to donate to our work, many in Haiti thank you in advance.
HaitiAction.net will closely monitor the development of these conditions and provide an update on this page if needed.
----------
  RAW
----------
BOOKMARK the Haiti Action.net Tropical Cyclone Page for latest updates during this hurricane season.
View the latest observations near IRMA
HaitiAction.net will be tracking the progress of this storm. For the latest official updates, go to the Centre National de Météorologie (CNM) web page Many forecast and tracking resources can be found on the Tropical Cyclone page at HaitiAction.net
Share this story with your networks

SEE ALSO
Contact: info@haitiaction.org
Haiti in 2015 interview on Tavis Smiley Jan 14
Haiti's Fanmi Lavalas will continue their mobilization
Oct 6 2014
Haiti: Where is the Money? - Researcher Version Jan 4 2012
Prisoners of Sugar May 7 2014
1,500 Cholera victims in Haiti file lawsuit against UN in New York today
Mar 11 2014
Deadly politics in Haiti: new allegations against Lavalas invented as PM announces the scheduling of elections Jan 19 2014
UN Peacekeeper Misconduct in Haiti: panel discussion this Wednesday in Washington, DC Feb 24
Lovinsky Pierre Antoine
We are not Ghosts and will not be silenced July 19 2007
In Haiti, thousands of Lavalas sing "Aristide or Death!" Jan 9
Is the US Embassy in Haiti behind the political tensions? Jan 5
Haiti: Where is the Money? - Researcher Version Jan 4 2012
La Gavage: Obama helps Republican militarists take control in Haiti
May 13 2011
Haiti's close call: Hurricane IRENE scrapes the Mossad Coast before heading north Aug 22 2011
Hurricane MARIA could threaten Haiti next week Sep 6 2011
Haiti could kill EMILY's strength, but many in camps will still have a sleepless night Aug 3 2011
Haiti: Alarming resurgence of cholera Jun 9 2011
The return of President Aristide to his home in Haiti Mar 20 2011
Haiti: MSF Nears 100,000 Cholera Patients Treated Jan 18 2011