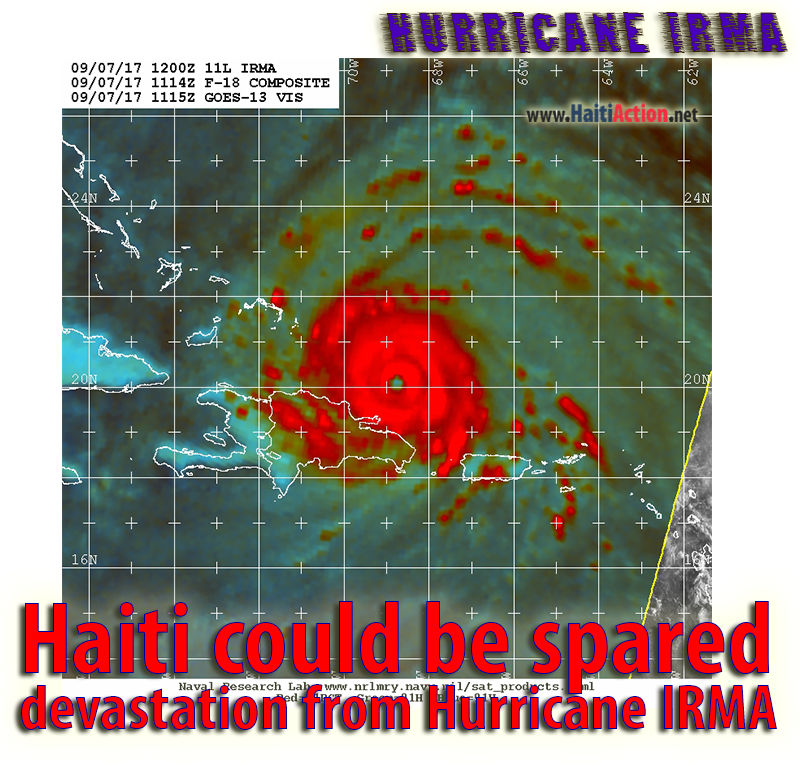 Hurricane IRMA - 7 Sep 2017 1630Z - Location: 20.1 N - 69.0 W - Winds: 150 knots - Central Pressure: 921mb

Rain and storm surge will likely be the larger concern from Hurricane IRMA

Image courtesy of US Naval Research Lab
Haiti could be spared devastation from Hurricane IRMA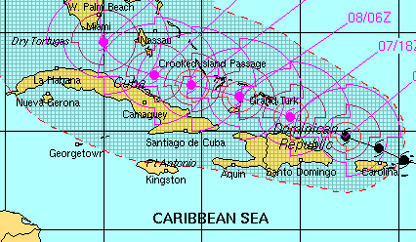 Thursday Sep 7 - The official forecast track can change significantly over the next 24 hours. The wind radii of the ATCF chart expects a low chance that Haiti will see significant wind
HaitiAction.net - Tabarre, Haiti - If the current forecast track is accurate, the northern coast of Haiti should be spared impact from the deadly winds of Hurricane IRMA. The same areas should see significant rainfall and flash flood are likely. The center of IRMA is expected to travel between West Caicos and Little Inagua Island about 100-120 miles north of Cap Haitien. If that's the case then there's only a 30% chance that Tropical Storm force winds will touch Haiti. Of course everyone in Haiti should understand that IRMA doesn't take directions from the National Hurricane Center in Miami and everyone should have completed storm preparations by now.
Storm Surge is biggest danger
At minimum, everyone with a coastal property — even in Sud — that could be affected by a 40 foot storm surge should evacuate to higher ground and safest shelter through Friday. The problem is that they also need to be mindful of flash floods and probable landslides as well. IRMA could dump 20+ inches in the higher elevations.
Right now there is no threat that Hurricane JOSE will impact Haiti. The current forecast track has JOSE curving into a more northerly track into a trough. The developing trough off of the East Coast of the USA might just have more impact IRMA as well; tracking it slightly north of the current model consensus.
For the latest updates the National Hurricane Center in Miami, Florida will have the latest updates in the English language. For French (why not Kreyol?) go to Haiti's own Centre national de météorologie. For Spanish, Cuba's own INSMET site is best
HaitiAction.net has a Tropical Cyclone page that link to all of these resources and many more. No pop-up advertising to waste your time and no clickbait links to get you distracted. If you want to donate to our work, many in Haiti thank you in advance.
HaitiAction.net will closely monitor the development of these conditions and provide an update on this page if needed.
----------
  RAW
----------
BOOKMARK the Haiti Action.net Tropical Cyclone Page for latest updates during this hurricane season.
View the latest observations near IRMA
HaitiAction.net will be tracking the progress of this storm. For the latest official updates, go to the Centre National de Météorologie (CNM) web page Many forecast and tracking resources can be found on the Tropical Cyclone page at HaitiAction.net
Share this story with your networks

SEE ALSO
Contact: info@haitiaction.org
Deadly Hurricane IRMA will hit Haiti this Thursday. JOSE not far behind Sep 4
Haiti in 2015 interview on Tavis Smiley Jan 14 2015
Haiti's Fanmi Lavalas will continue their mobilization
Oct 6 2014
Haiti: Where is the Money? - Researcher Version Jan 4 2012
Prisoners of Sugar May 7 2014
1,500 Cholera victims in Haiti file lawsuit against UN in New York today
Mar 11 2014
Deadly politics in Haiti: new allegations against Lavalas invented as PM announces the scheduling of elections Jan 19 2014
UN Peacekeeper Misconduct in Haiti: panel discussion this Wednesday in Washington, DC Feb 24
Lovinsky Pierre Antoine
We are not Ghosts and will not be silenced July 19 2007
In Haiti, thousands of Lavalas sing "Aristide or Death!" Jan 9
Is the US Embassy in Haiti behind the political tensions? Jan 5
Haiti: Where is the Money? - Researcher Version Jan 4 2012
La Gavage: Obama helps Republican militarists take control in Haiti
May 13 2011
Haiti's close call: Hurricane IRENE scrapes the Mossad Coast before heading north Aug 22 2011
Hurricane MARIA could threaten Haiti next week Sep 6 2011
Haiti could kill EMILY's strength, but many in camps will still have a sleepless night Aug 3 2011
Haiti: Alarming resurgence of cholera Jun 9 2011
The return of President Aristide to his home in Haiti Mar 20 2011
Haiti: MSF Nears 100,000 Cholera Patients Treated Jan 18 2011