HaitiAction.net Tropical Cyclone Page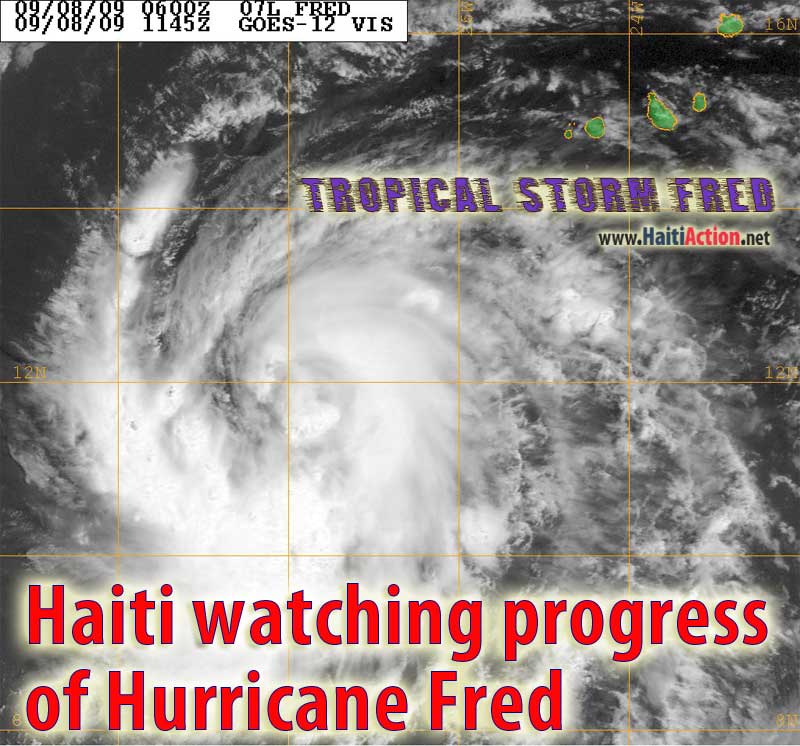 The ominous shape of Tropical Storm Fred starts to show the development of an eye as it moves about 160 miles to the South of the Cape Verde Islands (colored green in upper right of this satellite image).

Image courtesy of the US Navy.
Haiti watching progress of Hurricane Fred
Haiti Action.net - Port au Prince, Haiti - Haiti is just recovering from deadly mudslides caused by the "remnants" of Tropical Storm ERIKA and will be watching the progress of a Cape Verde Hurricane as it crosses the Atlantic. According to the National Hurricane Center in Miami (NHC), Tropical Storm FRED could reach hurricane strength today. The current NHC forecast track is that FRED to curve northward and become an extratropical cyclone within 5 days, weakening as it heads into cooler waters and the "upper trough currently along 40W could start to induce southwesterly shear."
After a comparatively quiet start for the 2009 hurricane season for Haiti, the last few weeks have been active for tropical cyclone formation. Little official attention was paid to TS ERIKA as it weakened quickly after passing over the Leeward Islands becoming a tropical wave as it passed south of Puerto Rico. However, the storm dumped heavy rain for several hours over Haiti causing dangerous mudslides in several regions. So far, one death and four missing persons were reported to the Civil Protection Ministry in the seaside resort town of Mountrois — about 40 miles NNW of Port au Prince — destroying 34 houses as well.
The NHC expects FRED to reach hurricane category 2 strength before it weakens. "FRED is being steered primarily by by a mid-troposheric ridge to the north. This ridge should gradually diminish with time as a mid- to upper-level trough near 40W moves eastward." Some forecast models have FRED missing the first trough and maintaining a westerly heading directly towards the Caribbean region. If Hurricane FRED follows the same track as the previous Hurricane BILL it will come close to the Mid-Atlantic NOAA weather buoy and the NHC will likely have an entirely different forecast track. The next three days should see some significant shifting of the official forecast.
The last Cape Verde-type hurricane to reach Haiti was last year's devastating Hurricane IKE.
RAW
Bookmark this page for the 2009 Hurricane Season
2009 storm names:Ana, Bill, Claudette, Danny, Erika, Fred, Grace, Henri, Ida, Joaquin, Kate, Larry, Mindy, Nicholas, Odette, Peter, Rose, Sam, Teresa, Victor, Wanda