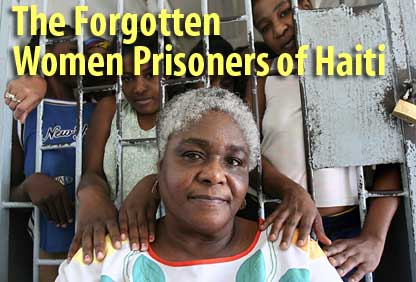 photo: © 2005 Colin O'Connor Click image above for June 2006 story
Haiti's death toll rises in Cite Soleil
Kevin Pina interviews Haiti's legendary folksinger and human rights activist Annette Auguste, affectionately known as "So Ann."
Auguste addresses the recent military actions of the UN in the seaside shanty town of Cite Soleil and the plight of political prisoners still held in Haitian jails.
Pina also provides an update and analysis on the situation in Cite Soleil where more than 15 people are reported to have been felled by UN gunfire over the past week alone.
"When I left Haiti a week ago they [the UN] had killed four young boys between the ages of 4 and 7. Were they kidnappers too? -Annette Auguste
Flashpoints Radio Alert for Thursday December 28, 2006
Listen to Flashpoints today LIVE at www.flashpoints.net /KPFA 94.1 FM
in the San Francisco Bay Area.
5 pm Pacific Standard Time
8 pm Eastern Standard Time