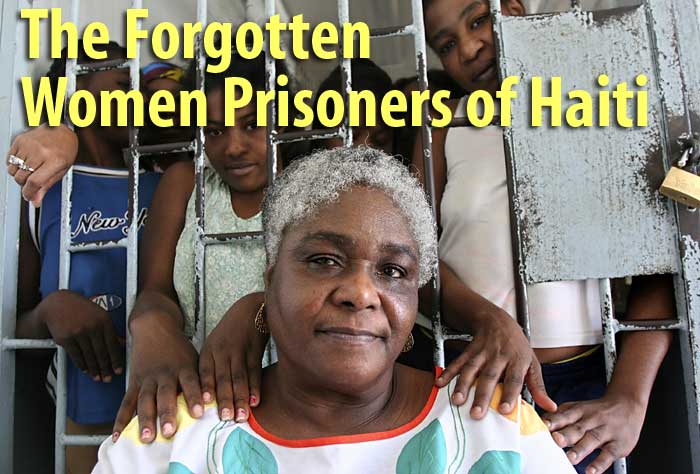 © 2005 Colin O'Connor
The Forgotten Women Prisoners of Haiti
Haiti Information Project
Port au Prince (HIP) - Two days before the inauguration of Rene Preval, solidarity activists met with Annette Auguste for more then an hour and a half in the women's prison in Petion-Ville. Annette Auguste, AKA So Ann, has been held since May 10, 2004 and has been deemed a political prisoner by Amnesty International who finally took up her cause late last year.. During the visit she gave her view of political events and the electoral defeat of the political forces that ousted Aristide. She also reiterated that she would not accept a presidential pardon. She hoped that the new government would force a corrupt and politicized judiciary to give her a fair trial where the truth of her innocence can be seen by the entire world.
As this feisty and resolute Grandmother continued her dialogue, HIP founding editor Kevin Pina used the opportunity to organize the prisoners of the Woman's Penitentiary in Petion-Ville to create a list with their names, date of incarceration and the place they were arrested. The vast majority of the women prisoners on this list have never seen a judge in violation of the Haitian Constitution. Most consider themselves political prisoners and were arrested by the Haitian police and/or the United Nations forces after they went to their neighborhoods in search of their fathers, brothers, husbands and boyfriends. Several said they believe their arrest was in lieu of the authorities finding their men folk and said it constituted a kidnapping.
This is only a partial list of the women prisoners held in Petion-Ville as time did not permit us to record everyone's information. HIP offers this partial list in hopes that international human rights organizations will take the initiative and muster up the courage to come to Haiti and complete it. The first job of real human rights work should be to identify the victims of political persecution. The second job should be to take the testimony of the victims to ascertain its validity. These women have lots to say if only anyone would listen.
NAME

DATE ARRESTED

AGE

1
Darline Jean
January 7, 2005

17

2
Medine Joseph
February 14, 2005

19

3
Adline St. Julies
April 9, 2005
4
Gladys Bomptemps
June 27, 2005

23

5
Gislene Julio
October 11, 2005

40

6
Marie Andre Lucas
July 4, 2005

28

7
Prudeut Daphney
September 22, 2004

20

8
Daphnee Bien
9
Jean Georgy
March 24, 2005

24

10
Jean Magretta
January 11, 2006

28

11
Danise Daniel
September 27, 2004

30

12
Geurline Joseph
March 25, 2005

24

13
Joyeuse Edmonst
September 3, 2004

22

14
Loudjina Ernest

17

15
Roseline Estimee
December 1, 2005

17

16
Kethly Pierre
July 26, 2005

15

17
Kethia Sejour
June 27, 2004

21

18
Carline Louis
August 25, 2005

24

19
Marie Loudie
December 5, 2005

18

20
Yoline Guillaume
March 8, 2005
21
Mirlande Monteruil

27

22
Geurrier Janime
March 17, 2005

60

23
Yousy Alphonse
24
Jorelyne Champagne
March 30, 2006
25
Nicole Geurrier
July 5, 2005
26
Saintrose Jean Louis
December 24, 2004
27
Leonne LaFortune
October 4, 2005
28
Kathia Comlulis
March 30, 2005
29
Johanne Monsrum
March 6, 2005
30
Pierre Geurlange
February 4, 2004
31
Sherley Louis
February 26, 2006
32
Manetto St. Paul
October 27, 2005
33
Chantal Midi
August 10, 2005

44

34
Henriette Starck
November 7, 2004

28

35
Stephanie Moise
May 28, 2005

21

36
Loxis Marjorie
July 3, 2005

18

37
Rosemarie Aleseis
38
Mona Pierre

20

39
Johanne Theiniedor
40
Augustine Gersy
October 31, 2005

17

41
Michel Miollie
September 8, 2005

15

42
Rosmie Beruadin
February 24, 2005

23

43
Magdalina Honoie
July 18,2005

75

44
Fasie Franlois
June 17, 2005

19

45
Marielyne Dwusthan
October 31, 2005

23

46
Marlia Cades
July 19, 2005

37

47
Roseline Laurent
July 4, 2005

22

48
Olerua Felix
April 29, 2005

40

49
Maliya Frederic
March 23, 2006

24

50
Sonia Jean
March 1, 2005

17

51
Michaelle Lemoine
August 12, 2005

23

52
Nounoune Jean Baptiste
53
Jean Pierre Mirline
August 22

26

54
Linda Jean
March 8, 2005

17

55
Nadige Lusce
August 17, 2005

15

56
Soledade Derarene
May 31, 2005
57
Gurlande Charle
November 2, 2005

15

58
Charle Marise
January 6, 2005

95

59
Rose Laure Folnia
March 26, 2006

14

60
Liline Bien-Aimee
March 8, 2005

15

61
Molena Leger
March 8, 2005

21

62
Venese Baptiste
November 1, 2005

22

63
Doisla Melana
April 8, 2005

22

64
Lemoine Michaelle
December 22, 2005
65
Tina Valmond
August 12, 2005

28

66
Guetty Charles
August 12, 2005

23

67
Gladis Bontemps
June 27, 2005

23

68
Lourent Reseline
July 4

22

69
Johanne Jean
July 10, 2005

20

70
Tamara Celestin
July 10, 2005

18

71
Rose-Andre Seide
May 7, 2005

23

72
Lucienne Moiseage
November 12, 2005

53

73
Kettia Sejour
June 27

21

74
Carline Louis
August 25, 2005

24

75
Villia Celestin
July 10, 2005

20

76
Molina Leger
March 8, 2005

21

77
Alexis Nadia
April 9, 2005

27

78
Marie-Lucie Paul
August 20, 2005

21

79
Venise Louis Charles
December 14, 2005

56

80
Ludy Dauphin
June 21, 2005

30

81
Barbara Romero
April 6, 2006

25

82
Nounon Lean Baptiste
April 29, 2005

20

83
Jesula Joseph
September 25, 2004

34

84
Ketia Jean
January 23, 2005

20

85
Joceline Valerice
October 16, 2005

35

86
Vercelia Onoroble
October 15

45

87
Odette Louisaint
June 19

39

88
Rolaine Dothiy
September 19, 2004

31

89
Celina Matieu
November 28

52

90
Marie Fanese Cherilus
February 10, 2005

23

91
Francois Fagdala
July 18, 2005

27

92
Auestation Rose-Andre
May 7, 2005

23

93
Merina Lena
April 11, 2006

25

94
Marie Lucie Paul
October 12, 2005

42

95
Manoushca August
September 11, 2005
96
Pierre Carline
June 30, 2005
97
Alexi Rosemarie
March 20, 2005
98
Mesidor Beatrice
June 23, 2005

24

99
Louis Alserte
March 23, 2006

25

100
Marimichelle Debra
January 24, 2006

14

101
Jesula Josephe
September 25, 2004

34

102
Wilda Valsin
June 1, 2004
103
Edmont Derline
February 3, 2005

42

104
Linda Dersous
September 11, 2005

24

105
Daphner Bien Aime
February 3, 2005

23

106
Gutorier Joanie
September 4, 2005

28

107
Nancy Edouard
February 27, 2006

26

108
Benita Duihene
April 29, 2004

43

109
Mariefonese Cherlies
February 10, 2005
110
Janit Poillant
May 26, 2006

25

111
Aelene Jules
May 24, 2005

41

112
Sutoinette Jeune
September 18, 2005

35

113
Soliska Joseph
June 2005

61

114
Vadette Saint Minitart
April 14, 2006

24

115
Suze Michel
January 12
116
Herria Percine
January 17, 2005

26

117
Aline Josephe
February 5, 2005

33

118
Andrina Pelior
February 22, 2005

18

119
Juena Pseril

24

120
Aelene Jules
May 24, 2005

41

121
Losis Marie Josette
July 3, 2005

18

122
Marie Sutinette Jeune
September 29, 2006

35

123
Henrietta Starok

28

124
Sauentna Roy Enasere
July 27, 2005

31

125
Bibine Alexi
September 12
126
Leusna Dous
February 22