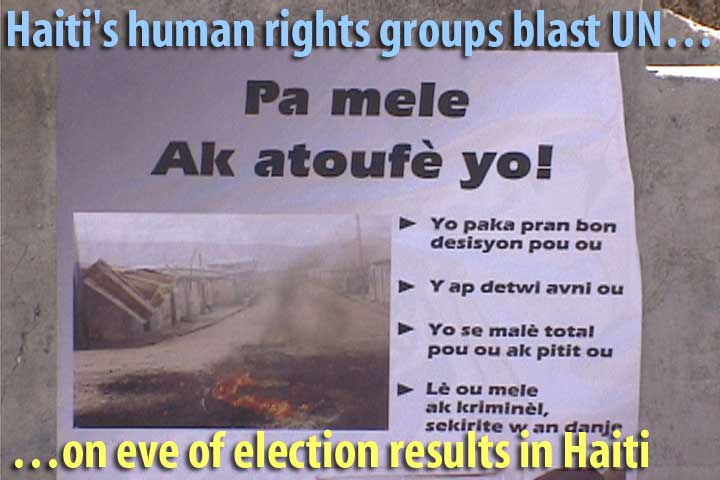 Photos: ©2006 Haiti Information Project A UN propaganda poster in Cite Soleil extolling residents not to mix with "criminals." The poster was plastered all over walls by workers protected by armed Brazilian soldiers. Hours after they appeared, they were torn down by residents where the UN was not present. Statements on poster: "Don't mix with criminals and bandits." • "They can't make good decisions for you." • "They are going to destroy your future" • "They are bad people for you and your children" • "The moment you accept them, they are a danger for you and your children"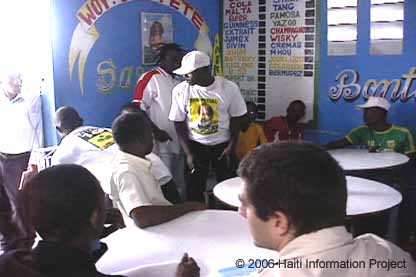 Armed militants in Cite Soleil prepare to sit down for a dialogue with Haitian human rights groups.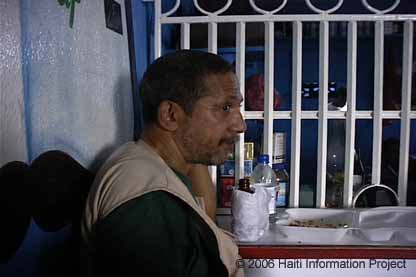 "In some neighborhoods only 30 percent of the population remains, and in others even less," according to Patrick Elie. Of those who remain, it is "the poorest of the poor, who cannot afford to go and rent in another place," Elie commented.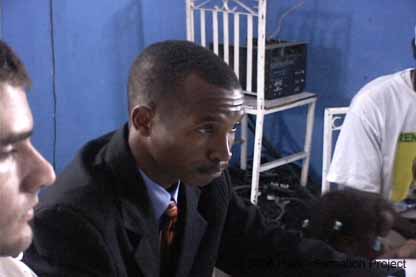 Attorney Evel Fanfan listens to members of armed groups in Cite Soleil. He concluded, "What is needed is a regimen of social programs and real disarmament and amnesty to diffuse the situation."
See related articles on HaitiAction.net
click on image for link to story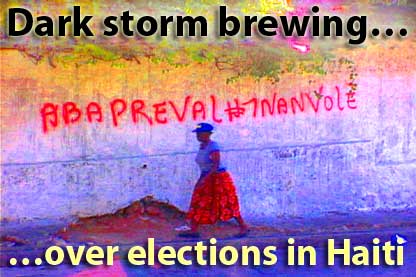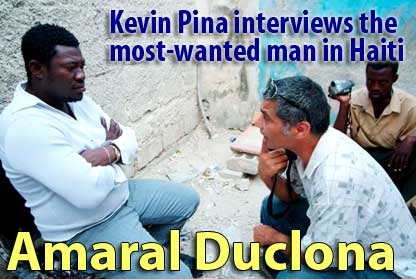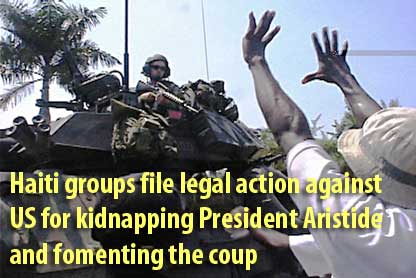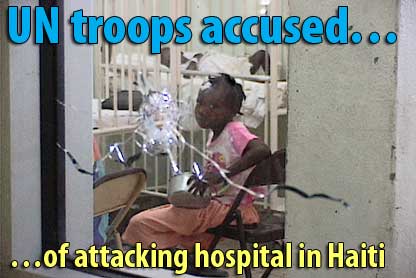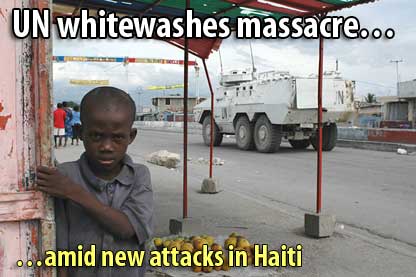 Haiti's human rights groups blast UN on eve of election results in Haiti
by
Haiti Information Project
HIP - Haiti — On January 27, several Haitian human rights organizations announced a joint initiative to investigate human rights abuses in Cite Soleil, a Port-au-Prince slum where the United Nations (UN) has been using heavy military force in densely populated areas as part of a campaign to eliminate armed "bandits."
The human rights initiative was inaugurated on Feb. 1 by the Association des Universitaires Motives pour une Haiti de Droit (Association of University Graduates Motivated for a Haiti with Rights, AUMOHD), the Comite des Avocats pour le Respect des Libertes Individuelles (Committee of Lawyers for the Respect of the Liberty of the Individual, CARLI), Comite de Defense des Droits du Peuple Haitien (Committee to Defend the Rights of the Haitian People, CDPH) and Sant Obsevasyon Sitwayen (Citizens Observation Centre, SOS).
On Feb. 1, a human rights delegation visited Cite Soleil to document damage that the UN Mission for Stabilization in Haiti (MINUSTAH) has wrought in the slum, and talked to witnesses throughout the poor neighborhood. In light of the elimination of all of the voting stations within the slum for elections held on Feb. 7, the fact-finding mission also sought to determine whether Cite Soleil resident's right to vote were respected.
Evel Fanfan of AUMOHD emphasized that the way citizens in Cite Soleil are being treated by the UN "is a crime against human dignity in Haiti" and "a form of modern barbarity."
The Feb. 1 fact-finding mission revealed that the UN has been using armor-piercing bullets and cannons in the densely populated poor neighborhood. These weapons are what one would expect to find "in a state of war", commented Fanfan; however, he added that even in war, soldiers are mandated to behave in accordance with certain humanitarian principles, which they are violating in this so-called "peacekeeping" mission.
The delegation documented UN gun damage to local schools, and heard from school children describing their being routinely forced to throw themselves on the ground to take cover when the UN opened fire on their school during classes. The delegates photographed bullet-holes in the school walls, as well as a handmade sign pointing out the obvious: "the school is not a bandit". They also took photographs at Cite Soleil's St. Catherine's Hospital, which has had a part of its wall blown out by UN fire, and talked to the head of St. Catherine's pediatrics ward, which recently had to be moved to a different floor of the hospital because the UN was shooting so much.
The delegation found that Cite Soleil's population has shrunk dramatically in the wake of UN violence. "In some neighborhoods only 30 percent of the population remains, and in others even less", according to Patrick Elie. Of those who remain, it is "the poorest of the poor, who cannot afford to go and rent in another place", Elie commented.
Even as the delegates were conducting their fact-finding mission, MINUSTAH soldiers shot three more citizens in Drouillard, two of them fatally.
MINUSTAH has come under increasing pressure from elements in the Haitian private sector that supported the ouster of President Jean Bertrand Aristide to use greater military force in the slum. Cite Soleil is a stronghold of Aristide's Lavalas political party and of the popular presidential candidate detested by the anti-Aristide private sector, former President Rene Garcia Preval.
Calls for MINUSTAH to be more aggressive, in "cleansing" Cite Soleil of alleged Lavalas "criminals", have been publicly propounded by the Haitian Chamber of Commerce and by presidential candidate Charles Henri Baker.
The human rights organization's initiative seeks to provide a counter-pressure on the UN, to push the international body to respect Cite Soleil resident's rights. The human rights delegation went to Cite Soleil "to say no" to the demands to increase military force against the slum. Evel Fanfan believes that dialogue, including with those in the community with weapons, is needed to address the social problems in Cite Soleil. "We need to focus on this large, vulnerable and excluded population" he noted, "as well as to ask how people got arms, and why they picked up arms, and then move towards talk of an amnesty to diffuse the situation."
Delegate Patrick Elie, from SOS, similarly emphasized that "no matter what section of the population of Cite Soleil you talk to, from community members who have picked up weapons to Protestant preachers, they all agree that the social problems need to be addressed first"-and that there has to be "dialogue and social reinsertion including for the armed civilian factions."
While the UN does pay lip service to the terms "dialogue", the UN soldiers in Cite Soleil typically cannot speak the language of the Haitian people, Kreyol, nor Haiti's other official language, French, nor English nor Spanish. Fanfan remarked that in Cite Soleil, MINUSTAH "talks only with guns". Meanwhile, the UN's Disarmament Demobilization and Reinsertion (DDR) program, which in theory is supposed to disarm both armed pro-Lavalas activists and armed leaders of the 2004 coup that overthrew the Lavalas government, has been plagued with problems. Twenty-eight residents of Cite Soleil's neighboring slum Bel Air who participated in the program were rewarded for turning in their firearms by being thrown in jail. Meanwhile coup-leaders Guy Philippe and Chamblain (the latter of whom is also convicted for human rights abuses he committed in the death squad FRAPH) have faced no consequences for taking up weapons against the elected Aristide government in 2004, and are even candidates in the election.
The delegates heard declarations from Cite Soleil community members who have taken up arms. Fanfan reported that these people "want to defend themselves from the MINUSTAH soldiers and the Haitian police who want to kill them". Fanfan noted that the declarations emphasized that many people from Cite Soleil had been wrongfully arrested, or "disappeared." These armed community members also criticized the UN for continuing to lay the blame for recent kidnappings on Cite Soleil residents. Given that all of the Cite Soleil's main entrances are controlled by armed UN checkpoints, it would be next to impossible to use the slum as a base for kidnappings.
Alongside representatives from AUMOHD and SOS, Ronald St. Jean from the Comite de Defense des Droits du Peuple Haitien and Daniel Tillias from Pax Christi were also amongst the delegates who visited Cite Soleil on Feb. 1. Rénan Hédouville of CARLI was unable to attend due to a last minute scheduling conflict.