From Haiti to Tibet, China's role in suppressing democracy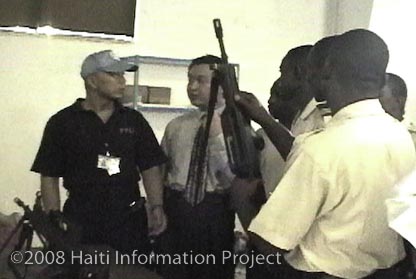 Taken with a hidden camera, photo shows Chinese troops of the People's Armed Police instructing the Haitian police in the use of automatic weapons in late 2004.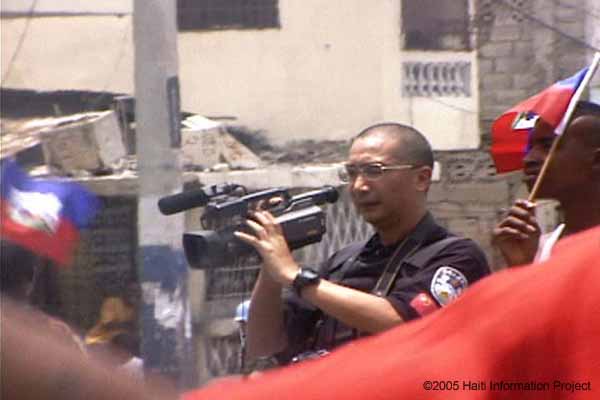 PAP officer videotapes peaceful Lavalas demonstration. Demonstrators later accused PAP forces of turning video images over to the Haitian police that led to mass arrests based on their politcal convictions.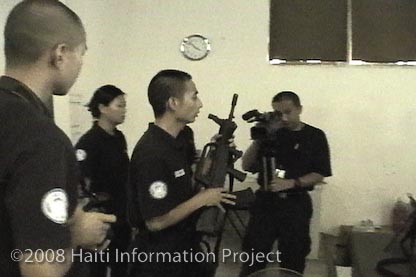 PAP officer demonstrates use of an automatic weapon to Haitian police.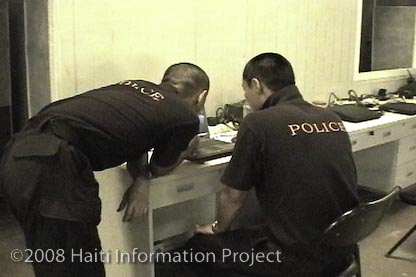 PAP members of the UN contingent review footage shot of a peaceful demonstration by Aristide's Lavalas movement before turning it over to Haitian police. The footage reportedly led to mass arrests.
HIP- Port au Prince - As Chinese riot police clash with Tibetan protesters over that country's independence, it calls into question the role of over 1000 members of China's People's Armed Police or PAP who have served in Haiti. Although the PAP is often referred to by the United Nations as a police force in Haiti, most experts call it a military force because it is an integral part of China's People's Liberation Army.
The Chinese contingent, serving in Haiti since the ouster of the democratically-elected president Jean-Bertrand Aristide in 2004, has also been the target of controversy. Many Haitians condemned their presence as representing the hypocrisy of the UN mission in their country calling for the restoration of democracy. One protester commented in direct reference to Chinese and Jordanian involvement in Haiti in 2004, "We know there are many countries that are part of the UN mission that not democratic themselves. How can they come here and pretend to teach us about democracy when they don't allow free elections in their own countries."
While the UN has congratulated the People's Armed Police for their role in Haiti, it has come at the cost of ignoring China's support for the military regime in Burma, and more recently its support for unpopular and corrupt regimes in Africa in pursuit of oil.
Chinese troops also participated in training and support to the Haitian police after their arrival to Haiti in October 2004. They were accused of involvement along with Brazilian UN forces in a week-long siege of the community of Bel Air in June 2005. After that operation, the Haitian police had burned down more than twelve homes in the area and more than 30 people were reportedly gunned down in the panic that ensued. The Chinese were also accused by members of Aristide's Lavalas movement of taking video and photographs during peaceful demonstrations that were later used to persecute them for their political stance.
In a videotaped interview in 2007, information officer with the Chinese force in Haiti Zhang Jin said , "We have the firepower and technology to control any situation that may arise here. What we gain from this experience is a real life situation where we can practice strategic and tactical deployment. That is invaluable to any fighting force."
A member of Aristide's Lavalas movement who asked to remain anonymous stated, "Tibetan democracy advocates would do well to take heed as they now confront Chinese forces who have learned much from their tour of duty in Haiti. Their is a reason the UN has congratulated them for participating in the destruction of our peaceful movement to restore democracy since the coup of February 29, 2004. But we believe as Tibetan's do. It is a long struggle and they can kill us and imprison us but our cause is righteous and can never be stopped through repression and violence."
©2008 Haiti Information Project - All Rights Reserved
The Haiti Information Project (HIP) is a non-profit alternative news service providing coverage and analysis of breaking developments in Haiti.
Winner of the CENSORED 2008 REAL NEWS AWARD for Outstanding Investigative Journalism
See Also:
Lavalas movement in Haiti will not quit Mar 9
Brazilian military's experience comes full circle in Haiti Feb 20
Haiti: The transformation of diplomacy
or a new Manifest Destiny? Feb 28
Haiti's wealthy prosper while the poor decline
Pentagon's troubling role in Haiti Jan 12
Human rights defender forced into hiding in Haiti Dec 27