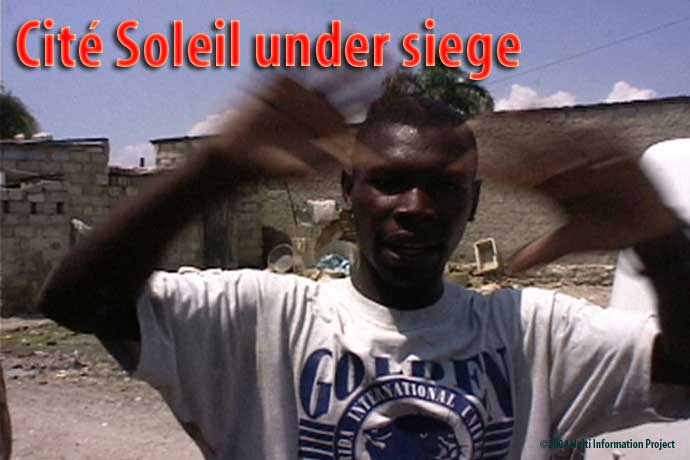 Photos: ©2005 Haiti Information Project (HIP) - Cite Soleil resident gestures to show force of bomb. Evidence shows these poor neighborhoods have been victims to fragmentation and incendiary type bombs lobbed into the community by U.N. forces over the past few days.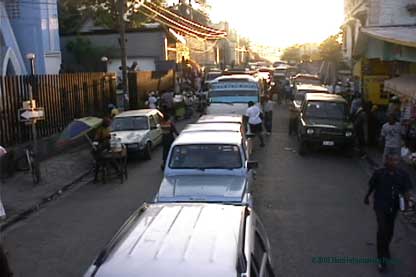 Traffic was paralysed for nearly six hours in Petion-Ville after
Lavalas militants felled a telephone on the Laboule road.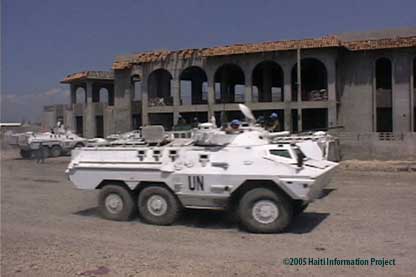 UN outpost on border of Cite Soleil in front of Boulos Market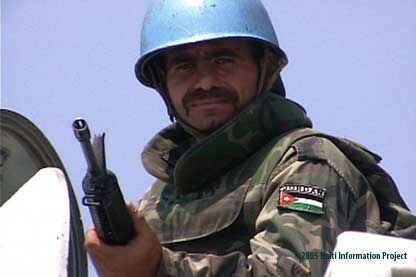 Representing an undemocratic dictatorship in Jordan to "restore"
democracy to Haiti.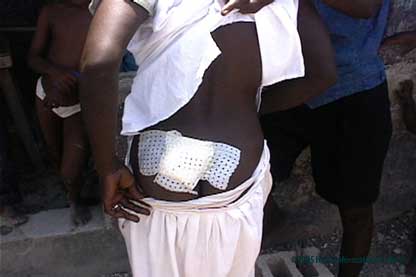 58 year-old victim of schrapnel from bomb thrown by UN into Cité Soleil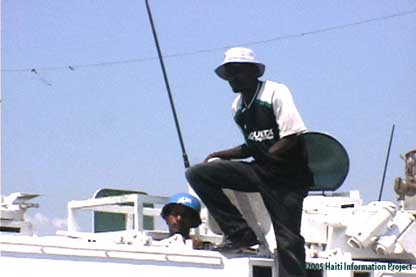 Haitian collaborator mounts UN armoured vehicle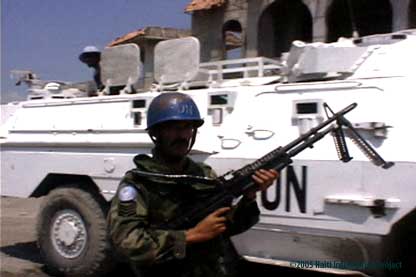 Jordanian soldier loads high caliber weapon as UN troops prepare for incursion into Cite Soleil
Cité Soleil under siege:
Haiti's elite, U.N., and fat cat NGOs paralyzed
April 25, 2005 - HIP - Lavalas militants created a massive traffic jam in the wealthy suburb of Petion-Ville today by felling a telephone pole on a road used by the country's wealthy elite, highly paid non-governmental specialists and commanders of the United Nations contingent. Traffic was backed up for six hours leading to luxury homes on Laboule road after militants first used machetes to weaken the pole and then backed up a large truck forcing it to block the road.
On the eve of their first major act of creative non-violence resistance since Aristide's ouster, an anonymous spokesperson stated, "We are not gangsters, we are not criminals. We did not use guns to perform this act. Many of the elite who sponsored and supported the coup of February 29, 2004 must use this road to return home to their families. We want to create a traffic jam to force them to sit and reflect upon what they have done to this country. You can see them finally acknowledging the poor market place women who line the roads to their homes. Today, U.N. forces that are ready to kill us surround Cité Soleil and Bel Air. Maybe now they will see how vulnerable they really are. The poor who supported Jean-Bertrand Aristide live among them, in their communities. We demand the return of our constitutional president and only after that can we can have free and fair elections."
Meanwhile, citizens of the poor slum of Cité Soleil who continue to demand Aristide's return are forced to take an accounting of their dead and wounded. U.N. forces led by the Jordanian contingent are accused of turning the area into a virtual concentration camp. Evidence shows these poor neighborhoods have been victims to fragmentation and incendiary type bombs lobbed into the community by U.N. forces over the past few days. One victim of the shrapnel explained, "We were sleeping when the bomb exploded. It sent metal fragments to kill people everywhere. It landed in a large pool of water that became filled with fire before exploding. It nearly burned down my house. At first I didn't feel anything but my son said I was bleeding from my side." A Lavalas militant stated, "The Jordanians are the most brutal among the U.N. forces. We are not stupid. We realize the Jordanian people could never live up to the one-man one vote formula dictated to us by the international community. We have contact with Jordanians who say they are living under an undemocratic dictatorship in their own country. What has the U.S. promised them in military aid to oppress our people in the name of democracy? Look it up in the record. Every single nation that is participating in the U.N. coalition in Haiti to receives large funding from the Pentagon. All we ask is that you do your homework. We know what FMF and IMET represents. Argentina, Brazil and Chile are major recipients of U.S. military and financial assistance. We challenge you to realize the impact of the U.S. upon this U.N. coalition in Haiti today. The U.S. embassy along with the U.S. dollar has compromised our sovereignty and it is their bullets and bombs that are killing us today. They all have proved for the last time the Haitian Constitution is just a piece of paper for them."
SEE ALSO
Haitian Lawyers Leadership
Urgent Action Alert
Denounce the slaughter of the people of Cite Soleil, demand that the U.N. immediately stops sponsoring summary executions in Haiti Apr 22
John Maxwell
The Company They Keep
COMMON SENSE # 462 - Jamaica Observer Columnist, John Maxwell, just wanted to talk to the UN official that was on BBC about human rights in Haiti. Not high on their agenda. What is important to the US puppets in the United Nations is assassinating Dred Wilme. John Bolton is probably not interested in talking to John Maxwell either. Apr 23
Your support
for the Haiti Information Project is needed
to keep this alternative to the corporate
media reporting from Haiti


Get more information about donating today